September 2018 Newsletter
 

SHOP HOURS
Monday: CLOSED
Tuesday: 12 - 6
Wednesday: 12 - 6
Thursday: 12 - 6
Friday: 12 - 6
Saturday: 10 - 6
Sunday: 12 - 4

 

 

 

"It is a peculiarity of knitters that they chronically underestimate the amount of time it takes to knit something. Birthday on Saturday? No problem. Socks are small. Never mind that the average sock knit out of sock-weight yarn contains about 17,000 stitches. Never mind that you need two of them. (That's 34,000 stitches, for anybody keeping track.)




 

 

 
ReBelle's 12th Anniversary Sale!!!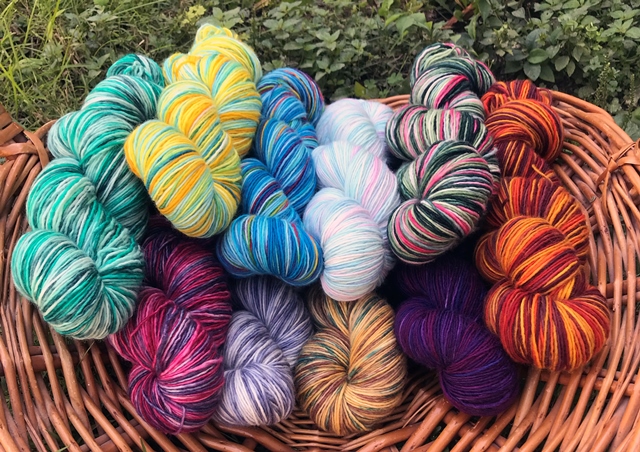 Birthdays and yarn. They go hand in hand. Do you have a birthday party coming up this Saturday? Why, YES, you do! This Saturday, September 8th is ReBelle's 12th anniversary and we are having  a BIG sale from 10am to 6pm. That's right, we are twelve years old and so proud to be a part of this community and part of your lives. To celebrate this big event, we will be doing all our regular birthday shenanigan including: 10% off your entire purchase for wishing us a Happy Birthday, prizes at the checkout, and an exclusive anniversary yarn dyed by Sarah and Robyn.
This year's sale only yarn is a finger-weight, superwash merino single. We will have 84 skeins and 24 mini packs in 12 astrologically-inspired colorways. These skeins will be $12 each (limit one per customer). As usual we will have tons of edible treats for you to snack on and bonus activities to do while browsing through your new fall yarns. And will there be Plinko for prizes??? Who knows!!! Come and find out!!!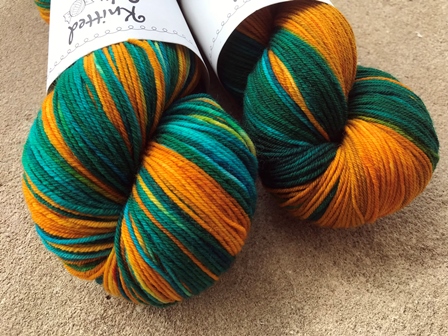 "If women can be railroad workers in Russia, why can't they fly in space?" ~Valentina Tereshkova
This month's Herstory yarn is dedicated to Dr. Seema Prakash. Dr. Prakash, who grew up in India, has devoted her life to fighting hunger throughout world by developing groundbreaking advancements in plant cloning, discovering more cost effective ways to clone hardier plants for small farms, pioneering new ways for small farms to up their production, and developing the "Plant Passport" program that encourages school-aged children to learn about plants and plant propagation. Dr. Prakash is an inspiration to us all and we are so excited to share her new colorway, Famine Fighter. This colorway is a gorgeous variegate of rich blues, greens, and yellows that we know you will love!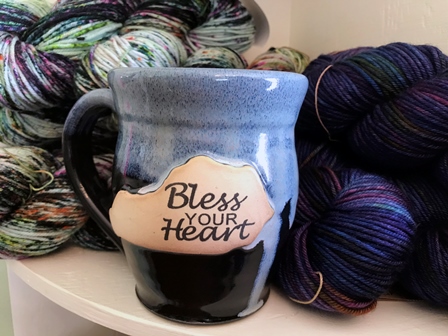 We are also excited to tell you that we have a new shipment of Pawley studio mugs delivered.  These are the best mugs whether your sipping tea or drinking coffee, one of these mugs will make the experience better.  We have Kentucky mugs, Bless your Heart Mugs, and so many others. Also, going back to our Christmas theme. It's never too early to start collecting gifts for your family and friends and a Pawley studios mug is always a welcome surprise. We can't get enough of them!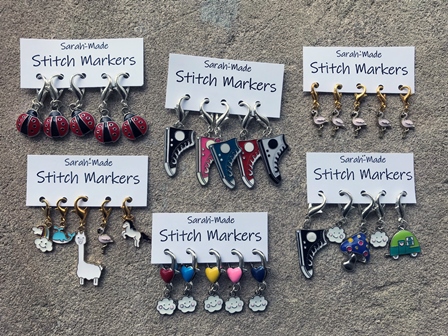 Up next, Sarah's handcrafted stitch markers.  Sarah created these markers right before the Yarn Crawl and they are just the cutest thing you've ever seen. You want a little llama maker? We have you covered. Have you ever wished you could knit with a little jellyfish buddy or a unicorn friend? Sarah made your dreams come true. Hurry in! These markers are going fast!!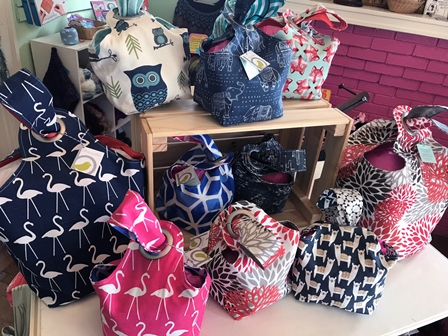 Finally, we have MORE Bink Waffle Bags!!! These bags have been a popular item in the shop and we are so excited to offer you new designs. We have the ever in demand blooming flower bag. We have flamingos in both blue AND pink! Oh, YEAH!! And as if that's not enough, we have elephants and we have foxes. Hurry in. These won't last long!!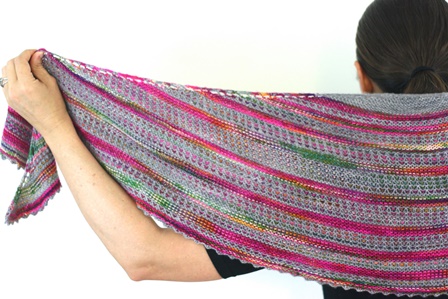 Rainbow Warrior Shawl KAL: During the month of September, Robyn will be hosting the Rainbow Warrior Shawl Knit-A-Long. This shawl uses one skein of a sock weight solid/semi-solid and one skein of a sock weight variegate. That means this shawl is an excellent way to use up that one precious skein of yarn you've been holding to, but just aren't sure what to do with. This is definitely the shawl for you.  Also, this shawl would be a great place to use a skein of Famine Fighter. Just throwing that out there!!! You can find the Facebook event with more details here.
Dates: Thursday Sept: 6th, 13th, 20th, 27th from 12-1:30pm and Sunday September 9th from 1-3pm