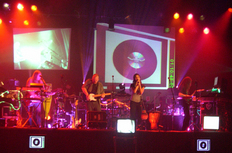 A lot of people have been asking us when they can see us live.... We'll be honest: the economy hit us hard last fall and this spring. We're completely DIY with all the technical stuff and we're pretty well organized, but it's still relatively expensive to put Kicksville on the road. When we were trying to put together a tour for this summer, the venues were being extra cautious about spending a lot of money on newer acts since even top-level artists are having a hard time selling tickets in this economy. The hot booking action is really picking up steam now, but because we need to book things pretty far in advance we probably won't be on tour again until November. So, until then, y'all will just have to live with the videos and MP3s....
About the Capitol Theater gig
Building a proudction this big on a shoestring budget can be challenging, but for music/tech geeks like us, it's also a lot of fun. And even though our studio is big enough to set up our gear comfortably and do 90% of the pre-production, we don't have the ceiling height for two giant video screens! At some point, we've got to put all the pieces together to make sure everything works, which means production rehearsals....
That being the case, last November we needed to do some production rehearsals after adding a bunch of new stuff to the show, so we rented the historic
Capitol Theater
for a couple of days. We taped the whole thing to see what needed adjusting, fixing, throwing out, etc., but what we ended up with is actually a pretty damn good performance!  Unfortunately,
somebody
engaged the auto-focus on the front-of-house camera, so it's a little fuzzy....beyond that, it came out so well we thought we'd share!
SHOW CREDITS
The City Council
Conrad St. Clair: bass, keys, percussion, vocals
Mike Stehr: bass, keys, percussion, vocals
Lou Caldarola: drum kit, percussion, vocals
Tone Deaf: narrator, art
Chris Huntington: guitar, percussion, drill, vocals
Beaker: guitar, drum kit, percussion, vocals
Aya Peard: percussion, vocals
Special guest Citizens
Geoff Brady: percussion, aqua harp (
I'm Going Back to Bed, Monkey Man, Once in a Lifetime, Rubber Teevee, Watersong
)
Andy Ewen: vocals (
Rubber Teevee
)
Tim Gruber: djembe (
Monkey Man, Watersong
)
Crew
Greg Silver: lighting
Sky Cleven: video, rigging
Wes Cash: camera op
Brian Anderson: sound
Johnny Sarris: house carpenter
Huck Johnson: house electrician
Steve Fisher: house sound
*all IATSE (stagehands' union) members, BTW... Workers of the World Unite!