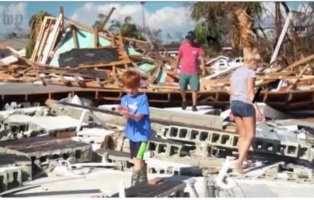 This little girl trying to find a house to Trick or Treat at on Halloween in Gulf County Florida this year after Hurricane Michael devastated whole communities.

 

 

 

Your School Can Make a Difference

In Kids Lives This Christmas

 




These are not  photo shopped pictures or ones of a third country.  Both of these are kids from Gulf County, Florida.  The boy is looking at what is left of his bedroom.  

 

Kids in Gulf County on the Panhandle have lived through one of the most difficult times this year.  Hurricane Michael destroyed many homes, parents have lost jobs, and life has become very difficult.

 

Many parents will be unable to afford Christmas presents this year because they are struggling to replace so much their families have lost.
Join Us in Giving Kids affected by Hurricane Michael
 Christmas This Year
Through the Gulf County Sheriff's Toy Drive
Every year the Gulf County Sheriff holds a toy drive to help kids in Gulf County have a Christmas.  Generally, he identifies around 300 children who won't have a Christmas without this effort. This year he expects to have well over

1000

 children 
who won't be having a Christmas without the Toy Drive. 

The people he usually turns to for help 
are dealing with the effects of Hurricane Michael themselves and cannot help him or can only help minimally.
The Coalition would like to Challenge Your School
to Reach Out and Help our Sheriff give these kids a great Christmas.
 

Order on-line 4 presents – one each age appropriate gift for a toddler, an elementary student, middle school student and high school student. (Of course your school can send more than 4.)

Have the presents shipped to The Coalition of McKay Scholarship Schools' address below. (Make sure your school name is listed as the giftor.)
We will make sure these gifts get in the hands of children who will have very little under their Christmas tree this year.
The Coalition of McKay Scholarship Schools
123 Mariner Lane- Port St. Joe, FLorida 32456
HURRICANE MICHAEL 2018 - Port St. Joe, FLorida
Through the Eyes of a Teenager
Share this with your students.
Austin Haynes
, Port St. Joe High School Senior, poured hours of his time producing this incredible short documentary of Hurricane Michael. As fate would have it, Austin's home burned to the ground immediately following the storm. He did not give up. He worked harder than ever to bring recognition and hope to our county, and to thank everyone who came to help. Hands down, this is the best compilation of storm documentary I've seen. Please watch and share this young man's talent.  (Kim Dukes McFarland, PSJHS Teacher)
Getting Back on our Feet from Hurricane Michael
Dear McKay Scholarship Schools,
As you may know, The Coalition of McKay Scholarhsip Schools office moved to Port St. Joe this August.  It is a beautiful setting in Gulf County which is in the Panhandle on the Gulf of Mexico. 
Our office, which sits across from the St. Joseph Bay, was nearly destroyed by Hurricane Michael with a 10 foot surge.  We are currently operating out of my personal home and hope to be back in the office by the first of the year.  
See the contact information below.  Currently, we will be using my cell phone as The Coalition's phone number.
Sincerely, 
Robyn A. Rennick
Board Member
The Coalition of McKay Scholarship Schools
123 Mariner Lane- Port St. Joe, FLorida 32456