SHOP HOURS
Monday: CLOSED
Tuesday: 12 - 6
Wednesday: 12 - 6
Thursday: 12 - 6
Friday: 12 - 6
Saturday: 10 - 6
Sunday: 12 - 4

 

ReBelle will be closed

December 24

December 25

December 31

 

 

 

 

It's December. Snow has fallen and, suddenly, every knitter and crocheter is ready to tackle last minute Christmas projects. And, you SHOULD take on those projects. They are fantastic and satisfying, unless you do what I did. This is a cautionary tale. Here's the thing. Last August, I said, YES, I can knit socks for a family of SIX on size 1 needles. It's FINE. I had a schedule. I had a plan. Now, It's December and I'm at the tale end of that project. Behind. Tired. Sick of that colorway. And, sure, twelve matching feet is adorable, but at what cost, people??? At what cost? So, what I'm saying to you right now, is pick a cowl, a hat, mitts, cross stitch ornaments, but, now, is not the time to take on a sweater in finger weight yarn that you plan to have finished by December 25th. Learn from me. Make a hat!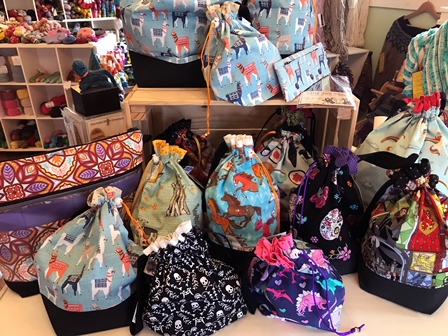 We have new project bags, double pointed needle tamers and pattern magnets from Slipped Stitch Studios. These bags are perfect for projects, they all have handles, drawstrings, interior pockets and sturdy canvas bottoms. The double pointed needle tamers are made to hold 5-8 inch dpns with a project attached and they feature a zipper pocket to hold extra needles or other small notions. The pattern magnets come in sets of three (6, 8, and 9 inches) you don't need a magnetic board as they clip around your book, magazine or loose pattern. We have prints to please everyone including dinosaurs, sushi, Harry Potter, watermelon, and an entire matching set of adorable llamas. 
This month's Herstory yarn is dedicated to Rosalind Franklin. Her research directly resulted in our understanding of how DNA is structured. Franklin's yarn is full of beautiful earth tones that we are sure you're gonna love.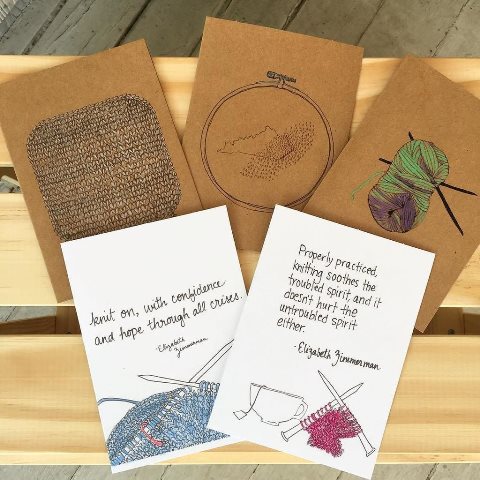 We have a wide selection of locally-crafted items and this is the perfect time to spotlight these adorable handmade cards from Danniqrafts. They are available individually or in packs of five and would make a great gift for the knitters in your life.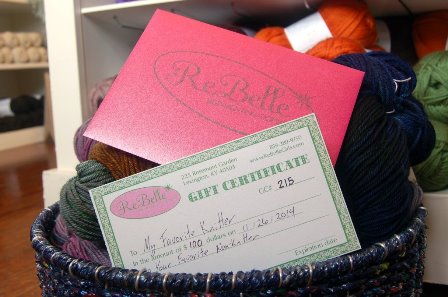 Don't forget to let your loved ones know that what you really want for Christmas is a gift certificate to ReBelle!! Gift certificates are available in the shop or can be purchased
online
 and mailed directly to you. Nothing could be easier!!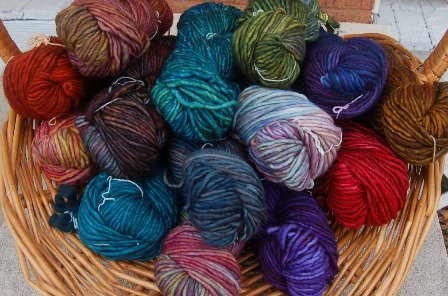 The yarn of the month for December is Mecha by Malabrigo Yarns. Mecha is a chunky weight, single-ply superwash merino yarn with 130 yards per 100g skein. It is luxuriously warm, comes is a gorgeous pallate of richly saturated colors, and it's 10% off all month long. Plus it knits up quickly for all those last minute gifts you might need to make. If you don't fancy the cowl pattern below, here are a few others you might like:
Cocoon
(hat),
Northward
(hat), 
Polar Opposites
(cowl),
Morton
(cowl), 
Rue du College
(hat),
Distinction
(shawl),
Winter Brunch Shawl
,
Gale
(poncho),
Down East
(sweater) and
Plumettes
(cowl).
Sarah was inspired by Malabrigo's gorgeous Anniversario and Polar Morn colors to make the Slash Dot cowl. It is beginner friendly, using slipped stitches to create the pattern and it looks great on both sides. It's avavilable in two sizes, the small size (shown below) takes just one skein of each color and the large version which can be double wrapped takes two skeins of the main color and one of the contrast color. The pattern is free in the shop with yarn purchase.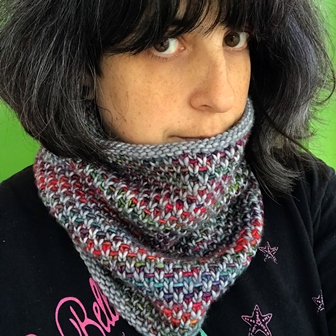 Featured Upcoming Classes
 

 

Sock Knitting 101- Mini Stockings ($20)

 

Want to learn to knit socks? Join us and learn the fundamentals of sock knitting as we knit mini stockings, perfect for Christmas tree ornaments or gift card holders. This is your year to tackle socks!!




Wednesday, December 5. 6-8pm

 
 

 

Cross Stitch Holiday Ornament ($20)

 

Need a few last minute gifts? Why not cross stitch  some adorable ornaments? This class is fun, relaxing, and super useful whether to trim your own tree or someone else's! Definitely come cross stitch with us!




This is a beginning class so you need no previous experience to join us and the class price includes the kit with everything you need to get you started just bring yourself.

 

Wednesday, December 12. 6-8pm
 

 

Loom Ornament Class ($20)

 

Join Raellyn for a make and take holiday ornament class! We'll learn basic weaving skills while making a cute ornament perfect for gifting or decorating your tree for the holidays. This is a beginning class, so you need no previous experience to join us for a fun afternoon of weaving. Class price includes instruction and all your materials to make one ornament, but you are welcome to bring any scrap yarn or materials you would like to add to your project.

 

Saturday, December 15. 2-4pm
 

 

Beginning Wheel Spinning ($40)

 

Come learn to spin yarn on a spinning wheel. You will learn about the types of fibers and fiber preparation methods used for spinning, basic wheel maintenance, and the fundamentals of spinning a basic yarn. You will need to bring a spinning wheel and 2-4 oz of prepared wool fiber. We have two shop wheels available for rental if you do not have your own.




Sundays, January 6 & 20. 2-4pm