SHOP HOURS
Monday: CLOSED
Tuesday: 12 - 6
Wednesday: 12 - 6
Thursday: 12 - 8
Friday: 12 - 6
Saturday: 10 - 6
Sunday: 12 - 4

 

 

The ReBelle girls are back from vacation with a freshly patched ceiling and FOUR new yarn lines ready for you!  Lace, fingering, sport and bulky, one of these new yarn lines is sure to inspire you.  Remember, there are only 5 months until Christmas - start on your to-knit list today!
You like soft yarn, right?  Well, we are happy to introduce two super soft yarns from Reywa Fibers each containing 50% yak down.  Yak down is from the undercoat of the yak and it's warmer than merino wool and as soft as (but more durable than) cashmere.  If that isn't enticing enough for you, Reywa Fibers is a non-profit and they use their profits to provide funding for the education of children in the Tibetan communities where the yak down is sourced.  
If you've not been exposed to yak down, you need to come in and give these yarns a squeeze! 
First up is Harmony.  Harmony is a sport weight blend of 50% yak down and 50% wool.  It's got 328 yards per 100g skein and knits up nicely on a US size 3-5 needle.  Sarah has started the Volute cowl (it's not on Ravelry yet) and the yarn is knitting up even softer than it feels in the skein.  We also have patterns for Vineyard (wrap and arm warmers) and Ripple Effect wrap available for free in the shop with purchase of Reywa yarns.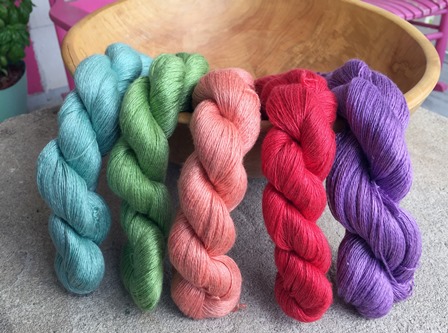 The next yarn from Reywa is Bloom.  Bloom is a laceweight blend of 50% yak down and 50% silk.  With 410 yards per 47 grams, Bloom will work with nearly any project calling for laceweight yarn.  Treasure Trove is a lovely one-skein shawl specifically designed for Bloom and the Caltha Shawl is a two-skein shawl designed for Bloom with a delightful ruffle border.  Both are free in the shop with purchase of Reywa yarns.  I also happen to think Snow Angel would look gorgeous in this yarn.
For those of you who have been fans of ReBelle from the beginning, this yarn might not be new, but we haven't carried it in several years and have decided to start stocking it again.  It's Aquarella by Malabrigo.  It's a super bulky 100% wool with 65 yards per 100g.  It's a single ply thick-and-thin that's great knit up by itself or to use to add texture to a project.  The colors are wonderful, the texture is fabulous and it knits up in a flash! Some patterns we think are well-suited to Aquarella are:
Instant Gratification Scarf
,
Wooly Moguls Hat
,
Trendy Baby Hat
,
Bed of Moss Infinity Scarf
,
Burrow (shawl)
,
Three Hour Cowl
and
Condom Critter
.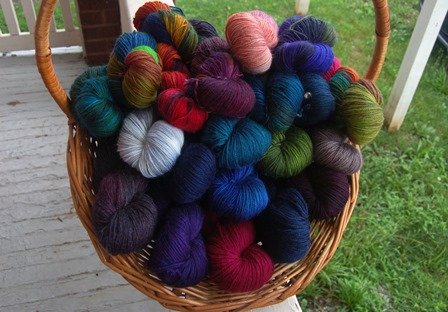 It's fair to say that Bearfoot is one of Robyn's favorite yarns.  She has been lobbying to get it in the shop for at least 5 years, and it's finally here!  Bearfoot is a delightful blend of 60% superwash wool, 25% mohair and 15% nylon.  With 400 yards per 100g skein, it's perfect for socks and the mohair makes them extra snuggly.  This yarn is expertly dyed by the people at Mountain Colors and we have 14 varigates and 6 solids to choose from.  Bearfoot can be used with any sock-weight pattern, but we think it might look extra nice in these:  
Nutkin (socks)
,
Knotty gloves
,
Sockhead hat
,
River Rapids socks
,
Chevron Scarf
or
Daybreak (shawl)
.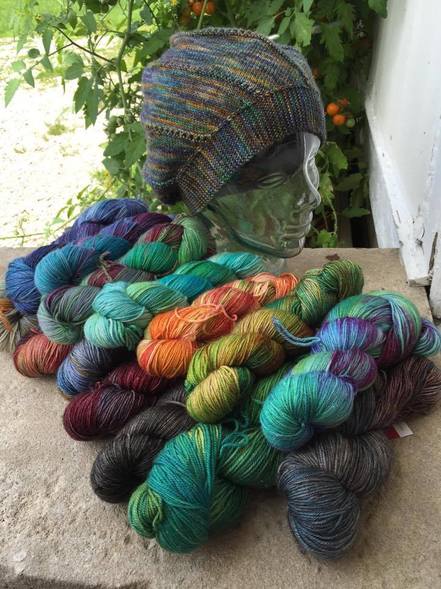 We have some new colors of Serentiy 20 and Serenity Glitter Sock by Zen Yarn Garden.  We love these yarns for two reasons.  First, the dyeing is stunning.  Their saturated and artful colorways always grab my attention.   Second, it feels incredible.  Serentiy 20 is 20% cashmere and you can really feel it in the yarn, it is a dream to knit with.  These yarns are both fingering weight and can be used for some luxurious socks, or for cozy hats, cowls, scarves and shawls.  We have a fresh infusion of colors in each yarn, and to tempt you further, we are giving away copies of Wooly Wormhead's
Lamitra
pattern (pictured above) with the purchase of any Zen Garden yarn (while supplies last)!
The yarn of the month for June is Pacific.  Pacific is a great yarn for anything that has to be machine washable.  We particularly like it for babies and kids because it's durable, but still soft and it's regularly only $8/skein, so it won't break the bank.  Pacific is a blend of 40% superwash merino and 60% acrylic and it has 213 yards/100g skein.  Any project calling for worsted weight yarn will work for Pacific, but some patterns we find particularly adorable are:
Five Hour Baby Sweater
,
Easy Peasy Socks for First Timers
,
Barley (hat)
,
Ribbed Baby Jacket
and
Chevron Baby Blanket.
  Or try out the one we made, pictured above, the
Walt Chevron Baby Blanket!
Featured Upcoming Classes
 

 

Introduction to Vessel Felting ($30)

 

In this class we will learn the basics of three dimensional vessel felting while creating multi-textural felt bowls. We will get a little wet so wear clothes that can get a bit messy. Class kits including enough fiber for two bowls and take home forms and a felting mat and will be available for $10.

 

Saturday, July 25th. 1-4pm
Intro to Wheel Spinning ($30)

 

In this first class you will learn about the basic mechanics and maintenance of a spinning wheel, types of fibers and fiber preparation methods used for spinning, and the fundamentals of spinning a basic yarn. You will need to bring or rent a spinning wheel and 2-4 oz of prepared wool fiber (roving, top, rolags, or carded batts.)

In the second class we will ply the singles spun after the first class. We will learn about setting the twist and finishing the yarn. We will also go over how to incorporate your handspun yarns into your knitting projects.

 

Two Classes

Sundays, August 9 & 16. 2-4pm

 
 

 

Natural Dyeing with Indigo ($45)

 

The indigo plant has been used to create deep, beautiful blues for thousands of years. This will be a combination class and open dye workshop. For those who want to learn we will talk about the different methods of creating and maintaining an indigo vat and we will make the vats for the class to use. We will also talk about the history and chemistry of indigo dyeing. For those of you who just want to dye with indigo there will be vats made up for dyeing fiber as well as fabric and people to instruct you in the process.

 

Sunday, August 23rd. 2-6pm