Shotgun Jimmie embarks on a Canadian tour in support of his new album, Field of Trampolines. The cross-country tour includes an

eight day

residency at Thunder & Lightning in Sackville, NB, as well as a performance at Gateway Festival in Bengough, SK. Dates are as follows:
May 09-16 - Sackville, NB @ Thunder & Lightning
May 17 - Charlottetown, PE @ Baba's Lounge
May 19 - Fredericton, NB @ Wilser's Room (early show - 8pm)
May 20 - Halifax, NS @ Gus' Pub
May 21 - Sydney, NS @ St. Patrick's Church
May 25 - Montreal, QC @ Brasserie Beaubien
May 28 - Toronto, ON @ The Monarch
May 29 - Windsor, ON @ Phog Lounge
May 30 - Hamilton, ON @ Casbah Lounge
June 02 - Saint Catharine's, ON @ Detour Music Hall
June 03 - Guelph, ON @ eBar
June 04 - Sudbury, ON @ Cosmic Dave's Vinyl Emporium
June 20 - Edmonton, AB @ The Needle Vinyl Tavern
June 22 - Vancouver, BC @ The Lido
June 27 - Lethbridge, AB @ The Owl Acoustic Lounge
July 22-24 - Bengough, SK @ Gateway Festival
Shotgun Jimmie also unveils a video for "Field of Trampolines," the title track of his new record, premiering today via Chart Attack. Produced by first-time collaborators Jimmie Kilpatrick and Colin Medley, the video features footage from a sixteen-hour potter's wheel painting session that yielded over 70 acrylic paintings. Watch the video HERE or click on the image below.
WATCH: Shotgun Jimmie - "Field of Trampolines"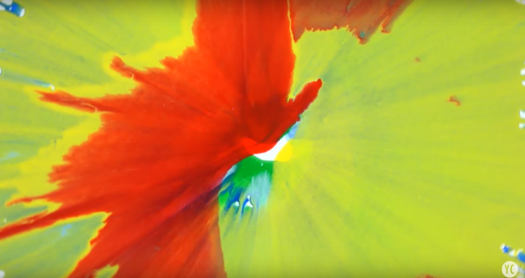 Field of Trampolines is a perfect summer album, recorded at the Eastern end of a cross-Canada tour in August 2015. Shotgun Jimmie and his band (Winnipeg's wonderful Human Music) slept under the stars, played rock shows, and swam every possible lake. Crowds were surfed. They ate from orchards and cooked by campfire.


The record was produced by Joel Plaskett in his Dartmouth, NS studio, New Scotland Yard. Joel is a magician, a musician, and a legend. They worked quickly, recording live and mixing fast in a single four-day session. Joel captured the summer vibes like a glow bug in his bare hands.


Here are ten songs celebrating life's joys: life on the road ("Join The Band"), natural phenomena ("Solar Array"), and camping ("Triple Letter Score"). There are a series of tributes to Jimmie's friends and inspirations: The Constantines are saluted in "Constantine Believer," Attack In Black in "Love Letter," and the legendary Eric's Trip in "Song For Julie, Chris, Rick + Mark." Jimmie's current life as an art school student also gets due airtime: "I'm losing sleep over Georgia O'Keefe" he sings in "Georgia OK." And as the batteries run down on the nostalgic and entirely wonderful "Walkman Battery Bleed," you'll be looking to flip back to the A-Side and play it all over again.


Field of Trampolines joins an impressive discography: five full-length albums since 2007 (including the Polaris Prize-nominated Transistor Sister), and split releases with Joel Plaskett, Ladyhawk, and Attack In Black. In 2012, Jimmie appeared on John K. Samson's Provincial (Epitaph/ANTI) and toured across North America and Europe as Samson's lead guitarist and opening act.


The album is available via You've Changed Records on

Friday, March 18, 2016

.
---
Praise for
Shotgun Jimmie

"Shotgun Jimmie is back with a new set of upbeat numbers tackling life on the road, art school
and camping." - CBC Music

"'[Join The Band' is]a jangly, lo-fi tune that's perfect for summer drives and hanging out."
- 102.1 The Edge

"…Shotgun Jimmie, what about us? How do we feel? Here's how: We feel like each of us just got high-fived so hard that our finger-bones shattered. We're all nursing our poor hands, & grinning." - Sean Michaels, Said the Gramophone
"His music is a beer-soaked love letter to the grungy 1990s – we hear Weezer and Sloan and, on 'Swamp Magic,' Neil Young's Crazy Horse. It's rugged, focused and thoughtful, with no time wasted and no pretension."
- Brad Wheeler, The Globe and Mail

"Shotgun Jimmie's music is a perfect piece of the puzzle that is the Canadian music landscape."
- Melody Lau, Exclaim!
"A charming cornerstone of Canadian indie for almost two decades now, Shotgun Jimmie is one of the hardest working, most sincere and all around lovely musicians in the game."
- Nick Laugher, BeatRoute