IN THIS ISSUE:

---
Sponsors this week:
The Carpenter Shop
358 North Rockwell
OKC, Ok
405-942-2644
405-942-2644
The Carpenter Shop is a full line cabinet and countertop shop that travels all over the state building dream kitchens for discerning customers

This guy is a Noble Oklahoma based company that has great prices on electronics of all types and inexpensive toner and ink for your printer.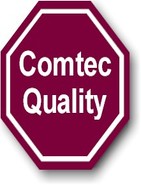 Comtec provides residential and commercial security systems in Oklahoma.
There is only one thing you really need to know about Comtec's quality and pricing, they do not require a contract for their services.
Customers are free to walk away if their service isn't top quality.
Rodent ResistantChicken Feeders!
$50 + Shipping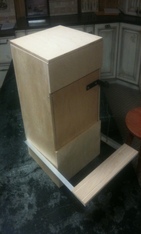 Advertise Your Business, Event, Or Service Here!
$25.00 per week, tens of thousands of Oklahoman
impressions every newsletter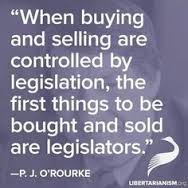 What in the Hell are the Bast*rds up to So Far?
Yeah we are watching them like a hawk this year, especially the God awful Senate. Here is a rundown on where the worst of the worst legislation has moved in the first three weeks.
SB 3, a plan by Senator Patrick Anderson to drain 15 million dollars away from education to fund the Indian Cultural Center. Appears to be dead, no co authors yet, assigned to Appropriations in the Senate. Stuck like Rep. Lee Denney trying to go in the side door at McDonalds.
SB 5 by Senator Ron Sharp, bless his little weaseled eyes, would allow school employees and volunteers to use physical force to control or discipline children at school, in transit to or from school, or at an officially sanctioned school function. This bill has passed the Senate committee and needs to make it to the floor of the Senate before passes into the House. Rep. Josh Cockcoft is the House author.
SB 12 by Senator Anderson would make it illegal to sell compressed air dusting canisters, commonly used for cleaning keyboards and other delicate electronic equipment. Stuck in committee at the Senate Health and Human Services committee.
SB 33 by Anderson would allow non certified (non CLEET trained) civilian employees who work as crime scene or crime investigators to carry personal weapons if they have a concealed carry permit. Senate Public Safety Committee has it now, Rep. Enns signed on as co author.
SB 43 once again by Senator Anderson would fine you for using a cell phone to send a message, send a picture, or any other form of "electronic communication". Stuck in Public Safety Committee over in the Senate.
SB 53 by Senator Standridge would set standards for delegates to a Con Con or U.S. Constitutional Convention which is one of the most dangerous things that we can think of given the political and social climate in the U.S.. Referred to the Senate Rules Committee but doesn't appear to be moving.
SB67 is by Senator Ron Sharp and it flat out outlaws using a cell phone or any other electronic device while driving. Not just texting or emailing, but "verbal communication". Coauthored by Senators Paddock and Mazzei then Rep. David Perryman in the House. Perryman of course is a democrat so Senator Sharp was scraping the bottom of the barrel to find an author which bodes well for freedom and the defeat of this legislation. The bill is sitting in the Public Safety Committee over at the Senate.
SB93 by Senator Mazzei would slash teacher's taxable income by 25% as long as they were working as a teacher and held a teacher's certificate. This takes a lot of the skin out of the game for teachers clamoring for tax increases. The bill passed committee, here are the votes: Dahm, David, Ford, Halligan, Jech, Paddack, Quinn, Simpson, Sparks, Wyrick, Yen, Brinkley, Mazzei But the title was stricken meaning the bill was rendered unconstitutional because only a few words were left in the actual bill and without a complete title the bill is forced into a conference committee to be negotiated with the House. This bill is expected to decrease taxes by 6.2 million dollars in 2015 and 15.5 million dollars in 2016 so with the 600 million budget hole this year we consider this vote was a pat on the head for Mazzei but the senators also almost certainly killed the ridiculous legislation by striking the title or they are at least admitting that it needs some serious amendments before it can pass.
SB 105 by Senator Weasel Sharp eliminates a previous three year waiting period before a retired teacher can start working in education again without losing retirement benefits. The waiting period is now only 30 days. Referred to Senate Pension Committee and hasn't moved at all so hopefully it is as dead as Senator Sharp's sense of morality.
SB 111 by Senator Clark Jolley strips the right of a jury trial appeal for municipal convictions that result in fines less than $500.00. There was already a threshold of $250.00 in place which for a rich momma's boy like Clark is lunch money. Passed the senate judiciary on these votes: Brooks, Floyd, Griffin, Holt, Sparks, Standridge, Thompson, Treat, Crain, Sykes . Next step is a floor vote at the Senate.
SB117 by Senator Simpson goes after citizens or used tire shops selling un-mounted tires with less than 1/16" tread remaining. Referred to Business and Commerce Committee in the Senate but hasn't moved.
SB121 by Senator Smalley wants to start taxing you on every address where you have an electric meter to pay for emergency medical services. This bill passed the General Government Committee chairedby Senator Nathan Dahm (yeah, he was supposed to be conservative) on these votes: Bice, Brooks, Floyd, Holt, Fry, Dahm The title was stricken and sent to conference committee so the Senate is certainly hesitant to ask the House to pass this tax increase unless they are willing to fall on their swords as well.
SB123 by Senator Smalley is another tax money stealing scheme to benefit teachers. It removes a 60 day moratorium on recently retired teachers from taking another job in the educational system (what happened to that three year moratorium?) Appears to be dead after bring sent to Pensions committee.'
SB 132 by Senator David is a nice pay increase for OSBI. Passed the Appropriations and Public Safety Committee but the title was stricken and the Senate Committee amendmens were adopted.
SB 157 by Kyle Loveless gradually removes the franchise tax on big businesses in Oklahoma.
Appears tobe dead as it hasn't move since being assigned to the Finance Committee.
SB160 by Senator "Hoodie" Barrington will allow the county sheriff to charge car owners when their cars are impounded by the sheriff department. Appears t o be dead over in General Government Committee in the Senate.
SB 199 by Senator Kyle Loveless creates licensing for builders and contractors, which many might think is a good idea to protect the public from shady builders Appears to be dead over in the Business and Commerce senate committee.
SB226 by Senator Fry is legislation to allow local government entities to force properties with common areas like condos to install storm water controls or drainage. Referred to Judiciary and appears to be dead.
SB261 by Senator Ron Sharp seeks to make it easier for parents to have their parental rights terminated.
Passed the Judiciary with these Senators voting to make it easier to terminate parental rights:

Brooks, Floyd, Griffin, Holt, Sparks, Standridge, Treat, Crain, Sykes. Title has been stricken on the bill so they know the House isn't going to automatically rubber stamp the legislation.
SJR4 by Standridge is a call for a ConCon. It has been referred to the Rules Committee but is sitting there hopefully till the clock runs out in March.
SJR5 by Senator Holt, same thing as SJR4, a ConCon. It too is stuck in the Rules Committee.
SJR6 by Senator Dahm calling for a STATE Constitutional Convention, something that is decades past due. Referred to the Senate Rules Committee and has picked up Rep. Lewis Moore as the House author.
SJR8 by Brecheen is another ConCon bill. It is stuck in the Rules Committee and hopefully will remain there.
SJR12 by Senator Holt is a public vote on restricting the legislature to working only on budget issues on certain years. Referred to Rules Committee and isn't moving.
Next week we will cover the House legislation.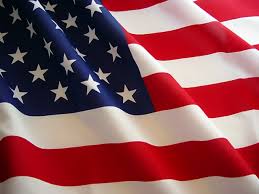 Americans for Limited Government
(4th) Tuesday February 24, 2015 7:00 - 9:00 PM
Kennedy Library - The Dougan Room

Konawa School, 701 W. South St.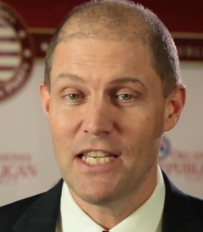 Mr. Hair Plugs
Liberal GOP Party Chairman Dave Weston
Oklahoma Can't take Another Dose of this Boy
We begin Part II of this series by looking at the current State GOP Chairman Dave Weston. We made numerous attempts to contact Mr. Weston for an interview, but were unsuccessful in arranging one. It is therefore necessary to go with published record to write this article. We restricted ourselves to the time that Mr. Weston has held the office as GOP Chair.
The first article of interest we found was this
. This article highlights that Mr. Weston has indicated that no matter how bad a candidate the party nominates for an office, the Republican voters should support them. That remark leaves us scratching our heads. Isn't that what got this country into the shape it's in today. Picking the lessor of two evils is still picking evil.
The next article of interest we found was this.
There are two quotes in here that we will note for you. These are why we believe his brand of freedom is dangerous. The first quote is "
There are a lot of people pushing the wrong kind of liberty in our State. Liberty is not doing what you want. It is doing what you should."
This is pure authoritarianism.
The second quote comes from the Wagoner County GOP meeting of November7, 2013. In it he states "
You cannot criticize your officials or the candidates in the party. You must support them with a smile on your face, and if they are the lessor of two evils go with them…you need to smile and go along in order for us to get back on track…"
The next article of interest we found was this
. Although we take no issue with the Republican activist having his say, we do feel that the activist and the columnist need to better educate themselves with whom they are talking about. C.A.I.R. has no room to complain here. They have been declared a terrorist organization by many countries and should be so here, oh wait they were. They were named an unindicted coconspirator in the Holy Land Foundation case. They are a known front group for the Muslim Brotherhood and the terrorist group Hamas. Anyone familiar with jihad knows there are three stages to jihad and Oklahoma is in stage one. They may act like your friend and all, but the Quran gives them permission to lie when there is not enough strength in numbers. This time Dave Weston got it right.
The next article of interest we found was this
. Why would a national delegate who claims to be an activist endorse Dave Weston. We realize that continuity in the seat is important, but when that continuity is taking the state down the wrong path, it's time to make a change of direction and we don't see that coming from someone who is so set in his ways such as Dave.
The next article we found brings up a question of knowledge of party rules. You can see it here
. You would think that before demanding the resignation of a County Chairman and basing your demand on party rules you would at least spend the time to see if it was a party rule. Not this bull in a china shop. He just fired away and let fall what ever happened. We can't figure out if he was trying to dazzle her with his brilliance or baffle her with his b.s. Anna Flatt of course is the notorious Crazy Anna, so named by the National Ron Paul campaign staffers in 2012 for the paranoid behavior she was exhibiting.
Then there is this
. We know you look at the title and wonder how Dave Weston could have had a hand in this. We did ourselves until we read the article. This is what we found.
How it Started
"The OKGOP Chairman (David Weston) errantly reported in December, 2014;
The first step is to hold precinct meetings and conduct precinct business. The meeting is open to ALL registered Republicans and should be held within the boundaries of the precinct, however many counties in Oklahoma hold their precinct meetings together as a group. Some meet as one county-wide event others meet in zones or by State House Districts. OKGOP State Party Rule (SPR) 16a gives authority to the County Executive Committee to set the location of the precinct meetings where they think best for their county."
But further inspection reveals that this statement is false in its representation of the rules. The GOP Rules clearly state that the role of the County Executive Committee is to hear request from precincts who want to meet somewhere other than within their precinct boundaries. So it appears that after almost two years of on the job training, Dave Weston is still unfamiliar with his job and party rules.
Dave Weston likes to take credit for the growth in the number of seats in the House and Senate from the 2014 election but we ask why. So far out of this session all we've seen are bills to block the openness of government and a serious slip in the number of conservative legislators. If you're one that's looking for a police state then maybe you should vote for Dave Weston for another term as state GOP Chair. We think he has a very serious lack of knowledge to overcome before he can become a party chairman. They might hire him as a secretary though. The choice is yours. One thing you might ask yourself though. Why didn't you contribute to any local politician's campaign? Where's the money Mr. Weston?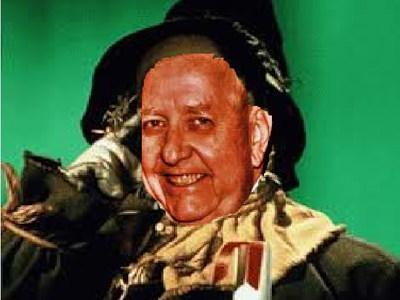 "If I Only Had A Brain"
The Wizard Of Oz Scarecrow has a Competitor with David Dank
Can it be that someone in our state government has finally awakened from the fairy tale life, actually gotten a clue on what it takes to run a state, and realizes you can't spend money you don't have? We wonder what the hell happened to bring Representative Dank to consciousness with his common sense approach that our state government must be good stewards of taxpayer money. Has Dank been dunked in the water tank enough to make him take notice of what is going on? It has taken eight years for his revelation. He was elected in 2007 and is term limited in 2018. There is no doubt the old saying better late than never applies.
Is the dike so full of holes that there aren't enough fingers to stop the flood? Dank finally asked, "How can we continue to play this shell game every year and look the taxpayers in the eye and claim we are being responsible?" Haven't the people been screaming this question for years only to fall on deaf ears? Do we finally have someone admitting to the political games and irresponsible behavior? Are we now supposed to "pat the good politician on the head" for the job he now says he wants to do even though he should have been doing it all along and hasn't?
Every politician has to know that people work hard for their paycheck and the only excuse we have for playing the broken record of waste, fraud and abuse is that if we play it long enough maybe the ones that keep singing "If I only had a brain" will finally figure a way to get one. We understand that no single legislator can go it alone. We also wish all the good guys would hop on their pogo sticks and jump up and down when they see blatant abuse and call it out. Is this too much to ask?
"
Dank said he will even

refuse

to hold hearings on a bill he has sponsored in the past to exempt hearing aids from sales taxes for seniors." Not all seniors need this freebie, some do, and if the state hadn't wasted so much money is it so far beyond comprehension that Oklahoma could help take care of those seniors in need and still pay bills and have money left over? We never have been nor will we ever be the cold hearted bastards conservatives have been accused of being.
Representative Dank also said, "He would

resist

spending any additional funds until the state enacts what he called "real reform: of "widely abused" tax credits and exemptions and begins the work of reforming the convoluted and wasteful structure of state government."
Let's look at the words "resist," and "refuse" and what they mean. We always say words are powerful things and politicians choose them wisely. Resist is to oppose actively or fight against. Refuse is to decline to accept. Why did Dank "refuse" hearings for sales tax on senior's hearing aids and "resist" spending until reform and abuse were addressed? Does this mean that a little more taxpayer money is available to waste? Are we the only ones wondering where all the smoke is going to end up?
Here are a few of the tax credits your government gives away at a cost that comes out of your household budget.
wind farms projected at $290 million by 2018

housing developers at $40 million

each year by 2026

$50 million to movie producers
The one question we ask our state government to answer; with a $611.3 million dollar budget shortfall…Why should taxpayers worry about a solution? The ones that created the mess are the ones that have to fix the abuse. Another question would be why don't politicians know what they were doing to begin with?
Here is one other example of wasted money. After driving around the state along our highways there are signs posted for "damaged guardrails." Is this to make you aware not to run into it again or perhaps persuade you to have an accident in the same spot because it needs replacing and the sign is already in place?
How much of your money is spent to make the sign? Pay for the vehicle and driver wages to drive to the location and place the sign? Pay for the vehicles and man power to fix the guardrail? Pay for the government employee responsible for keeping track of these workers, vehicles, fuel, maintenance, signs and guardrails?
Oklahoma lawmakers excel at wasting money. Would a pre-requisite to holding office be an audit of personal finances to see exactly how qualified they are with a budget? Perhaps someone could track the domino effect of the waste and come up with a real figure of the actual costs to taxpayers.
Representative Dank's concept is good and in fact a "no brainer." Our concern, as always, is the follow through.
2013 Senate members and House Members
Please copy the block of emails for your contact list so you are able to email all of them and help to inform and educate them before the new sessions begin. Use Bcc to send dozens of email with one email from you to them. This will look like you send each one of them a personal email with only their email showing as the recipient. Please mention the Sooner TeaParty in your emails so they will have a healthy respest for what we do.
Here are the updated individual House members email addresses in three blocks of Thirty- four each and updated senate emal addresses in one block
.
Rem
ember to strip the unsubscribe link before forwarding this newsletter to prevent someone from taking you off our list! Use our forward this email link at the top owf the newsletter to prevent being accidently unsubscribed.
Money is always needed for printing costs, postage, sign materials, and robo call costs. We are tightfisted; we will spend your hard earned money wisely and frugally as we do our very best to clean up Oklahoma politicians so we can begin to clean up our country.
You can donate by sending a check to Sooner Tea party, 358 North Rockwell Ave, Oklahoma City, OK, 73127 or visit Soonerteaparty.org and use the Paypal donation button.