CrownBees.com  |  (425) 949-7954  |  13410 NE 177th PL Woodinville, WA 98072 
The Native Bee Newsletter is the future of Crown Bees.
 To find the best hole-nesting bee in your backyard in your region has less bees being moved around the country. A bee that thrives around you is already acclimated to your climate, uses the resources of your yard to separate its gathered pollen/nectar and laid egg, and can be shared within your community to those that ultimately raise food.
Thank you for caring about native bees and thank you for supporting the Crown Bees program.
WHAT'S IN THIS ISSUE:
1. National Pollinator Week June 19-25, 2017

2. A Growing Passion: Episode 506




3. National Monitoring Plan for Native Bees




4. Reflecting on Honeybee Impacts




5.

Territorial Seed: Companion Giveaway




6. Raise Awareness with Guest Webinars

 
NATIONAL POLLINATOR WEEK: JUNE 19-25, 2017
Pollinator Week is here! Every year, the Pollinator Partnership works with the USDA and the US
Department of the Interior to designate a week to celebrate, protect, and highlight the work of pollinators. Find a 
local event
 that you can attend to support pollinator efforts.
Every day of the week we will highlight the important work that is underway that answers some big questions about our native bees. Many of the researchers, farmers, and educators that we are featuring have partnered with us. Our nesting materials and cocoons are a wonderful resource that makes it easy for scientists and extension specialists to get their work started. Connect with us on Facebook, Twitter, and Instagram for these short stories and check in with our blog as we recap stories for easy referrence.
We will also be sharing photos of wild hole-nesting bees and wasps that moved into Emily's nesting material last year. Not only is Emily our Office Manager, she is also a manager of wild bee guests! Perhaps you can help us identify her bee cocoons?
We are also celebrating by offering you a special discount of 20% off our Wild Bee Series. Simply enter the code POLLINATE2017E at checkout. Discount is good for BeeMotel, BeeHotel, Pollinator Pack, and BeeAdventure products only and the code expires June 25, 2017. 
A GROWING PASSION: WILD AND WOOLY, NATIVE BEE POLLINATORS
Tune in for an interview with Nan Sternman | Episode 506
Nan Sternman, the host of California's
A Growing Passion
, asked us to help teach about native bees for an episode. Charlie was on sight for this production and we brought in a local honey bee professional James McDonald who also shares a passion for the native bees. Here is the narrative for this episode. It's a well-produced video!
Honeybees are the best-known and most recognizable insect pollinators in our farms and gardens.  Without them, we'd have no peaches, nectarines, apples, almonds, carrots, beans, eggplants, tomatoes, etc.
Still, those bees are native to Europe.  They are imports that are neither Californian nor even American.  But California is home to hundreds of kinds of native bees.  In fact, the southwest is home to one of the world's richest assemblages of the bees that serve as critical pollinators in most ecosystems.  And wild insects, including native bees are thought to help pollinate more than 50 percent of agricultural crops around the world.
In this episode, we'll explore California's native bees and their role in native ecosystems, farms, and gardens.  We'll visit with a young researcher at UCSD doing critical work identifying and assembling an inventory of California native bees, many of which are threatened by habitat loss as a result of human development.  
Wildlife Biologist Shea O'Keefe shows us a habitat restoration project in Fallbrook that is providing critical habitat to native bees and other pollinators.  We'll hear from Crown Bees, a Washington state company that "grows" and sells native bees and educates communities across the continent.   And local beekeeper James McDonald will introduce us to orchard mason bees, one of the more common native bees, their characteristics and how to create spaces to attract them into our gardens.  
Along the way, we'll explore the bee lifecycle to understand why some bees make honey and others don't, why most bees are solitary (they don't make hives), about the importance of pollen and much more.
Check out A Growing Passion's 
Website: www.agrowingpassion.com
NATIONAL MONITORING PLAN FOR NATIVE BEES
On behalf of the U.S. Department of Agriculture's (USDA) Pollinator Health Working Group, USDA National Institute of Food and Agriculture (NIFA) will host a Listening Session to discuss a strategy to monitor native bees in the United States. The meeting will be held Wednesday, June 28, 2017, from 8:00 a.m. to 3:30 p.m. (EST) and you can attend the webinar and see all the details 
here
.
Dave Hunter will be at this meeting and has been allotted 5 minutes to answer these three questions:
1.

   
Why is a national monitoring plan for native bees important;
2.

   
What kind of information/data is needed; and
3.

   
How would the information be used?
We feel that Crown Bees is ahead of the curve for answering these big questions. Science is starting to acknowledge the real value of pollination that native bees contribute to our crops. Our work preparing the program "Connecting the Native Bee Network" answers these questions, but more importantly, already has you involved in the solution to find, raise, and learn about our native hole-nesting bees.
Our Field Bee Hotel is the tool that researchers need to learn about our local native hole-nesting bees. Stay tuned for an update on how the meeting went in next month's BeeMail!
REFLECTING ON HONEYBEE IMPACTS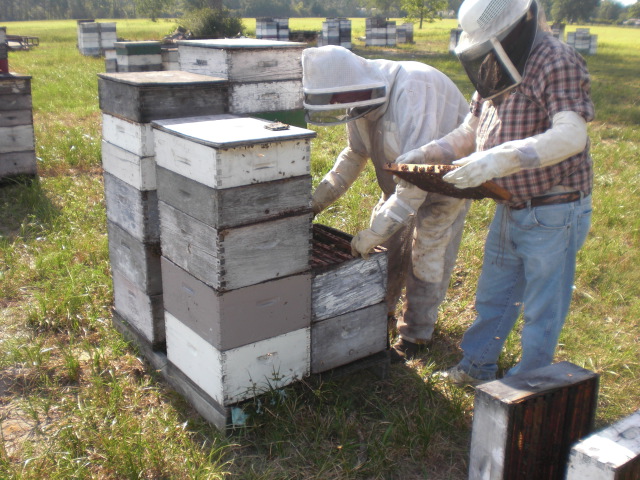 Last year, a 
Swedish study
 determined that honey bees outcompete native bees for nectar and pollen and spread their diseases to them as well. The study looked at 1km plots that had no honey bee hives, counted the native bumblebee populations, and introduced one honey bee hive in half of the plots.
Introduced honey bee hives reduced the population of the short-range bumblebees by 81%, proving that honey bees strip nearby pollen and nectar to fulfill their mission to feed the growing 1,000+ eggs laid per day by their queen.
Honey bee hives should not be located in conservation or restoration areas that are trying to recover their native bee populations.
We still appreciate the role that honey bees have played as our sophisticated farmland pollinators, but we also agree with the recent phrase that "raising honey bees to save pollinators is like 
raising chickens
 to help birds".
We know our domesticated honey bee well and it's time for us to get to know our world's huge diversity of bees. Honey bees have some drawbacks and other bees are better at pollinating certain plants than the honey bee. For example, alfalfa leafcutter bees don't mind tripping open the keel of an alfalfa flower, resulting in a hit on their heads. Because of this behavior trait, leafcutter bees are 15 times better at pollinating alfalfa than honey bees. Honey bees are also not able to buzz pollinate crops like tomatoes, potatoes, eggplants, blueberries, and cranberries. Bumblebees, carpenter bees, and some Agapostemon bees are wonderful buzz pollinators.
It's time for us to stop assuming that the honey bee is a one-size-fits-all pollinator and to acknowledge the fact that we need to raise a variety of bees to pollinate our food.
TERRITORIAL SEED: COMPANION GIVEAWAY
Kat from Territorial Seed wanted to share the following advice about direct-sowing warm weather crops:
"June is a good time to sow warm weather vegetable seed like corn, beans, cucumbers, melons, squash, and pumpkins. These are all fast-growing plants that germinate quickly in warm soil and are best direct-sown into the garden. Cucurbits (squash, cukes, melons, etc) require heavy insect activity for proper pollination. If you see small fruit forming on your plants only to become distorted and finally abort, it's most likely a sign of inadequate pollination. Studies have shown that a squash blossom requires about seven visits from a bee for proper pollination and fruit production. Try attracting pollinators to your garden crops by planting fast-growing flowers with your veggies. Excellent direct-seeded companions are borage, nasturtium, cosmos, and sunflowers."
The photo above is an example of a well-pollinated zucchini (top) and an under-pollinated zucchini (bottom), provided to us by Dr. Jim Cane of the USDA. You can read more about squash pollinators of the Americas in our 
blog
.
We are giving away a special bundle of warm-weather companion seeds from Territorial Seed in our BeeWithMe Facebook Group.
Enter to win here
.
A few readers have asked us why we have giveaways in Facebook, and now only on our Facebook "Group". A few said that it wasn't fair as they didn't use Facebook. Here's why: we want to encourage interaction, not just a one-way message from us to you. Through interaction, people get their personal questions answered not only by us, but by the other members of the group. People learning from people. Awesome. 
With Facebook, a "Group" is different than a "FanPage". Our current Facebook.com/crownbees is a FanPage and unless we spend a lot of money, people only see maybe 10% of what we post.  With a Group page, members see more relevant posts and way more engagement. We think you will see about 40% of them.
Thus, we are trying to get more people engaged through these giveaways. They won't be only from us, but from our partnering companies as well. 
RAISE AWARENESS WITH GUEST WEBINARS


 

Our goal is to raise awareness and there's no better way to answer questions than with a Facebook live feed video

. Are you a member of a Facebook group that you think would benefit from a Crown Bees webinar? Connect us to your group or page's administrator by emailing us at info@crownbees.com. See you soon!



 


CrownBees.com  |  (425) 949-7954  |  13410 NE 177th PL Woodinville, WA 98072