Grumpy Cat Movie
Grumpy Cat has his own movie now! And it's out just in time for your holiday television viewing. It's called Grumpy Cat's Worst Christmas Ever.
Visit this site to see some scenes from the movie:
You will need to check your own TV listings for times and stations. It's set to show on the Lifetime Network.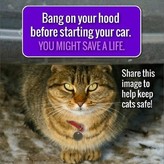 Shelter Feed Links
 
Visit these sites to donate food to shelter cats. Please notice that when you get to the kibblekat page, there are 3 links at the top so you can choose
which one (or all) of them to click - dogs, cats, or litter. So all you really need to do is visit one page and all 3 donation buttons are there!
==================
          Notices
If you have received this newsletter from a friend and would like to have your own subscription, just head over to
TheProblemCat.com
and
use the signup form at the top of the page.
To see previous issues, visit the archive:
ymlp.com/archive

As always, be sure to check in with your local shelter(s) to see what they need.
==================
==================
My other web sites you may like:
Questions?
felinehelpline @ live.com
Winter Care For Outdoor Cats

Winter has just barely started (it isn't even official for another month) and I've already seen a story about a dog that froze to death in his own yard in Georgia. Neglected cats can be victims, too. Just because they have fur does not mean they are OK outside in any weather.

It looks like winter is going to be rough this year, so while we're all cozy and warm inside our homes, we could be doing things to help the animals outside, especially the cats. If you have a stray or feral population near you, here are some tips to help you help them. Just remember, cats do not have any magical powers to resist extreme cold and brutal conditions. Yes, many will survive, some just barely, but most will not. Count on losing kittens,
older cats, and any with problems, such as failing health or have been injured.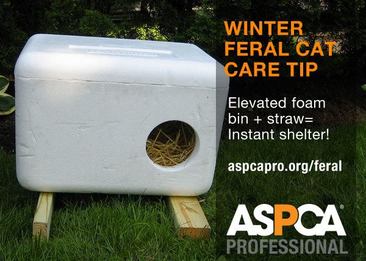 Notice the box is slightly tipped to one side. This will help prevent accumulation of moisture inside. Be sure to drill or cut a small hole at the low end for drainage.
Tips:
1.
Shelter
- Here is a list of sites with tutorials on making shelter boxes, such as the one pictured above.
https://www.youtube.com/watch?v=wSwLZTp9mf8
https://www.youtube.com/watch?v=ZiZXnUOz80w
https://www.youtube.com/watch?v=PqYypZCmH6A
https://www.youtube.com/watch?v=3j8sMN0FH-o
https://www.youtube.com/watch?v=JRAs24ljb78
https://www.youtube.com/watch?v=E2TbvVxc3uo
Be sure to keep snow swept away from the entrances and off their food, and position them at least one foot off the ground in case of rain.
2.
Food and water
- For outdoor animals, extra calories are needed to maintain body heat. Provide plenty of dry food, as it stays edible better than soft food, which can freeze. Water must be either set out often or use a heated bowl.
3.
Trap-Neuter-Release
- Is it advisable? Opinions vary. Being returned to the outdoors after surgery could be dangerous during a harsh winter. However, if you're willing to care for them during the healing process, the advantage is they are easier to capture and females are less likely to already be pregnant.
4.
Slap Your Car
- Before you even get in, slap the hood to scare away any cats taking shelter inside. Also check the wheel wells. If you've just been somewhere, the tires may still be warm and cats like like to sit on them.
5.
Antifreeze
- This warning is issued every year and still, cats die from licking the sweet liquid wherever it may have been carelessly spilled. Another chemical not mentioned much is snow-melt salt. Many people buy it by the bag for their walkways. If sold specifically for this purpose, you can bet it contains toxic chemicals that speed up the melting process. Avoid using it, if possible. Use plain salt, or better, kitty litter!
More Info:
http://www.onegreenplanet.org/animalsandnature/what-you-can-do-to-help-feral-cats-fare-well-through-winter/