WINTER RETURNS
BIGGEST TV FRANCHISE IS BACK AGAIN
VIEWING FIGURES SHOW NO SIGN OF FATIGUE…
…AND DVD SALES ON THE UP AND UP TOO…
GAME OF SKUS
MARKETING CONQUERS ALL MEDIA
EARLY SPEND DRIVES PRE-ORDERS
HBO PARTNERS WITH VICE, LADBIBLE FOR MORE
MARATHON DRAWS GOT DEVOTEES
WESTEROS COMES TO BELFAST
AMBASSADORS STILL FLYING THE FLAG
PR TRIP BOOSTS COVERAGE
WHERE NEXT FOR GAME OF THRONES?
…AS HBO PULLS A DEUCE…
…AND IS BACK ON THE CURB
TRAILERS OF THE WEEK
---
---
If you can't read this newsletter or see the ads, please click here
It's back. Winter is here again – and once more winter, in the shape of the latest season of Game Of Thrones on DVD and Blu-ray released by HBO, actually means winter, with the seventh outing for the planet's most popular TV show arriving not just slap bang in the middle of the right season (it's released on December 11), but also in time for gift buying and the final assault of the Q4 season. In this special edition of The Raygun, released to celebrate HBO's latest salvo from George RR Martin's fabulous creation, we'll look at the television giant's release plans for the series and the impressive marketing and PR support it is putting behind the latest title…
Commenting on where the franchise is at, HBO's home entertainment chief Colin Smith said: "

Each passing year it looks impossible to meet expectations on Game Of Thrones and then every year rolls around and continue to break records across broadcast, social media and retail. This is our first year releasing in December and we knew we would be facing a very different retail landscape than we are used to. But with one week to go we have already attracted global press for our marketing activity and our pre-orders have treble-digit growth. This isn't over yet. In fact it isn't even slowing down."
---
---
Anyone who might have thought that series fatigue – the fate that so often befalls even the longest-running, most successful TV series – had set in on Game Of Thrones was forced to think again as the hugely popular show returned to TV screens, on HBO in the US and simultaneously on Sky Atlantic in the UK. Not only was it another enormous ratings success, but the series was also acclaimed by critics and fans alike. It continues to buck trends, with the season finale in the US drawing 16.5 million viewers, making it the most-watched single episode across its entire history, up more than a third on the previous season finale. Overall viewership across S7 was more than 20 per cent up too. It's a similar story in the UK too – the season opener drew in almost 3 million viewers in its first 24 hours, including more than 100,000 who watched it at the ungodly hour of 2am, simultaneously with the US. It represented the biggest overnight viewing figures in Sky Atlantic's history…
The home entertainment success of the series is similarly showing no signs of dying either. Where other, lesser programmes have seen the law of diminishing returns apply to sales through their life cycle, Game Of Thrones on DVD and Blu-ray is showing no signs of slowing down.

"The season 1-6 boxset completely smashed all of our forecasts, it was 30 per cent up on the 1-5 set, really showcasing the powerful combination of the both the franchise and a Q4 release date," said HBO's Grace Alexander. "Made even more impressive, when you consider that the 1-5 set had only been released earlier that year." And a similar pattern is emerging already with S1-7. "Pre-orders are currently up over 90 percent for the 1-7 boxset – our most expensive boxset to date," Alexander added.
And as HBO's Colin Smith further noted: "

We try not be complacent with our sales figures in such a volatile market, but we are incredible lucky to work on a show that translates so well at retail. The key is to maintain momentum, and with a shorter season and a longer window, the forecasting becomes tricky. But we are yet to experience decline on a show that is about to release its seventh season. That can't be ignored, and it is a testament to all the marketeers, sales teams, retail teams, media teams and partners of every release campaign that we continue to see such phenomenal success."
---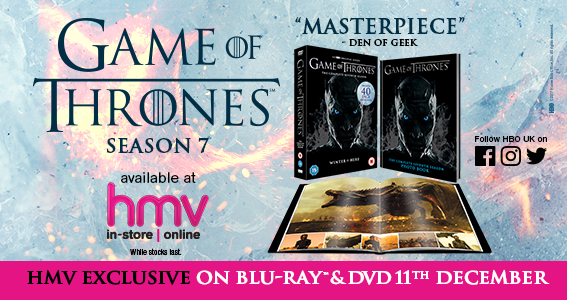 ---
As you'd expect, the seventh season for Game Of Thrones features the kind of SKUs you'd expect for the series – DVD and Blu-ray versions (the latter continuing its ongoing support for the state-of-the-art Dolby Atmos sound), with similar versions for the complete one to seven boxsets. In addition, HMV has its own exclusive – complete with photo book – as does Amazon, the latter's a bonus disc containing a selection of exclusive extras, added to the standard SKUs' additional content which includes the complete Conquest And Rebellion series.

Conquest And Rebellion is a companion piece focusing on the four key houses and how they came to be in season 1 – a must-see for all fans.
We'll start with the key above the line marketing for the release and, with six hugely successful releases, assorted drafting campaigns, seasonal efforts for the gifting market and more all under its belt, HBO has honed its craft when it comes to marketing a Game Of Thrones release.

"For our media campaign, we have planned spend across VOD, digital, social, outdoor and press – as well as several key media partnerships, to ensure we get to as broad an audience as possible." said HBO's Grace Alexander. It's effectively split into two distinct parts, the first has been up and running since the announcement of the S7 release date of December 11. These efforts are targeting the Game Of Thrones fans, both the diehard completists and the more casual viewer, while the second burst will be closer to Christmas, concentrating on the gifting market. "For the first time, we have spent on media for the pre-order campaign, this year we had the shortest pre-order window yet – so it was important to let everyone know the release date and encourage fans to purchase in time for Christmas."
But it goes beyond just these traditional elements too. "We're working in a partnership with VICE magazine, they'll be doing some editorial in their own inimitable style." It's part of an ongoing effort to draw more people into the habit of buying the physical releases, widening the brand and its scope for home entertainment, moving into other demographics from the traditional GoT fanbase and DVD consumers. Similarly, HBO is working very closely with Lad Bible on a similar initiative, another partnership, which will see the website brand creating a wealth of material, with GoT related clips and videos tying in with Lad Bible's existing strands – think How To Make Dragon Glass, in the inimitable style of the site's own How To guise.

"They'll be creating exclusive, bespoke content for us – certain pieces that complements our planned PR activity and others that look at the franchise through fresh eyes – giving the show a LadBible twist," said Grace Alexander. "We know Game Of Thrones is very popular amongst the LadBible audience- so it seemed like a great fit for us."
Seven seasons, 67 episodes, 67 hours' worth of programmes, four days… Game Of Thrones has been running for six and a half years. And yet a few hundred devoted fans, as well as assorted influencers, journalists and media types, made the journey from the beginning to its near-climax in a matter of days at a special marathon screening of the entire Game Of Thrones series so far. Spread over four days, the Prince Charles Cinema screened every episode in chronological order in a non-stop marathon. The money-can't-buy tickets were being offered to assorted journalists and fans have the chance to win tickets through assorted competitions and giveaways.Social media activity gave regular updates, with seats given up by exhausted viewers quitting offered to other fans via Twitter and the likes. Mod Pizza were among those on board, with survival packs and freebies given to those attending too.

"We kept the conversation going throughout the four days on social" said HBO's Grace Alexander. "Offering a VIP Game of Thrones concert package to one of the lucky people in the screening for the finale. These various different elements – including the opportunity to see Game of Thrones on a cinema screen, the incredible survivors and the prizes – enabled us to get maximum coverage from the likes of Timeout, Shortlist, Metro and even New York Times!"

The event was introduced by writer Jamie East and star Hannah Waddingham, while a brave total of seven foolhardy punters made it through the entire four days…
A further event will see HBO teaming up with screening specialists Backyard Cinema over in east London for a special airing of not one but two episodes from S7, alongside some of the special features. What's more, the activity, again aimed at helping drive word of mouth and buzz around the release, will be hosted by Radio 1 favourite Chris Stark, whose name even boasts a Game Of Thrones connection. The event will be attended by assorted press, influencers and the GoT uberfans…
"Welcome to Westeros!" That's the huge sign that will greet passengers arriving at Belfast Airport, as HBO has inked a deal with airport authorities that will see the arrivals area being branded throughout with Game Of Thrones material highlighting the release of S7. Northern Ireland, for the uninitiated, provides many of the locations for the series (alongside Spain and Iceland, more on the latter shortly), and it has provided a tourism boost for the region. The new branding will see walls covered in GoT-related materials, with AV content showcasing the Belfast locations. It's part of a three-way partnership with the Northern Ireland Tourist Board, the airport and Northern Ireland Screen.

"Belfast and Game of Thrones have been intrinsically linked from the very start, brilliant opportunities have been created in the city thanks to the show and we see this activation as a way of showcasing that." said HBO's Grace Alexander.
---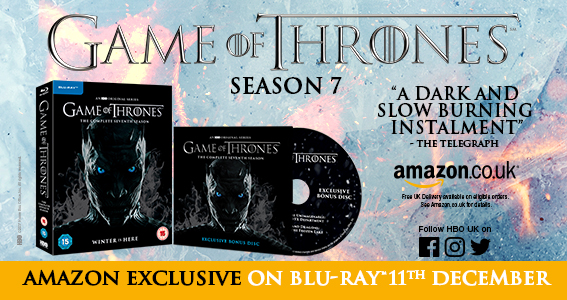 ---
HBO is continuing its ongoing ambassador programme for the release of the seventh season of the show, with 10 influencers on board to help further promote the programme, and the release.

"At the start of the year, we enlisted 10 influencers - all of them are well-known fans of the show – to keep the franchise momentum going in 2017" explained HBO's Grace Alexander. "We've been giving them exclusive content- inviting them to junkets, press trip and events, allowing them to promote the show to their followers in a completely different way to traditional media. This has been a key development in our campaign this year, and we think it's worked brilliantly."

The ambassadors will be involved throughout the campaign, highlighting what's happening in the HBO Game Of Thrones world.
Iceland, one of the key locations for the filming of Game Of Thrones (it has provided, among other things, the location for The Mountain Beyond The Stars (aka Kirkjufell) and it was the destination for a major UK and European press junket. As HBO's Grace Alexander explained:

"We took 25 International journalists to Iceland to visit a selection of locations used throughout the series, including The Wall and Dragonstone- resulting in coverage in the likes of NME, Culture Trip and MTV."
So what next for Game Of Thrones? The series is heading towards its grand finale, with Season 8 scheduled for later in 2018 or early in 2019 – word is it'll be heading into feature length territory with extended episodes as it draws to a close. But fear not, rumours are swirling around about assorted spin-offs, offshoots and a wider Game Of Thrones universe…
And as for HBO, there's more closer to reality on the way early in 2018, with some of the television giant's favourite sons returning… The Deuce is one of the most talked about programmes of 2017, which sees The Wire creator David Simon back on form in this tale of the birth of the modern adult entertainment business in the 1970s. Grounded in a true story, it boasts authentic, gritty period New York settings, great music and a wealth of talent, including the ubiquitous James Franco not once, but twice… The first series is due in February…
A touch later, another David, Larry David, returns as, er, himself in the hugely popular sitcom Curb Your Enthusiasm. After a lengthy lay-off, the comedy genius has returned to screens, along with a bunch of familiar faces, to get up to his usual shenanigans and awkward social situations, And the buzz on this, the ninth season, due on physical formats in March, is that it's a fine return to form too. Commenting on HBO's Q1, the company's Colin Smith said: "

We are very excited about Q1, because we have two jarringly different but terrific titles hitting stores - the 9th Season of Curb Your Enthusiasm brings back one of the most tried and tested comedies to the HBO slate, and in David Simon's The Deuce, we return to what HBO is most known for - provocative, authentic drama with widespread critics' seal of approval. The buzz on The Deuce is very exciting and with Season 2 renewed we plan on sustaining the momentum of this show for a while yet."
Sampha providing the vocals on a special new home ent trailer…
Here's the original teaser for Season 7…
And here's the full trailer…
And here's the year's most talked about new HBO series…
To subscribe to The Raygun newsletter, please email

info@theraygun.co.uk
with subscribe in the subject matter
To unsubscribe, email

info@theraygun.co.uk

with unsubscribe in the subject
For editorial or advertising queries, contact

tim@theraygun.co.uk