MIJNWATER ALL OVER THE NEWS
We publish Mijnwater News to keep you up to date on the highlights at Mijnwater B.V, our work in the field, innovations in mine-water technology, the findings of the Interreg partners, and to share the responses we get from throughout the region with you. Mijnwater B.V. is helping to achieve an energy-neutral Parkstad Limburg by 2040. We share news about our organization or the organizations we cooperate with and support through our website and social media on an almost daily basis.
If you have any other business contacts whom this information could benefit, then feel free to e-mail it to them. Want to receive news from us in your mailbox? Please use the 'Register' button on our homepage:

www.mijnwater.com

.
1.

My Mijnwater – online customer portal
2.

Limburg Leads at MECC, 15 and 16 May 2019
3.

1Limburg: heating grids – a necessity or a risk? Plus an interview with Louis Hiddes
4.

Mijnwater lead partner in Interreg NWE D2Grids
5.

Collaboration in 62 EU projects
6.

Herman Eijdems in Innovation Relay (Innovatie-Estafette)
7.

Provada 2019: The Strength of South Limburg, a smart part of Europe
8.

HeatNet brochure 'Developing heating grids in North-West Europe'
9.

Workshop Energy Cities Ettlingen, Germany -
'remuncipalisation, yes, you can!'
11.

Mijnwater at trade shows and symposia
My Mijnwater - online customer portal

Our online customer portal, My Mijnwater, will be available for use from mid April. In just a couple of steps, users connected to mine water energy will have access to their own safe and secure account. Customers will be able to log in to view their digital invoices and final statements and also check their monthly energy consumption.
Limburg Leads at MECC, 15 and 16 may 2019

On Wednesday 15 and Thursday 16 May, the 'Limburg Leads' Euregional network event will take place at MECC Maastricht. The event will cover the four themes of sustainability and circularity, talent, health, and digitization.
Louis Hiddes (Director at Mijnwater) and Roger Cox (lawyer at Paulussen Advocaten) will be interviewed on location. Simone van Trier will ask them for their views on 'From gas to heat, how can we tackle the energy transition together?'
The interview will take place on both days, at two different times.
• From 2:00 PM to 3:00 PM on 15 May 2019 in the Euregio Theater (Limburg Leads/MECC).
• From 2:30 PM to 3:30 PM on 16 May 2019 in the Euregio Theater (Limburg Leads/MECC)
There are no registration costs for visiting Limburg Leads and attending the presentation. Parking is at your own expense.
After the interviews, we invite you to come to the joint stand of Mijnwater B.V. and Paulussen Advocaten to talk to us and meet other business contacts. We will provide drinks and eco-friendly snacks.
Limburg Leads is a business event where entrepreneurs, leaders, and administrators from the Euregion can meet one another to discover new opportunities and share knowledge. More information about this two-day networking event is available at:

www.limburgleads.com

. Visit

www.limburgleads.com/nl/programma-2019

to find out more about the story of these two gentlemen as regards the energy transition.
1Limburg: heating grids - a necessity or a risk?

Mijnwater is often mentioned in the news. The company also receives a considerable amount of regional attention. See the accompanying article and video by 1Limburg on sustainable heating grids in Limburg, which includes an interview with Louis Hiddes (Director of Mijnwater B.V.) and one of the residents of the Maankwartier district in Heerlen.
Mijnwater leadpartner in Interreg NWE D2Grids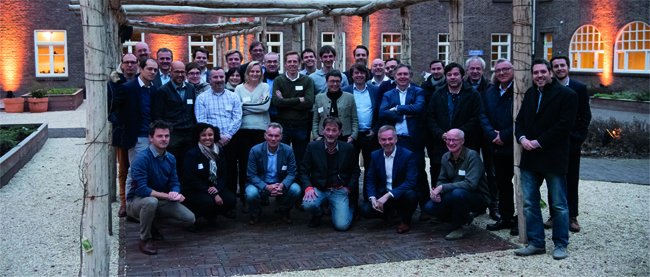 The roll-out of a proven concept is going ahead. Mijnwater is the lead partner in the Interreg NWE 'D2grids' project, which aims to make the 5th Generation District Heating and Cooling (5GDHC) a reality. 5GDHC is a highly optimized, demand-driven, and self-regulating energy management system for urban areas.
1) ultra-low temperature grid with decentralized energy plants;
2) closed thermal energy loops ensuring hot and cold exchange within and among buildings;
3) integration of thermal and electricity grids. The low grid temperature, low grid losses, and efficient heat exchange mechanisms substantially reduce the total energy demand, which can be effectively and securely supplied by renewable energy – up to 100%. The project will continue until 2021.
Read more about it on our website.
Collaboration in 62 EU projects
Mijnwater is collaborating with 62 other EU partners in EU projects that aim to improve the sustainability of built environments. A search is being conducted throughout Europe to find the smartest types of alternative energy forms. Mijnwater Heerlen is a great example for many cross-border projects.
From submerged coal mines to circular district heating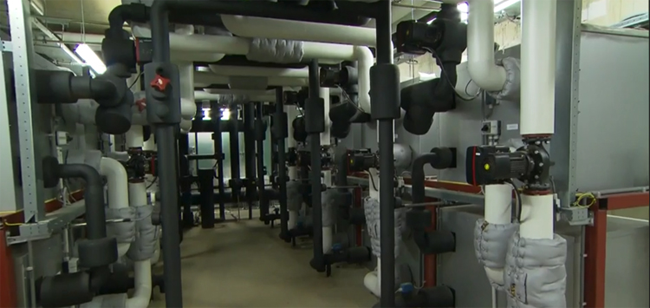 Now that the gas tap is being turned off, new innovative sources of energy are needed to heat our homes, offices, and other buildings. One of these new energy sources is the circular district heating grid of Mijnwater B.V. What started out as a way of using groundwater in mines to heat and cool buildings in Heerlen has expanded to become what is possibly the most innovative district heating grid in Europe.
Read more about it in the
Innovation Relay newsletter
published by the Dutch Central Government.
Provada Amsterdam: The Strength of South Limburg. A smart part of Europe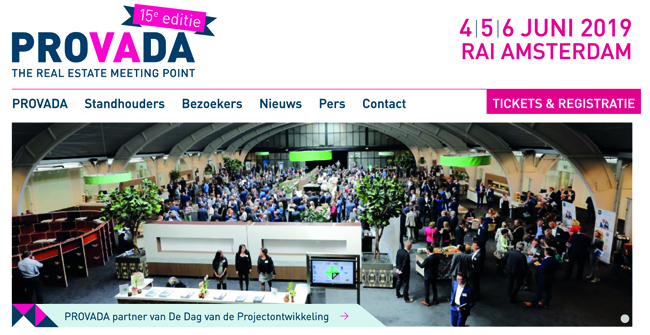 The 15thedition of PROVADA Amsterdam will take place on 4, 5, and 6 June 2019. 'The Strength of South Limburg, a smart part of Europe' is the key theme for the South Limburg stand, which this year focuses on sustainable urban transformation and the campus developments (Brightlands). During the three days of the trade fair, short pitches will be given on all aspects associated with these themes. Urban transformation includes smart property transitions and, as an innovator of new urban development, we want to present the campus developments as an opportunity for new property developments.
Mijnwater B.V. will be making its own contribution in addition to many others who will be supporting the region, such as the Province of Limburg, Charlemagne Grensregio & IHK Aachen, Door Communicatie, C-mill, F2Facade, 3W real estate, KPE, Laudy Bouw & Ontwikkeling, Mulleners Vastgoed, the RO group, and the Van Wijnen Group.
HeatNet NWE brochure 'Developing heating grids in North-West Europe'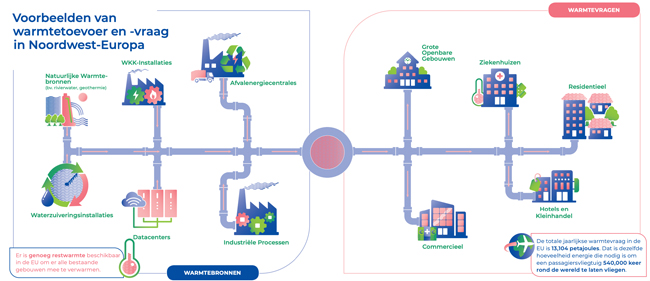 In addition to containing extensive information about heating grids, a brochure recently published by Interreg NWE/Heatnet mentions the advantages of heating grids for public authorities. Heating grids offer numerous economic, social, and environmental benefits for the public sector. Since they emit less CO2, improve the quality of the air, and possess a greater share of renewable energy for heating purposes, they can make a significant contribution to achieving European and national energy objectives. It is a reliable and sustainable source of income, creates local jobs, is attractive for industry, improves the energy label, and increases comfort in the home with a continuous supply of hot water for showers or taps.
Workshop Energy Cities Ettlingen: remunicipalisation, yes you can!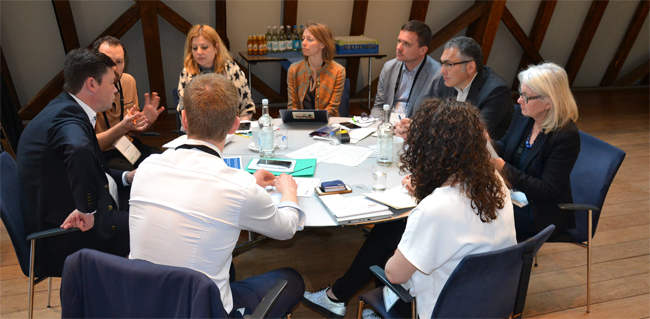 Inspired by 'remunicipalization' initiatives throughout Europe, more and more municipalities are expanding their role – not only by acting as planners, but also by managing their own companies and increasing the local energy transition. Why this trend? And how can a city set up its own company for the purpose of supplying electricity, gas, heating, and cooling? The EU funded projects HeatNet NWE and mPower organized a workshop in Ettlingen, Germany, to answer these questions. Local energy companies can indeed provide a powerful driving force for the development of 4th generation district heating and cooling, as demonstrated by the HeatNet NWE partner, Mijnwater.
Work in progress

Mijnwater is visible in the city and possibly just around the corner from you, although you will come into contact with us at some point either via the media or via your housing corporation. Our civil engineers are working hard out in the field, digging trenches, laying pipes, and connecting the piping system to a new or existing exchange station for the supply of hot and cold energy. If you would like to know what we are working on, follow us on social media (Facebook, LinkedIn, and Twitter) or visit our website.
Mijnwater at trade shows and symposia

15 and 16 May: Limburg Leads at MECC Maastricht
22 May: Excursion to Aa and Maas Water Board
23 May: Delegation from Central America in collaboration with Bochum
4 June: Excursion by VWO pupils from St. Janscollege
4, 5, and 6 June: PROVADA Amsterdam RAI
11 June: Excursion to Bochum University of Applied Sciences

In the past, Mijnwater B.V. used to extract energy from the water in the mines, but this mine water now just serves as a storage reservoir. Mijnwater is a new type of district heating grid that, thanks to the development of the first independent pipe network in Europe, can supply both heating and cooling to connected customers. When a building cools down, residual heat is left over and vice versa. This residual heat or residual cold is exchanged by the Mijnwater B.V. grid via underground cellars where heat exchangers and pumps have been installed.
In this way, it is possible to reduce the CO2emissions of connected buildings by 65%. The company was using this method back in 2018 to provide heating and cooling to buildings totalling an area of 200,000 m2. Through the PALET (Parkstad Limburg Energy Transition) project, the region is embracing Mijnwater B.V.'s district heating grid, which aims to have all buildings in the eight municipalities connected to the district heating grid by 2040. By 2030, around 30,000 homes will be connected.