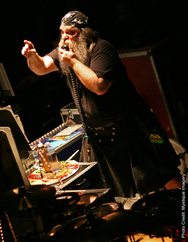 The Last Step
is the closing chapter in the story of the characters first introduced in
Evil Demon Weed
, as told by City Council member,
Tone Deaf
.
Bob (the Pusher), Candy (the Evil Temptress), and Johnny (the Good Kid on the Path to Ruin) have been a big part of the growing Kicksville "mythology": they're featured on the cover on
Enter the Flavor Hut
, they're the thread that sews our live show together, and they're regulars in Tone Deaf's
poetry
.
When we last saw them, Johnny was taking his first puff of the Demon Weed, led on by Bob and his femme fatale, Candy. Now, as we catch up with them in
The Last Step
, Johnny has become a hopeless junkie, Candy has taken the Vows, and Bob has fallen into the depths of a drug-induced psychotic break. Fun for the whole family!
The Music
To paraphrase Frank Zappa, music without dissonance or tension is like eating cottage cheese. If that's the case, then The Last Step is the spiciest Pad Thai you ever had! Musically, this song owes a lot to Zappa's work with Captain Beefheart: check out the song
Sam with the Showing Scalp Flat-top
, and you'll see what we mean....
Citizens
cover art: "Monkey's Memento" by Tone Deaf
Conrad St. Clair: keys, programming
Mike Stehr: keys
Lou Caldarola: drum kit, percussion
Chris Huntington: guitar