Late August 2019 Newsletter
SHOP HOURS
Monday: CLOSED
Tuesday: 12 - 6
Wednesday: 12 - 6
Thursday: 12 - 6
Friday: 12 - 6
Saturday: 10 - 6
Sunday: 12 - 4

 

Fall is coming on fast and we have so much going on in the shop and

 so many new things, we had to send out a second newsletter this month! 

 Even after a highly successful I-75 Yarn Crawl, our shelves are busting at the seams, come by and check out all the new yarns and tools!! 

 
If you're looking forward to the cold weather, you might enjoy knitting up some Serpentina by Manos Del Uruguay. Serpentina is a chunky weight 100% merino wool yarn that is hand spun. The colors are all pops of color on a natural base and every colorway is named after a female historical figure. Robyn knit up the
Chimel
hat with it. A few other good patterns for this yarn are
The World's Simplest Mittens
, 
Maritime Morning Cowl
 and
Nicole Cowl
.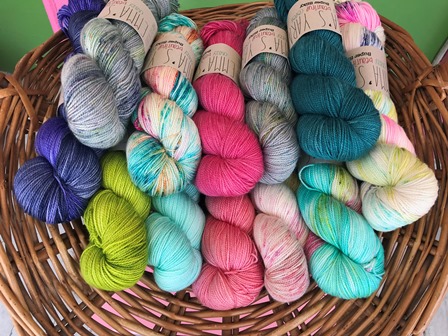 One yarn that really takes our breath away is Super Silky by Emma's Yarn. Two sisters who grew up in a yarn shop started this company and they have some really lovely colorways. As you might expect, Super Silk is 20% silk and 80% superwash merino. A fingering weight yarn with 400 yards per 100g, this yarn is great for socks and shawls. We have two patterns you can get free with the purchase of this yarn, 
Lazy Hiker
 which uses two skeins and 
Free Dive
, which uses 3 skeins. If those don't inspire you, Casapinka also has two great four skein patterns that are perfect for this yarn,
Your Slip is Showing
and
Fabulosity
. We have a gorgeous palette of 12 colors in a mix of varigates, speckles and solids that coordinate together fantastically well for all those multi-color projects!
If you didn't get enough of Oink Pigments at the trunk show, we have 9 colors of their super-soft 19 micron merino DK weight superwash merino, Mystic. The colors themselves are almost as great as the color names. 
We have added some new colors in two yarns from Reywa. Reywa specializes in yak fiber, and if you have knitted with yak before you know one thing for sure - it is luxuriously soft. Yak is very similar to cashmere, but yaks use the land more sustainably than cashmere goats.
We have added four colors of Harmony, a 50% yak down 50% wool sport weight blend with 328 yards per 100g. If you're looking for a one-skein project to try it out, we have knit up the Volute Cowl.  
We have also added 4 colors of Bloom, a 50% yak down 50% silk lace weight blend with 410 yards per 47g. Bloom is fantastically luxurious with a lovely sheen and will highlight your lace stitchwork.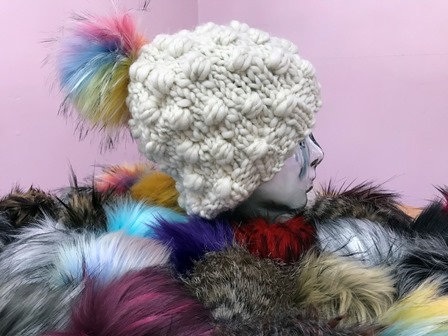 Do you love pom-poms? Well, we do and we have a bunch of truly outstanding faux fur pom-poms. The best part is that they tie or snap onto your hat, so you can switch them out and change up your look. Sarah knit up the
Snowfall Bobble Hat
out of Knit Collage's Spun Cloud and it makes the perfect hat to show off practically any pom-pom in our collection (and the pattern is free in the shop).
We loved these new Madeline Tosh colors so much that we added them in both the Sock and the Vintage. They are Fiber Optic Breakdown,
Editorial, and Iron Out the Details
. The threesome also happens to look pretty stunning together!
The new Electric Eel Wheel Nanos are here! This tiny e-spinner is both fun and portable, a great way to dip your toes in the world of spinning yarns. Each wheel comes with 3 bobbins and all the tools you will need to get started. Last time we had these, they sold out so fast at the Kentucky Sheep and Fiber Festival that they never made it into the shop. We have 10 of these little guys, 5 black (pictured) and 5 purple. they are $80 
and as a bonus we are throwing in a 100g bag of fiber to get you started. 
Our Yarn of the Month for August will be Viento by Plymouth Yarns. This Chainette-ply chunky weight alpaca/bamboo blend manages to be light as a feather while keeping you cozy warm. There is a terrific
free cabled hat/cowl pattern
for this yarn, but our current favorite use for the yarn is the
Behind the Scenes Cowl
by Michelle Hunter. For those interested, we will be knitting the Behind the Scenes cowl as our free shop knit along for the month of October so get some now while the yarn is on sale!!
Thursdays, September 5, 12, 19, & 26
For September's Knit Along we will be doing something a little different. Instead of picking a pattern that we all knit together, we are picking a yarn. Over the summer we added Koigu's Pencil Boxes to our yarn offerings. The Pencil Boxes are curated color boxes of Koigu Painter's Pallet yarns- 10 colors, 25 grams each with incredible pattern support. We are absolutely in love with them!! Grab a box, pick a pattern, and join us for some Thursday afternoon knitting (or crochet if you chose the chrochet pattern.)
All ReBelle knit alongs are free and open to the public. You are welcome to attend as many or as few of the KAL sessions as you like.
The patterns can be viewed on Ravelry and bought in the shop the week before the KAL begins.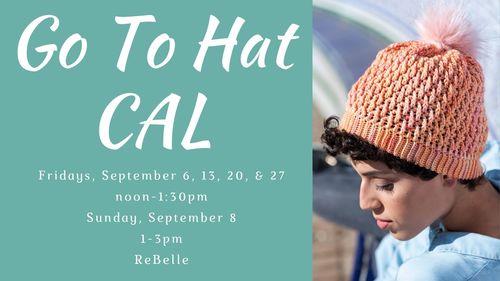 Fridays, September 6, 13, 20, & 27
For September we will be crocheting the Go To Hat by Alessandra Hayden. This hat was designed to be crocheted with one skein of Malabrigo Rios, a ReBelle favorite, so it seemed the perfect pattern to kick off the fall knitting season. It is also an excellent way to practice crocheting in the round and to learn some new crochet stitches.
This project is fairly quick on an H & I crochet hook with 100g of Malabrigo Rios, but if that yarn doesn't fit your style we have several other compatible yarns for this pattern. It is also the perfect hat to embellish with one of our many faux fur pom poms.
All ReBelle crochet alongs are free and open to the public. You are welcome to attend as many or as few of the CAL sessions as you like.
The pattern can be found on Ravelry or free in the shop. 
Pattern information
here
.
Featured Upcoming Classes
Crochet Spiral Dream Catcher

 

Come learn to crochet a spiral dream/sun catcher, a perfect summer accessory for your outdoor living area. These bright little catchers look great inside and out and they use a very unique construction style. They are so fun, you won't be able to make just one. Teacher: Susan Winkler 
For this class you will need basic crochet skills, 10 yds each of 7 different fingering wt yarns, 7 locking stitch markers and a 7" hoop.

 

Saturday, 8/24. 10:30am-1pm

 

 

 

 

 

 

 

 
 

 

 

 

 

 

 

 

 

Black Sheep, White Sheep by Susan B. Anderson is a Ravelry pattern which creates a fun, tiny, reversible sheep that you can't help but play with! In this class, Susan will teach you about basic toy construction. You will learn Judy's magic cast-on, picking up stitches, changing colors, and some basic shaping techniques. Just think of all the color combinations you can make...you can have your own flock of technicolor sheep!! For this class you will need a copy of the pattern (available on Ravelry or in-shop,) 30 yards each of two colors of worsted or aran weight yarn, a set of US5 dpns (or addi flexiflips,) locking stitch markers, and a tapestry needle.

 

 

Thursday 9/5 & 9/12. 6pm-8:30pm

 
 

The Grrlfriend Market Bag is a free Ravelry pattern by Laura Spradlin. Susan's bag is made from 1 skein of Hemp for Knitting's AllHemp6 , and though it looks small, it will grow to hold your farmer's market shopping or whatever you need. In this class Susan will walk you through the pattern including the small circular cast on, working with dpns or addi Flexi Flips, and teach you how to do yarn and needle substitutions to change up the bag.  It doesn't take long to knit, and would be a great holiday gift to have in hand.

 

Two sessions, $30

Wednesdays 9/11 & 9/25

6-8:30pm

 




 

 

 

 

 

 

 

 
 

 

 

 

 

 

 

Ready to knit your first sweater or found a great sweater pattern but feel a little unsure about going at it alone? Then this class is for you. This class will be a workshop -- you pick the pattern and yarn you want (with our help if you need it) and bring it to class.  While we knit, we'll learn from each other's patterns by discussing techniques found in your individual patterns.

 

This is an intermediate class, students will need to be comfortable with knitting fundamentals- knitting, purling, increasing, decreasing, and knitting in the round.

 

Five sessions, $60

 

Thursdays 9/26, 10/10, 10/24, 11/7,  & 12/12

6-8:30pm

-or-

Mondays 9/9, 9/23, 10/

7, 10/21, & 11/4

 

 
 

Escape from knitting straight lines, Modular Knitting allows you to create angles and shapes that are impossible via standard knitting methods. You can create unique geometric patterns and free form shapes by using this method. This introductory class will give you all the skills you need to be a Modular Knitting pro by the end of class. If you are scared of Modular Knitting because you don't like seaming, have no fear, we will go over different techniques for picking up stitches along the edges of modules. We will use my Geodesic Hat design as an example for the class to learn the basics of modular knitting, talk about construction methods, fix troubleshooting problems, and you will be able to confidently complete the hat on your own after class. We will also go into some ideas to take your modular knitting further in the future!

 

Materials needed are 230 yards DK weight yarn, US5 16" circular needle (or US5 for magic loop), US5 dpns (or US5 for magic loop), stitch markers if you are using Magic Loop method. 

 

One Session, $40

Saturday, September 28. 3-6pm