Armchair Adventurer 2017
---
Sure cure for cabin fever and inauguration blues!
Get tickets today!
Doors with live music at 7 | Story at 8
January 20, 21, 27 and 28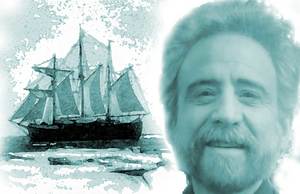 Before Amundsen, before Scott, before Shackleton, there was Fridtjof Nansen, the great Norwegian, the father of polar travel. Explorer. Scientist. Humanitaran. Nansen, who made the first ever crossing of Greenland on skis. Nansen, who locked his ship in the Arctic ice to drift over the North Pole. Nansen, who famously said that it is better to go skiing and think about God than it is to go to church and think about skiing.
This year Lawrence Howard has created an amazing story about an amazing man, Fridtjof Nansen. Nansen of the North is a story for our times about a man who believed that there is only one way to go in life: forward.
---
Young adults 15+ are welcome if they are accompanied by a parent or guardian.
Portland Story Theater's 2016-2017 Season is generously supported by The McIvor Family Charitable Fund; Tonkon Torp; Diane Ponti and Ward Greene; Polk Family Charitable Fund; Dana and Steve Dennis; members of the Portland Story Theater Board, Founding Circle, and Narrative Network, and many other individual supporters, as well as by the Oregon Community Foundation; The Collins Foundation; James F. and Marion L. Miller Foundation; Meyer Memorial Trust; The Kinsman Foundation; The Autzen Foundation;
NW Natural Gas; and
The Oregon Cultural Trust. Thank you!
Photo and Artwork: O'Dubhda