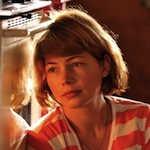 It's quite an interesting week. The Amazing Spider-Man is doing brisk business, as a good rollercoaster should. It's effective, but not particularly remarkable or memorable. Then there's Beasts of the Southern Wild, which is earning raves that make it sound like it has re-invented movies. It doesn't quite work, though you will likely see it among the Best Picture Oscar nominees next spring. (It's better marketed than it is made.) Best of all is Sarah Polley's Take This Waltz, a great movie that will likely be misunderstood and/or ignored -- mainly because it's so tough and bold. Oliver Stone's new Savages will probably also be ignored, mainly because it's so long and boring. On Blu-ray, I was very happy to see Alfred Hitchcock's terrific The 39 Steps again. And Bobcat Goldthwait's incendiary comedy God Bless America would have been a bold choice to watch on July 4. In contrast to this exciting week, next week looks rather slow, but soon after that... Batman is coming. And so is my vacation!
NEW MOVIES:
The Amazing Spider-Man ***
Beasts of the Southern Wild **1/2
The Do-Deca-Pentathlon ***
In the Family ***1/2
Neil Young Journeys ***
Savages **
Take This Waltz ****

NEW ON DVD & BLU-RAY:
The Entity ***
God Bless America (Magnet/Magnolia) ***
The Hangman (Olive Films) ***1/2
Home on the Range **1/2
The Most Dangerous Game (Flicker Alley) ***1/2
The 39 Steps (Criterion) ****
Under the Tuscan Sun ***

San Francisco Examiner Links:
The Amazing Spider-Man (Review)
Take This Waltz (Review)
People Like Us Feature: Alex Kurtzman & Chris Pine
Pixar/Brave Feature
Lynn Shelton Interview
Prometheus (Review)
Moonrise Kingdom (Review)
Philip Kaufman Interview

Common Sense Media Links:
The Do-Deca-Pentathlon (Review)
Savages (Review)
Ted (Review)
Planet of the Apes (1968) (Review)
Abraham Lincoln: Vampire Hunter (Review)
Seeking a Friend for the End of the World (Review)
Superman vs. the Elite (Review)
Your Sister's Sister (Review)

Las Vegas Weekly Links:
Savages (Review)
Ted (Review)
Men in Black 3 (Review)

Greencine Links:
Too Late Blues - DVD Review
Plot of Fear - DVD Review
Being Elmo - DVD Review
A Trip to the Moon - DVD Review
Conversation Piece - DVD Review

Movies.com/Fandango:
Strippers and Porn Stars in the Movies
The Best and Worst Casting in Comic Book Movies

The Tech Hive: Now Streaming Column
Now Streaming: Musical Accompaniment
Now Streaming: Off the Beaten Path
Now Streaming: Seriously Funny
Now Streaming: A touch of the grotesque
MOVIE QUOTE OF THE WEEK:
"America has become a cruel and vicious place. We reward the shallowest, the dumbest, the meanest and the loudest. We no longer have any common sense or decency. No sense of shame. There is no right and wrong. The worst qualities in people are looked up to and celebrated. Lying and spreading fear are fine. As long as you make money doin' it. We've become a nation of slogan-saying, bile-spewing hate-mongers. We've lost our kindness. We've lost our soul." - Joel Murray as "Frank," God Bless America
ALEX QUOTE OF THE WEEK:
"It always wonders me how people were made."
[Note: Regarding DVD reviews, if I have placed the name of the distributor in parentheses after the link, that means I received a review copy of said DVD.]
If you no longer wish to receive this newsletter, please respond with 'unsubscribe' in the subject line.
Thanks and have a great weekend!
Jeffrey M. Anderson
Cinema Consultant
moviejeff@aol.com