---
Name the New Ferry




Church Point Ferry Service announces a new ferry..



To submit your ferry name go to

http://www.surveymonkey.com/s/namethenewferry and follow the prompts...




---
Working Bee at the Kindy





Sun 20th February 2011 - 9.00am - 2.00pm




Sun 27th February 2011 - 9.00am - 2.00pm



Scotland Island Kindy
Catherine Park
Scotland Island

We need helpers to ensure the Kindy is ready for our Accreditation visit on 3rd March. Even if you can only spare a couple of hours during working bee opening times this will be much appreciated.

Please contact the Kindy to find out what you can do to help on siocs@comcen.com.au or 9979 7856



---
Cafe of Couples



Valentine's Day is on Monday. Do you believe in this festival that was commercialised by Halls cards? Do you buy each other gifts, splash out on roses, moon over the best romantic card on which to plant a lipsticky kiss?

Yes? No?

Well, do something genuinely romantic. Come down to the park. Sit at a table for 6, hold hands, and ignore all the others because you only have eyes for each other.

Catherine Park, 10 til 12. Great coffee, uncommercial, homemade cakes, slightly melted chocolates and absolutely no one telling you that the only proof of love is to buy something. Other than a coffee, obviously.

Cafe Crew



---
IMPORTANT NOTICE TO ALL RESIDENTS





As part of the "Clean up Australia Day" initiative, Pittwater Council will conduct a major clean up of all abandoned craft on Reserves and Wharves.



Council staff will come to the Island on Tuesday, February 15 to photograph and place stickers on all water craft, canoes, kayaks along the foreshore and on the reserves.

If residents have a craft they no longer want, please notify Council so it can be identified on their records and placed out for Clean Up Australia Day.

Those residents whose craft is currently in use must advise Council to avoid them being impounded.

The following sites will be targeted:


Eastern Wharf
Pathilda Reserve
Tennis Wharf/Catherine Park (2 areas)
Leahvera Reserve
Bell Wharf
Sandy Bay between Bell and Carols
Harold Reserve
Thank you for your co-operation and assistance.

If you have any queries, please contact Pittwater Council's Reserves Officer, Tanya Carmont on 9970.1353



---
CLEAN UP OZ DAY!!





Clean Up Australia Day is here again – Sunday, March 6, 2011





SIRA has registered Scotland Island to participate once again!



This event encourages and inspires thousands of Australians to take to their local park, beach, bushland and streets and really help make a difference to their local environment

If you would like to help out, either by grabbing a bag and filling it, or helping to supervise activities, please email cassgye@spin.net.au and put your name on the list.

Come down to your nearest Wharf to collect a bag between the hours of 9am and 12.00pm. Bring gloves, sunscreen, hat, sensible clothes and footwear – and don't forget to bring some water too! Toby and his crew will be out on the Laurel Mae to collect material.

Here is a link to the Clean Up Australia website:

About the event - Clean Up Australia Day

Business Clean Up Day –Tuesday, March 1, 2011
Schools Clean Up Day – Friday, March 4, 2011

3222 Clean Up Sites registered so far!!!



---
For Sale
Workshop Sales (low low prices)
70M2 SHED (You dismantle -bargain price)
AIR-CONDITIONED PORTABLE OFFICE
AIR COMPRESSOR
AIR LINES
CIG WELDER
BIO DIESEL REFINING KIT (WITH MANY GALLONS OF CHIP OIL)
Assorted stones cheap or free
Sculpture at clearance prices
Scrap metal
HOBIE CAT good condition with sails and running gear
FORKLIFT - Lease deal with very competitive rates
ASSORTED BUILDING TOOLS
RUBBLE FOR BACK FILL, BAGGED READY FOR TRANSPORT - FREE
STEEL BEAMS
TIMBER TABLES
PLUS MORE
CONTACT DAMIAN 0425 212 852



---
Snake Service..



Dear Editor,

In reply to all the snake service letters, firstly let me aplogise for breaking ranks and causing such a
stir in the community regarding the relocation of the snake from our yard. In the 60+ years that I have been on the island, (that,s before electricity, septic systems, telephone and cars etc), I fully appreciate
the SI way of life and all that it brings - including the natural sounds, colours and variety of wildlife that comes with it, but in this particular instance felt the need to have the snake relocated for its safety, not my own. It was however heart warming to see that many of us still do enjoy SI natural elements and lifestyle.

Carolyn



---
Friends of Currawong
We now need your help!
Download this poster :

http://www.friendsofcurrawong.com/CURRAWONG%20E.pdf





Please read the following newsletter, act on it and then please forward to any person or community group that you know will act.



We will be launching a major hard hitting media campaign in the next week. We will also need your ongoing support and actions during the election campaign. Please keep in touch with our website and please follow the directions you will find posted there.

Our fight is not over and we will not let Union heavies, Labor mate developers, or Liberal fence sitting to allow this beautiful site to be destroyed.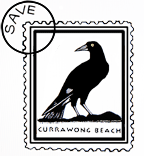 With patience and persistence we will prevail.
In solidarity,
Shane Withington.
President Friends of Currawong.
www.friendsofcurrawong.com




---
Dear Friends,

No doubt you have read that Unions NSW have finally sold Currawong to Eco Villages for $11million. We are disgusted that Unions NSW decided to sell this historic property for exclusive private development without offering it to the State Government for all people in NSW.



Despite the fact that there is an election in a few weeks, the State Labor Government have failed to act decisively to work with Pittwater Council and the Friends of Currawong to acquire the site for the State.



We are also disappointed by the position of the State Liberal Party who have throughout this long campaign asserted their commitment to the state acquisition of Currawong.

The Liberal Party have still not stated categorically that they will compulsorily acquire Currawong for public recreation. Perhaps their bean counters and political strategists have decided that the Liberals are going to win the election and they have gone soft on their position for a State acquisition of Currawong.



We need you to act now!




Contact all of the politicians listed below and demand action. Demand a commitment to the compulsory acquisition of Currawong for public recreation.





Kristina Keneally Premier
Phone (02) 9228 5239
Fax (02) 9228 3934
Email premier@nsw.gov.au

Tony Kelly Minister for Planning
Phone:(02) 9228 3999
Fax:(02) 9228 3988
Email: planning@lpma.nsw.gov.au

Barry O'Farrell Leader of the Opposition
Phone (02) 9487 8588
Fax (02) 9487 8550
Email: barry.ofarrell@nsw.liberal.org.au

Brad Hazzard Shadow Minister for Planning
Phone: (02) 9981 1111
Fax: (02) 9981 5059
Email: Wakehurst@parliament.nsw.gov.au

Rob Stokes Member for Pittwater
Phone: 02) 9999 3599
Fax: (02) 9999 0922
Email: pittwater@parliament.nsw.gov.au

Mike Baird Shadow Treasurer
Phone: 9976 2773
Fax: 9976 2993
E-mail: manly@parliament.nsw.gov.au



Many thanks for your ongoing support. Together we can win this long battle and save Currawong for the people of New South Wales.



---
| | |
| --- | --- |
| | |
| Local Council Notices | |



Proposal for Special Rate Endorsed



Pittwater Council unanimously voted this week to adopt a draft proposal to seek a staged rate increase over a three-year period between 2011 and 2014.

In return, the Pittwater community has been promised a $38 million program of infrastructure projects and capital works over the next ten years.

The proposal, which was put to the Council this week for endorsement, will now go on exhibition until 11 March for comment by Pittwater's ratepayers.

Following the decision by the Council, a formal application to the state government will be prepared and lodged at the end of March.

If approved by the state government, ratepayers will pay an extra 5% in rates in the financial year 2011-2012; 4% in 2012-2013 and 3% in 2013-2014.

According to the Council's General Manager Mark Ferguson 'the average residential ratepayer will pay an extra $38 a year in the first year, $79 in the second year and $75 in the third year.'

"Excluding CPI, this equates to an extra $1 a week for the average Pittwater ratepayer," Mr Ferguson said. "The three-year increase would also replace the current environmental infrastructure levy of 5%, which expires in June 2012."

Mr Ferguson added that the CPI increase was currently running at around 2.6% each year.

"The funds raised by the special rate will be spent on infrastructure and on-the-ground works which our community have told us they want."

Mr Ferguson said independent surveys and workshops with residents had been continuing since last October to ascertain satisfaction with the Council's existing services and priorities for the future.

"Residents have told us that roads & footpaths, more car parking, flood protection and improvements to public facilities such as wharves and surf clubs are some of the highest priorities for the Council to act on," he said.

Mr Ferguson said that if the three-year special rate is introduced from July 2011, $38 million will be set aside over the next ten years for a wide-ranging program of improvements.

The program includes $16.1 million for roads, car parking, drainage and footpaths; $10.5 million for coastline, flood & bushland protection, weed removal and water & energy saving projects; $8.1 million for improvements to public facilities and buildings such as wharves, rock pools, surf clubs and reserves; $2.7 million for bushfire prevention and emergency management; and nearly $700,000 for improvements to Avalon and Mona Vale libraries.

Mr Ferguson said that spending on the infrastructure program would be continuously monitored by a community advisory committee.

"This committee currently oversees how the environmental levy is spent and the same controls and reporting will be applied to funds generated by the special rate," he said.

The Council has set up a section on its website at www.pittwater.nsw.gov.au/rates for ratepayers to have their say and get full details of the special rate proposal and infrastructure program.

Ratepayers can leave an online comment, email their comments to the Council at Pittwater_Council@pittwater.nsw.gov.au or mail them to PO Box 882 Mona Vale NSW 1660.

Two community meetings will be held from 6.30pm to 8pm on 1 March at Avalon Recreation Centre and 2 March at Mona Vale Memorial Hall to discuss the special rate. To attend one of the meetings call 9970 1224 or email rsvp@pittwater.nsw.gov.au by 28 February.

Media contact: Mark Ferguson, Pittwater Council, Ph: 9970 1105


---
Dinghy/Kayak Storage at Church Point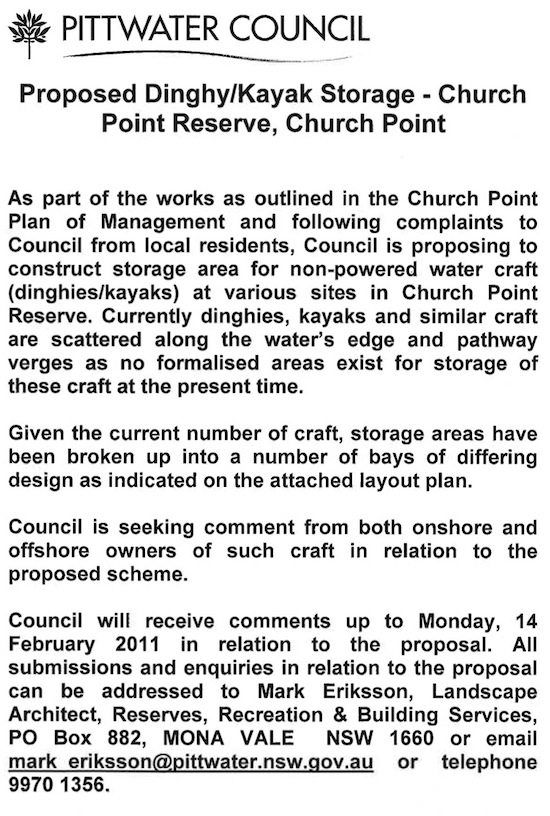 ---
Lost



Escaped Chicken


We have lost our brand new Hamburg chook - Fyn. She flew the coop on Sunday 30th January after only 1 day on the island.

It's likely she doesn't know her way back or her new name – so may not come when called J

We live next to Elise steps – near Eastern, so she may be around the "Big Hill" on Thompson Street

She looks just like a Dalmatian (all white with black spots).
If you see her please contact Sophie on 0438 432 675 if you see her.



---
Free TV


FREE: Teac TV, 27", in good working order. no remote control.
Will deliver on Scotland Island or to Cargo wharf for other offshore residents.
Call Betsi or Skip at 9999 6306

ALSO FREE: Bromeliads. Pick what you want.
Call Betsi or Skip: 9999 6306



---
Need your Island Home house-sat this Christmas?



If you'd like house sitters who can also feed animals and water plants over the Christmas week this year, please let us know

It's our turn to host the family turkey and we have family flying in from Darwin and Adelaide for Christmas week 2011..

We are looking for an Island home that can sleep 6 – 9 lovely people (all fully house trained, and responsible!)

Would love to hear from you.

Juliette Robertson and Guy Towner
Eastern Wharf
99792411



---

---
The Online Local Contact Guide

Click HERE to load
The views expressed in this newsletter are not necessarily the views of the Scotland Island Residents Association (SIRA), or the Western Pittwater Community Association (WPCA)
---