Bitter Creek North Newsletter

April 1, 2015

_________________________________



Call Toll Free:  1-877-MELT WAX

 



"Where Creativity Flows!"

April Sales!


Easter Organza Bag Sale!

All 

Organza Bags

in stock

 are 10% off any quantity!

Sale ends Thursday, April 30th at 11:59pm cst!

 

 

 

 

 
Earth Day Surplus Sale!
 

 

 

 

 

 

  

Surplus Bath & Body

Supply

items are 10% off!

Sale ends Thursday, April 30th at 11:59pm cst!

 

 

Aroma Bead Sale!

Aroma Beads

are 15% off

1lb quantities!

Stock up while supplies last!

Sale ends Thursday, April 30th

at 11:59pm cst!

 

 

 

 

 

Incense Stick Sale!

 Buy 500 Incense Sticks

one 16oz DPG Incense Solvent

Choose from the following incense sticks:

Sale ends Thursday, April 30th

at 11:59pm cst!

 

 

 

 

 

 

 

 

 

 

 

 
 

 

 

 

 

 

 

 

 

 

 

 

 

 

 

 

 

 

 

 

 

 

The following fragrances are 

$2.00 off per lb this month!

Choose from the following fragrances:

 




 

 

*Campfire Smoke

Whittle a stick & grab the marshmallows!!! I'd have never believed anything could smell like REAL campfire smoke...

 

 

 

 

 

 

 

*Toasted Marshmallow

Get out the graham crackers and Hershey bars! This smooth creamy scent will make your fingers sticky just thinking about it!

 

*Log Cabin

 

A weekend retreat for the outdoorsman in everyone! A warm rustic blend of earthy woods and spices with a
 

All online orders of $50 or more are automatically entered each month to

win $10 in BC Bucks!
 

 

From the Bitter Creek Family to yours, please have a safe and happy Easter weekend!

 

 

 

  

 
Do you have a creative and original "Tip of the Month" to share? Send it in to
Tips@candlesupply.com
and you could
Win $25 in BC Bucks!
***Must enter code "APR
15" into the comments section of your shopping cart (not the coupon code box)!  Discounts will not be automatically calculated by the cart on these sales, but will be calculated by our office and reflected on your invoice.
Sales end Thursday, April 30th 11:59 pm!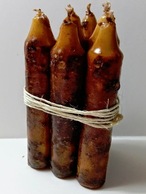 Check out our new blog post
New posts are added frequently, so check back often!

As always, we appreciate your patronage and look forward to being of service to you!