---
Contents
---
---
Reminder Construction at Church Point to start..
Dear Church Point boat permit holder
We are pleased to advise that Ward Civil and Environmental Engineering has been awarded the tender for construction of the road, seawall and car park at Church Point.

Geotechnical ground investigation works will take place during the week of 2 May 2016, ahead of construction commencing. A barge is required for these works and will be located by the commuter wharf for approximately 7 days. The works will be staged to minimise disruption as much as possible.

What this means for you
Unfortunately you will not be able to tie up your boat in the inner section of the commuter wharf during the week commencing 2 May while the investigation works are taking place.

Geotechnical investigations will generate some noise however works will be kept within regulatory levels and will be conducted within the permitted hours of 7am to 5pm. We apologise for any inconvenience during this time.

Alternative temporary tie up locations
To minimise inconvenience, we have arranged temporary tie up locations whilst this work takes place (please see attached pic):

Old wharf (wharf in front of waterfront café)
Boat ramp/seawall/beach at the eastern end of Church Point car park
Staging of works
Sunday 1 May, 6pm–Tuesday 3 May, 6pm:
No tie ups permitted on the inner-west section of commuter wharf

Tuesday 3 May, 6pm–Friday 6 May, 6pm:
No tie ups permitted on the inner east side of the commuter wharf

Rangers will use discretion for boats with current permits during this period.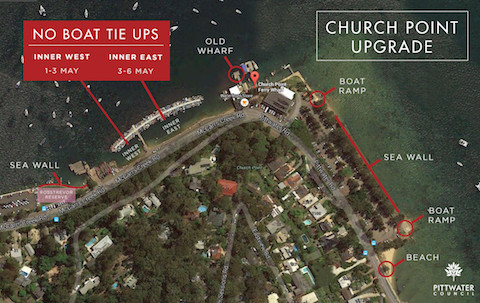 click to load larger image

---

Newsletter from SIRFB

Dear residents

On behalf of Scotland Island Rural Fire Brigade, we would like to thank you for your continued support and tell you about some of the things we are doing.

As you know we have several events throughout the year in which we raise funds. This has enabled us to purchase things like a new washing machine, a compressor, a battery booster and items for our kitchen (including mats for the leg weary caterers to stand on).

We have plans to improve our equipment on the boat, as well as equipment for our community first responders (Volunteer Ambulance Officers) and a proposed upgrade to our PC (Personal Carrier, Ambulance Transport Vehicle).

Scotland Island Rural Fire Brigade would like to congratulate & thank those 9 members as mentioned at the AGM that attended CFR training recently at Ambulance Training Centre Point Clair.

Thank you to those CFR members that attended to Ambulance Extreme Exercise & Conference at Coffs Harbour weekend

Another thing we've been able to do along with our general monthly costs is install a secondary pager system called Rover. This has proved to be invaluable to our call out procedures (getting to the job quicker). As I'm sure you can imagine time is a critical factor in what we do.

We thank you again ....

Please be aware & sorry for any inconvenience while a District Field Day Exercise (see below) will take place on the 1st May from Church Point, Cargo Wharf, Elvina Wharf to sharpen the skills of Mainland Brigades

Cheers
Scotland Island RFB



---
RFS Training Exercise
8am to 5pm Sunday 1st May 2016
The Rural Fire Service are conducting a training exercise in the Church Point, Scotland Island and Elvina Bay areas this Sunday 1st May.

The exercise will begin around 8am and conclude by 5pm. During the exercises there will be numerous Rural Fire Service, Fire & Rescue, Police, Marine Rescue and SES crews, boats and vehicles in the area.

Please be aware that the exercises will make use of live fire, smoke and flares. In particular there will be small fires used in a number of areas within Elvina Bay, around and just off Cargo Wharf Scotland Island.

Please proceed with caution in and around these areas and assist our emergency services by staying clear of any exercises.


Peter Lalor
Deputy Captain – Scotland Island Rural Fire Service



---
ANZAC Day at Church Point


---
Boat gutted at Eastern Wharf
A BOAT moored at the Eastern Wharf was gutted after fire ripped through it the night of April 17.
Around 9pm, fire crews ­responded to triple-0 calls about a boat on fire.

Fire extinguished by Scotland Island RFB & supported by Ingleside RFB & HQ RFB to remove any possible flair



Picture Credit : Nick O`Brien





---

---
Scotland Island Fire Shed Dinner

1st Dinner for the Year - Saturday 14 May
Time to dress up and be the person you always wanted to be !!

---
Interlace Costumes

---

Notices
Food and Wine Fair - Sun 1 May
Foodies and wine-lovers can start packing the picnic rug in preparation for the 2016 Pittwater Food and Wine Fair at Winnererremy Bay on Sunday 1 May from 10am-4pm.

Ride your bike, walk, or take public transport, there'll be plenty of bike racks and a courtesy shuttle bus which will be on a constant loop from Winnererremy Bay to the Mona Vale bus stop on Pittwater Road (by the taxi rank).

Sample fine Australian wines from boutique and classic wine makers and enjoy tasty gourmet foods while tapping your toes to some fabulous live music from Revolution Incorporated and others. Check out the cooking demos with John McFadden, Mark Holland and Rebecca Jones.

Sustainability Lane will have useful tips on living sustainably and protecting our environment, with lots of water bottles and plant giveaways. Try out the Envirobank Reverse Vending Machine and insert empty cans or drink bottles to redeem rewards. Everyone who recycles at the fair has a chance to win a free compost bin.

Discover unique volunteering opportunities including community transport, community service groups, accessibility and disability services at the Volunteer Expo.

Recyclable/reusable wine 'glasses' (required to buy wine tastings) will be sold on the day from the Council stall for $5.

For more information see the Facebook event or visit www.pittwater.nsw.gov.au/foodandwinefair


---
Have a say on Delivery Plan and Budget
Pittwater's Draft Delivery Program and Budget 2016-17 outlining a proposed $44M program of works is now on exhibition until 22 May.



Mayor of Pittwater, Jacqueline Townsend said the 12-month delivery program has been built around a number of priority areas as identified by the community including a focus on youth and family services, activating public space, improving access to public transport and traffic infrastructure and preserving and sustaining its environment.

"The program outlines Council's key priorities, capital improvement projects and fees and charges and I am proud of the way Pittwater continues to strengthen its position as a council that embodies the needs of its community."

Council will generate revenues and spend approximately $119M in the 2016-17 financial year with an increased focus on a wide range of capital works programs. Highlights include:

• $7.6M for Church Point precinct improvements
• $9M for roadworks and bridge at Macpherson Street
• $4.3M for reserves
• $2.6M for street scape improvements
• $4.5M for building improvements
• $1.7M for active travel footpaths and walkways
• $1.3M for bushland protection and additional funding for coastal and flood protection
• Plans to seek $1M funding from the NSW Government for construction of an iconic Palm Beach Walkway from the Ferry Wharf to Governor Phillip Park

In addition, the proposed budget for the 2016-17 year involves a major works program of $43.848M with $31.588M on capital works and $12.260M on recurrent maintenance programs.

"There is much to achieve and much to be proud of in terms of what we can deliver for Pittwater. We have continued our commitment to be responsive to the needs and expectations of our community and we believe this program delivers on our commitment," Mayor Townsend said.

Pittwater Council General Manager, Mark Ferguson said all of Council's financial indicators demonstrate that it exceeds the Local Government industry benchmarks.

"Council's budget forecast for the period 2016-2017 is projecting an operating profit of $1.8M for the coming financial year, excluding any capital investments.

"This demonstrates Council's ability to undertake major infrastructure programs within a financially sustainable budget framework," said Mr Ferguson.

The Draft Delivery Program and Budget outlines Council's key priorities, capital improvement projects and fees and charges and is on exhibition for comment until 22 May.

The document is available on the Council's website at www.pittwater.nsw.gov.au/yoursay or at Council offices and libraries at Avalon and Mona Vale.

Contact: Media contact: Community Relations
Phone: 9970 1172 or 9970 1114



---
The Co-Op Club Presents
May 2016 Bookings
Church Point Cafe - Artists play between 3:30 - 6:30pm
Sun May 1: Mary Jane Guiney :


Mary Jane Guiney hails from the northern beaches but shares her time between New Orleans in Louisiana and Sydney these days. She joins us for the first time at the Co-Op Club before she leaves our shores and heads back to the US. She brings with her a band of Sydney's finest musicians featuring Paul Berton on guitar, the great Victor Rounds on bass, Rosscoe Clark drums and Mary Jane on piano and vocals.






Sun May 8: Rebecca Johnson Band :


Chich & The Soul Messengers are the 'soul revivalists' and they're bringing their soul & blues revue to the Co-Op Club on Sun April 3. The boys will be showcasing their critically acclaimed tunes from their 2015 EP 'Dirty Soul' which rose to #14 on the Australian Blues & Roots charts, alongside new takes on classics from soul greats like Bill Withers, Donny Hathaway & Curtis Mayfield. They also have a new album being released this year to watch out for.




Sun May 15: Clayton Doley :


Clayton Doley is an internationally renowned organist & keyboard player who also sings and writes killer songs. He spends his time travelling the globe with his own projects as well as backing up Canadian bluesman Harry Manx & Texan guitar traveller Eugene 'Hideaway' Bridges. He is joining us for the first time at the Co-Op Club with his cookin band to play songs from his latest album Bayou Billabong which went to No1 both in the iTunes blues charts and US Roots Music Report Blues Chart.




Sun May 22: Los Pibos :


We welcome back to the Co-Op Club some of Australia's finest Latin musicians. These multi-instrumentalists combine intense rhythms and delicate harmonies with tight and exciting arrangements. They perform a variety of authentic styles ranging from son, salsa, rumba, samba, bossa nova, cumbia, bolero, mariachi, Andean and much more, playing all of the classics to the contemporary hits. Get ready to dance or sit back and listen to the magic that is Latin American music performed at it's finest.




Sun May 29: Tina Harrod & The Mad Dogs :


Tina Harrod & The Mad Dogs celebrate the music from the Mad Dogs & Englishmen era that brought the great Leon Russell and Joe Cocker together with their carnival of craziness. Tina and her 6 piece band will take you on a musical journey like no other as they mine the treasure chest of the early 70's post soul era with songs like Hitchcock Railway, Feelin alright, With a Little Help from my Friends, Darlin be Home Soon, Space Captain & many more..






---
Waterfront House to Rent with jetty
3 bedrooms
Backyard and front lawn
Jetty
Large front balcony
Dishwasher
Washing machine
2 fridges
Combustion wood fire
Call/text Rachel 0406 239 946



---
Moving Sale


Click poster to load full size pdf


---
Deck Sale
Saturday 30th April , Sunday 1st May
& Saturday 7th May - 9am-3pm
50 Thompson Street




Scotland Island



Look for the turquoise blue flag.


Lots of furniture……
DVD'S, CD'S, and kitchen ware only 50c each
Clothes $1 & $2 each
Flat screen TV
Record player
Original art 50% less it's current gallery price
Lots of Free Stuff

All enquiries, phone 0402 708 328



---
Wood Heater & Flue Kit installation

Urgently needed on Island
You will be required to remove the old wood heater & install in the same place the new heater & complete flue kit.

Please call Jules 0438261252



---
Small Studio to Rent

Small island studio to rent (waterfront).
Self contained. Private bathroom + tiny kitchenette.
Suit single person only.

Available now.

Phone 0415058922 to view.
$280 PW. includes utilities and jetty use.



---
Furniture for Sale
---
---
The Local Guide
Community Information
Scotland Island Web Site

www.scotlandisland.org.au
click to go to the Calendar

Scotland Island Residents Facebook Page

click to go to Page

Scotland Island Community Vehicle -

0404 103 700
Number, Usage & Charges

Scotland Island Rural Fire Brigade

- 9999 4404
http://www.sirfb.org.au

West Pittwater Rural Fire Brigade

- 9997-3795
www.westpittwater.rfsa.org.au
Offshore Photo Gallery
offshore gallery
Scotland Island Residents Association (SIRA) Membership details - click here for details

West Pittwater Community Association (WPCA)

- www.westpittwater.com.au
Scotland Island Emergency Non-potable Water
Agreement for Sale of Non-potable Water
SIRA Membership Application
Emergency Non-potable Water Guidelines
General Information, Map & Contacts
http://www.scotlandisland.org.au/community/emergency-water/
Scotland Island & Offshore Children's Services (SIOCS)


Long Day Care at The Scotland Island Kindy,
Catherine Park, Tuesday, Wednesday & Thursday
8.00am - 6.00pm
Before & After School Care
8.00am till walked to school ferry - collected from school ferry till 6.00pm
Vacation Care, Parents Group on Mondays
Hire the Kindy for Birthday Parties
Please call 0431 125 142/02 9979 7856 or email SIOCSdirector@gmail.com
http://www.scotlandisland.org.au/community/the-kindy/

Scotland Island Community Hall Bookings: Barbara Labram M: 0473008339 or hall@sira.org.au
Pittwater Online News

- http://www.pittwateronlinenews.com
Tick Fact Sheet
---
Transport
---
Real Estate
---
Services, Clubs & Accommodation
---
Island Classes (Fitness, Dance, Art etc)
Pilates, Meditation and Group Fitness

with Patrice - 0406 483 036 patrice.corrie@gmail.com
Art Classes

- drawing and painting in oils, acrylics and mixed media- Marion 0431 457 431
Dru Yoga

- Tuesday 9.00 to 10.30 Tuesday morning - Phone Katya on 0414 187 916
---
Groups
Green Group For Catherine Park

- Run by SIOCS - Emmie Collins on 0405 330 781
Parents & Kids Groups Playgroup

- Run by SIOCS - email Emma trysemz@tpg.com.au
Scotland Island Players

- contact Bob 0414 994 092 or Kez on 0414 994 094

Catherine Park Bush Care Group

, 2nd Sunday @ 9.30am, Sharon Kinnison @ 9997 6017
Elizabeth Park Bush Care Group

, 1st Saturday @ 9 am, Bob Bolton @ 0414 994 092

Island Thinking Group

-

Roy Baker, 9999 6891, roybaker99@yahoo.com
Offshore a capella choir

– Saturdays at 2:30 pm, SI Community Hall. Call CB on 9997 2035.
---
Government Organisations
---
Airlines, Buses and Railways
---
Weather
Pittwater Weather
Scotland Island Tides, Moon phases, Sun rise & set
Local Weather Forecast
Radar weather for Sydney (128k circle)

---
Emergency Contact Numbers
ALL EMERGENCIES (Police - Fire - Ambulance)
000
Police Assistance Line & Information
13 1444 or 9281 0000
Broken Bay Water Police
9910 7899 or 0412 162 093
Marine Rescue Broken Bay - Weekend

(02) 9999 3554 - (02) 8411 1121

Marine Rescue Broken Bay - VHF Radio channel

VHF Radio Channel: VHF 16
27MHz Radio Channel: 86 or 88

Scotland Island Rural Fire Service
9999 4404
Elvina Bay Rural Fire Service

9997 3795

Lovett Bay Rural Fire Service

9979 1612

Mackerl Beach Rural Fire Service

9974 1162

Rural Fire Service Headquarters Terrey Hills

9450 3000

NSW Fire Service General Information 9265 2999
9265 2999
Rural Fire Service General information
9450 3000
State Emergency Service, Warringah/Pittwater SES
13 25 00 9486 3399
National Parks & Wildlife Service: 000, general information
9457 9322
Dept of Community Services: general information
9977 6011
Sydney Water
132 090
Energy Australia
131 388, (ah) 131 909

---
---
A complete set of past electronic newsletters since May 2000 can be found and read at https://ymlp.com/archive_gesgjgm.php or by clicking here or by visiting the Mona Vale Library.

The Island website is at www.scotlandisland.org.au


---
To Contribute
If you would like to contribute to this newsletter it's easy!. Send an e-mail to the editor (editor@scotlandisland.org.au) or by clicking here. Type your contribution (100 words or so would be fine) and assuming it is of general interest to the community, does not include matter of a political nature and is not offensive, it will appear next month.
Subscription Information
To get on and off this newsletter,

click here

or got to:

http://www.scotlandisland.org.au/signup .


To change your address, click the 'modify' link at the bottom of this newsletter or send an email to the

editor@scotlandisland.org.au


---
Follow the PON
---
The Online Local Contacts Guide
Click HERE to load
---
The views expressed in this newsletter are not necessarily the views of the Scotland Island Residents Association (SIRA), or the Western Pittwater Community Association (WPCA)

---