Mundelein Community Connection (MCC) is a not for profit organization dedicated to the economic development, historic preservation and healthy community spirit of Mundelein's central business district. Working together we provide an atmosphere where new and established businesses can grow and where families find the hometown they always wanted.
A Message from the Executive Director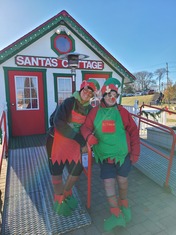 Happy New Year, and to all the members, sponsors, friends, and volunteers who made 2022 such a great success for MCC:  Thank you for your continued support.  We could not do it without you.

We ended the year with a bang.  MCC participated in the Village Tree Lighting extravaganza on December 2nd—hosting Santa's Cottage and sponsoring the Train Rides.  Then on December 3rd, we held the first annual Mundelein WinterFest, featuring a variety of daytime events for families.  We estimated that over 500 people attended.  The event culminated with an original Christmas musical organized by the Mundelein Arts Commission.  It was a great partnership.

2022 was notable for several other reasons as well.  We added two new members to the MCC Board of Directors:  Ernie Billitier Sr. and Rita Kipp; both are long-time Mundelein residents and active community volunteers. Their leadership will be very helpful to continuing to move MCC forward.    We were also able to increase membership and broaden our business sponsorships.  The MCC office moved to the Archer Business Center (where Tighthead Brewery is located) when PNC Bank closed; and, we formed new partnerships with Arts Commission, Beautification Committee, the Village of Mundelein and the Mundelein Park District.  
We are expecting a great year ahead.  Make sure you attend at least one MCC Event in 2023!


Mundelein Farmers Market: A New Day and Time
Major changes are ahead for the Farmers Market in 2023!  Becca Merkau, is returning for her third year as Market Manager.  Becca has listened carefully to the market patrons, the food vendors, and community members.  She has changed the way the Market uses social media; added a variety of family-friendly events to the market; increased prepared-food alternatives; and expanded Mundelein vendors where possible.  Now, based on public input she has convinced the MCC Board of Directors that Market Day should be switch to SATURDAY MORNINGS, from 8 am to noon!  The Board concurred with Becca's assessment that Friday afternoons is not a good fit for working families.  "We can better grow the market and serve our community by switching to Saturday mornings" Becca told the Board.  "It is a big change, but it is the right move", she said.  

In addition, due to construction of the housing development bounded by Maple, Morris, Park and Seymour streets and extensive street improvements planned for section of Seymour and Park Streets which will greatly affect market operations, a new location for the Market is being considered.  A new spot is under discussion, but not yet determined.  A decision is expected soon, pending approval of Special Event Permit by the Village.  

Finally, we are selecting a new Farmer's Market logo!  The current logo, shown above, is being retired.  A contest is underway to select a new one.  Over 40 submittals have been submitted to date.  The MCC Board and Market Manager will choose the new logo later this month.  The new logo will be revealed at the MCC Annual Dinner at Dover Straits Restaurant on February 7th.


MCC Annual Dinner: February 7th

The MCC Annual Dinner is held in February, at the beginning of the MCC Fiscal Year.  It is a time to thank our members and sponsors; induct the Board of Directors for the upcoming year; assess our strengths and challenges; and, most importantly, present three awards honoring those who have contributed to our success over the preceding year.  

This year we are pleased to announce the following recipients:

    Debbie Mullen Volunteer of the Year – Ray Mullen

    Leland "Trig" Watson Business of the Year – Buddyz Pizzeria
    Dr. Chester Ciecko Organization of the Year –
Mundelein Arts Commission
The Annual Dinner is open to all MCC Members, sponsors and benefactors.  Reservations are required, cost is $55.00 per person (two complimentary cocktails are included); 6 pm Cocktails, 7 pm Dinner, 8 pm Award Presentation.  Call Terry Skriba at
847-970-9235
to make reservations.  
Park- On- Park Car Nights:  Wednesdays: May 10, June 14, July 12, August 9, September 13
Mundelein Craft Beer Festival: Saturday, June 10

Farmers Market:  Saturdays from June 17 – September 30

Mundelein Fine Arts Festival:  Saturday & Sunday - September 9 & 10

Santa's Cottage: Friday, December 1 and Saturdays – December 2, 9, & 16

WinterFest:  Saturday, December 2

Bingo:  Jan 23, Feb 27, Mar 27, Apr 24, May 22, Jun 26, Jul 17, Aug 28, Sept 25, Oct 23, Nov 27, Dec 18.
There is one remaining open seat on the MCC Board of Directors.  If you are interested in joining a successful, volunteer, community-focused organization, and would like to learn more about the duties and the selection process, please contact Terry Skriba:  Mundelein Community Connection, 171 North Archer Street, Mundelein, IL 60060; email
mundeleincc@gmail.com
;  or call Terry at
847-970-9235
.