SHOP HOURS
Monday: CLOSED
Tuesday: 11 - 5
Wednesday: 11 - 5
Thursday: 11 - 5
Friday: 11 - 5
Saturday: 10 - 4
Sunday: 12 - 4

 

Saturday is LYS Day and we have been preparing for months- putting together kits and LYS exclusive offers. We have tons of free patterns, amazing kits, and a free LYS day pin with purchase. We are very grateful that you have allowed us to serve as you Local (and for some, not-so-local) yarn store. 

See you Saturday!!
Cynthia Spencer and Valerie Reed have once again designed a fantastic mystery shawl this year, to celebrate Local Yarn Store Day on April 30. They went to Maryland last year and Pennsylvania the year before. This year, they'll take you farther south, to be inspired by the natural wonders (and a few human-made wonders) of Florida.
To join in, you'll want to do two things:
1. Buy the Florida Road Trip pattern on Ravelry.
2. Buy the yarn.
Valerie and Cynthia have selected 8 different color combinations of yarns using one of your hand-dyed favorites, Emma's Yarn! Emma's is based in Florida and with their gorgeous colors, tipped their decision for where to travel.  We have all of the official color packs in stock, all influenced by the colors and attactions of Florida. We have a couple colorways we came up with ourself or we can help you pick out the perfect 4-skein color combination for you if none of those quite suit your taste.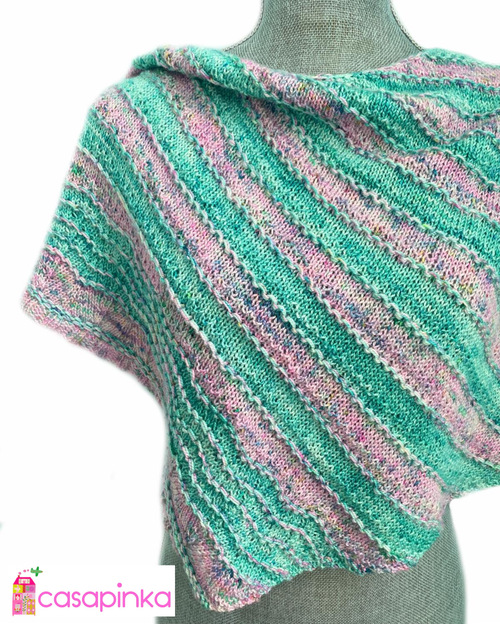 Would it even be an LYS day without a Casapinka pattern giveaway? This year's LYS Day pattern is called the Ric-Rac Shawl in honor of the vintage wavy ribbon. 
The Ric-Rac shawl is a 2 color boomerang shaped shawl that requires 800 yards of fingering weight yarn, 400 yards of each color knit on a US6 needle. Sarah has put together some really beautiful color combinations, but it's not hard to pick colors for this pattern, you can use anything you like- it can be variegated, speckled, solid, or whatever you want. It doesn't even need to have a lot of contrast.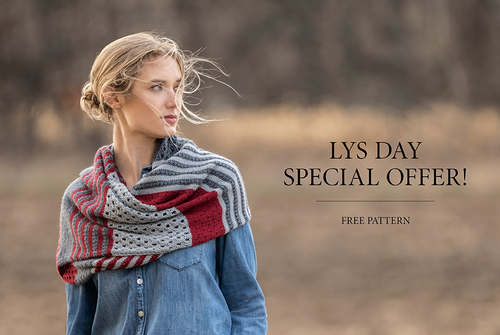 In addition to the LYS Day kits above, we will have free pattern codes available with in shop or mail-order purchase from us! 
From Malabrigo you can get a free pattern for one of these cowls: 
Sense of Direction
(Rios),
Dotty
(Sock or Mechita),
Wonky Rib 
(Arroyo), or
Cantera
(Silky Merino). F
rom Blue Sky Fibers you can get one of any of their fantastic patterns which you can browse here. Plus there are more free patterns available in the shop from Urth, Knitting Fever, and a new pattern from Cascade.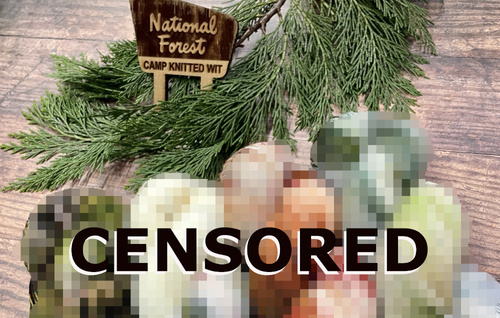 Last, but certainly not least, it is the start of our favorite time of year- Knitted Wit National Parks Club season!!! Every month from May-August, Knitted Wit will release 4 new colorways inspired by National Parks areas, such as National Recreation Areas, Heritage sites, etc. Featured parks will fall under one of 4 categories:
National History - Eastern USA

National History - Western USA

Indigenous Culture

Human Rights Leaders/notable people
We can't show you this month's colors just yet, but we have been given permission to put them out a day early so they will be available for LYS Day!!
As usual, there will be a Passport to track your parks purchases from us and other local yarn shops as you travel through the summer. At the end of the summer, there will be a commemorative patch for those with four filled squares and an enamel pin for those with all sixteen. 
Check out their Socks and Hats on Vacay/Staycay summertime KAL with Shannon Squire, too: https://shannonsquire.com/socks-hats-on-vacay-2022/
The shop KAL/CAL for May and June will be Botanical-themed. We are looking at designs and colors that pull from nature and remind us of Spring. 
Many of you have already picked your project, but if you still need some inspiration, Robyn put together a pattern bundle to get you started- 
https://ravel.me/spingirl/bk
All ReBelle knit alongs are free and open to the public. You are welcome to attend as many or as few of the KAL sessions as you like. The pattern can be found on Ravelry or you can print it in the shop.
Join us via Zoom-
Meeting ID: 835 1126 6809