A Quick Reminder!
The BHAF Annual General Meeting is on
Wednesday 16th March 6.45pm - 9.00pm
at the Brighthelm Centre, North Road, Brighton.

The meeting is not open to members of the public. It is open to plot holders, co workers and members on the waiting list for Brighton and Hove Allotment Sites.


This year we are pleased to have a talk 'No Work Gardening' by organic gardening expert and gardener's question time regular 'Bob Flowerdew'!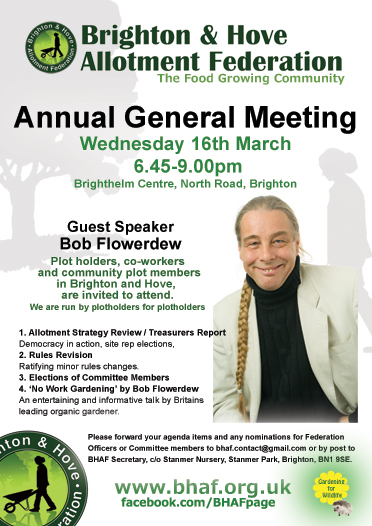 We will be voting on the revised allotment rules at the AGM, however there will be no discussion regarding the revised rules on the night. Plenty of discussions have already happened at the Allotment Forum and also within the Rules Revision group which was open to all plot holders. The rules revision process has been going on for over a year, and the proposed revised rules have been available on our website for 5 months. The deadline for comments and submissions for the rules revision process was February 16th 2016.
http://www.bhaf.org.uk/page/rules_revision
We look forward to seeing you.
Best Regards,
Mark Carroll for
BHAF Committee.
---
---
Follow us on Facebook for Regular updates

We are keen to get new people on board so please get in touch if you have a little spare time to offer and would like to promote a vibrant food growing community that is committed to promoting sustainable growing, protecting the environment and encouraging representation and participation on all our sites.