9 May – Liddington Village Hall,  Barry Dennington - the application of touch-less controls in vehicles using ultrasound
13 June - Andy Phillips RoADAR Regional Coordinator Q&A
11 July - Paul Beatie - Living with an EV

SkillShare

Bike Ride-Outs on the 3rd Saturday of every even numbered month and the 3rd Sunday of every odd numbered Month. Email will be sent out to Bikers and added to the Forum.
Do you have a topic you would like discussed, or know of an interesting speaker?  Please contact Les Brown at
speakers@wiltshireroadar.co.uk
Congratulations to the following members who have passed their Advanced Tests recently:
Winston Castle Bike - Silver.  Tutor Peter Genet

Please welcome the following to the Group
:
Julie Clark - Car

Don't forget that we have a range of clothing available to purchase. We also offer a range of books, such as Roadcraft, Motorcycle Roadcraft and the Highway Code, and these are available at discounted prices.

For more information visit the Merchandise page of our web site 
We are always looking for more articles, ideas and news for the newsletter. Have you been somewhere interesting recently that would make a good story? If you attend any group events then take a camera and send us your pictures!

Please forward all contributions to newsletter@wiltshireroadar.co.uk
We're now on
Facebook
AND
Twitter!
I hope, like me, you have been able to enjoy the recent good weather (no doubt the gardeners amongst you are now moaning about the lack of rain!).  I for one was glad of the dry spell during the Land's End Trial (report lower down in the newsletter).
 We had a small but select band of members at our first meeting in Liddington.  We spent an hour or so chewing the fat and exchanging ideas on driving and riding but mainly how to promote the Group better.  Please do help us to do this as it cannot be left to the few who were at the meeting.  We have a lot to offer and particularly pertinent to the present climate is advance driving and riding can save fuel.  Do post on your local Facebook groups (other social media platforms are available!) and other car and bike clubs to raise our profile – we do not have the national back up like IAM.
Our next meeting is on 9 May and Barry Dennington is talking to us on the application of touch-less. Controls in vehicles using ultrasound - should be interesting.
We are continuing our training collaboration with the Gloucester Group and this sharing of minds and resources will help us to improve our training as well.  We will have tutor refresh days to help keep our tutors up to date and relevant.  This is all part of continued professional development - the hallmark of an advanced driver and rider – so please keep yourself up to date.
We will continue to maintain our covid protocols given the infection rate is still very high. These may be a bit of an inconvenience but I think the cautious approach is worth it.
Stay healthy and safe
Bob Fram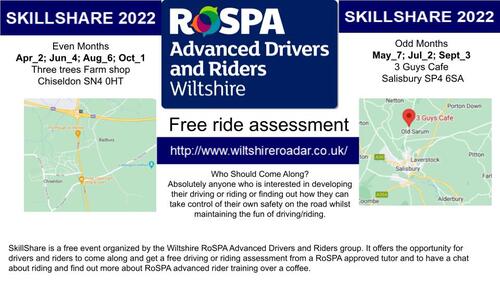 New Regioal Coordinator - Andy Phillips - or is he?

Andy Philips has been appointed as the Regional Coordinator for the South West Region.  He has been in touch with the Group and is hoping to come and talk to us at our Group Meeting on 13 June in Liddington. 
The Chairman messaged Martin Powell, our current Regional Coordinator, to wish him well and thank him for his support.  He has not moved on but there is some debate in RoDAR HQ as to which Regional Coordinator covers Wiltshire.  We will know soon.
I hope you can live with the suspense until the next newsletter!
Have you been up to anything to do with Riding or Driving lately? If so, then please let us know as we would love to include it here; photos would be great too!
After an enjoyable but thorough day on Sunday 24th April, 3 new approved car tutors have been cleared to start their duties, two with Gloucester group and our own Nigel Jameson. This completes the collaboration with Gloucester Group which has resulted in a refreshed and expanded tutoring capability, and adds to our own strength in the car section.
Congratulations Nigel and thanks for your commitment to the Group
Bike Tutor Refresh Day

At the beginning of April the Bike Tutors held a refresh meeting to discuss developments and to discuss how we might improve training.  We were joined by Tony Dix, the Gloucester RoADAR Chief Instructor Motorcycles, which was a welcome addition to add some depth to our discussions.  We all agreed events such as these are essential to maintain standards and all tutors should conduct personal development to maintain currency.  We have also asked Bike members what they thought of their training and if there are areas we might improve.  These events are always humbling as they highlight how little you know (or how much you have forgotten).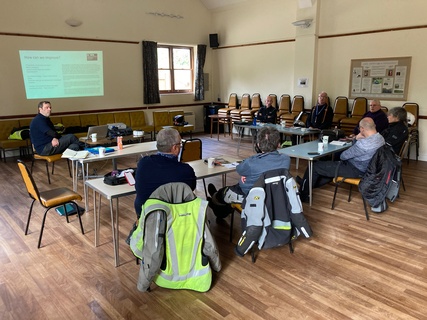 Please join me in congratulating Angus McAfee, Stuart Camp and Tom Eatough in successfully completing the Bike tutor course.  Great to have some new blood in the tutor cohort and thank you for all your efforts and commitment.
Gloucester RoADAR Slow Riding Day - 21 May 2022

Gloucester RoADAR will be holding a Low-Speed training day on Sat 21st May 2022 to be held on the site of the old Berkeley Nuclear Labs site GL13 9PA. The day will run from 1330 to 1700 and will include a range of low-speed riding skills and exercises designed to improve rider confidence and skill. The low-speed circuit favourites such as the snowman, figure of 8 and intersection will feature alongside braking drills and a slow race to make for an enjoyable learning experience. It does not matter if this is all new to you as we will be running a session to revise the basics and if you have been before there will be an advanced low speed circuit to test your skills – there really is something for everyone!
Please reply directly to Tony Dix (
chiefinstructormc@glos-roadar.org.uk
) to register an interest and further details will be sent out nearer the time.
The Big Trip!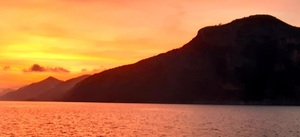 The Big Trip follows Peter and Sally Genet as they drive their VW T5 Campervan all the way from home down to sunny Athens - well that's the plan anyway. Keep up to date with their travels at this link: 
Combe Hot Hatch, round 1
The first round of the Combe Hot Hatch Challenge was on April 18th and was a double header (two races in one day). The Hot Hatches were out in the first qualifying session, so we all set off in cool conditions to set a few good lap times. I was feeling confident after our test day a couple of weeks earlier. On my third lap as I gained some pace, I went over Avon rise with a tiny bit of lock on, and lifted off the gas ever so slightly - and the car stepped sideways! I caught the slide, but by then I was on the grass and slid into the barrier at around 90-100 mph. The recticell barrier did its job, slowing the car rapidly and a bit more energy was dissipated as I pirouetted twice!
The car was recovered and I was transported in the "biff wagon" back to the medical centre for a once over by the track medics.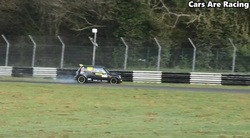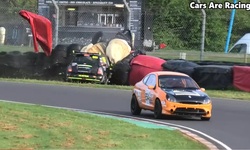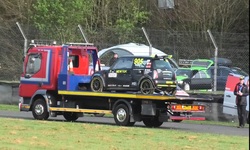 After checking me over, the doctor pronounced me fit to drive, but we had to meet with the scrutineers to see how fit the car was. My concern was that 25% of the season was happening that day!
The car bore up surprisingly well. The headlight was smashed and the bonnet plus all the panels on the nearside had been dented, but with a smattering of duct tape we were signed off to race!
My two quick laps before I binned it enabled
me to qualify P2 in class E for race 1, and P3 for race 2.
Starting a little tentatively in race 1, I was able to maintain my start position in spite of some attention from 2 or 3 other Minis. After breaking away from them at mid distance I reduced my pace a little as I was marginal on fuel - we forgot to top the car up after the off in qualifying. I finished second in class and was very relieved to do so!
We topped the car up with enough fuel and tweaked the alignment between races to make sure the car was straight before getting set up for the second race.
Race two started well, I held onto third in class until the bottom of Avon Rise on lap 1. A couple of spinning cars caused a few of us to check up to avoid contact. Mini #84 slipped past me, but Mini #95 dropped back behind me. The class leader took to the grass in Mini #119 and dropped right to the back of the pack. We did a couple of laps behind the safety car, before being let loose. I caught up to the back of #84, and slipped past him at Quarry to lead the class! I hung on in the lead until 3 or so laps from the end when a fast charging car #119 reeled me in. We diced for a couple of corners but he had the faster car and so got through. I was pleased with another second place finish in my somewhat scruffy car!
The second meeting is on May 2nd. Let's see if I can maintain my finishing record.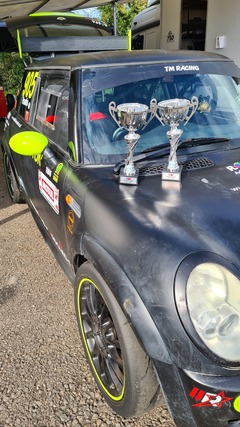 The good side of the car and the reward
Please look at the dates above and if you can come along to support Gary please do and also take some fliers and business cards with you to hand out to the petrol heads - this is a great opportunity to recruit more car drivers.
Driven Ohm Racing, has a car available for a track day experience on 20 May at Castle Combe if anyone would like to join them.  It costs £250 per person and this includes the car, fuel and all the necessary trimmings. All you need is your full driving license and clothing which leaves no exposed skin (Gary has helmets if you do not have your own).  You will need to bring a pic-nic or sample the delights of Bar-H in the paddock for refreshments on the day.  
Follow  progress on Facebook @Driven.Ohm.Racing.
Please check the series website for the latest details:
Please let us know of any plans you may have; any road trips, any places to drive/ride to; maybe you have plans to unicycle the length of the UK - if you are planning this, please let us know as this would be great to read about!
Perils of British Superbikes Testing in UK

Bob Fram was Marshalling at the British Superbike tests at Donington Park on 31 March and Silverstone on 6 & 7 April.  The forecast for Donington Park was so bad many of the teams decided not to attend – this was a good decision as we had every weather event in one day and the track temperature was very low.  A few Hady souls did venture out but the pictures below show how the conditions varied.  Glad I took my thermals!  Pictures are from Hollywood Corner at the top of Craner Curves.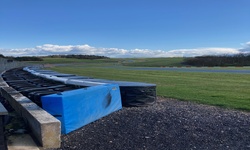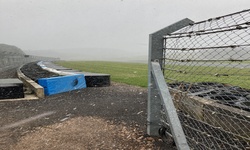 How it Started                                 How its Going
The pictures below are of the air fence at Copse Corner at Silverstone.  A very windy second day gave new meaning to the words air fence as sudden gusts lifted the padding over our heads on 3 occasions – each incident stopping the testing until the fence was replaced to its rightful position.  Always expect the unexpected!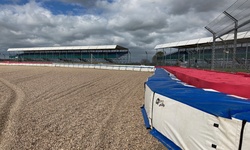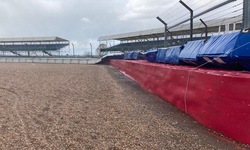 How it Started                                 How its Going
Land's End Trial

Bob Fram took part in the
Land's End Trial
organised by the Motorcycling Club.  This is a reliability trail consisting of 284 miles (according to my odometer) of road riding with 12 special sections of varying difficulty (mostly off road).  As I am new to off road riding and this event, I chose to ride the easier "O" route rather than the main trial.  This avoided some of the tougher of road sections and removed some of the hill restarts on other sections.
The route is provided by the Motorcycling Club as a list of route directions to be printed off and read during the trial.  This meant a road book holder is required.  Fortunately for me a friend had already built one which I was able to copy – the first project which included LED lights so I could read it at night! 
  Road Book ready for rolling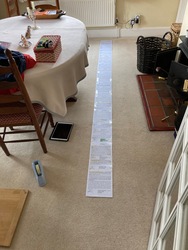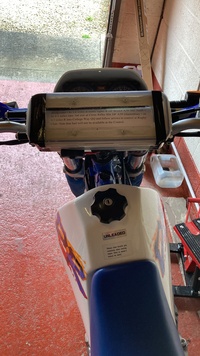 Road book on Bike
The bike also needed preparing so a decent service and all the electrical connectors checked and greased – to try and prevent any electrical problems in the wet.  Tools selected, rack fitted and sufficient spares (and some clothes for the evening in a hotel at the end) packed on to the bike.  This all caused my wife to comment this trip has had more planning than the D-day landings!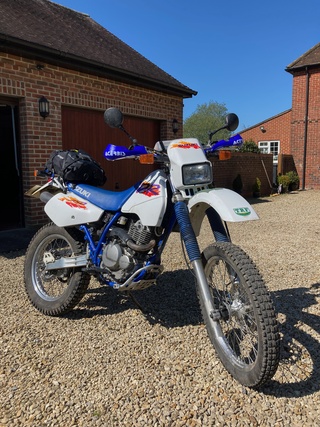 Bike ready to go
I had a friend to ride with who had done the event on numerous occasions – great to have a mentor and a companion.  We departed Devizes at 1900 on Good Friday in order to get to our start point at Bridgewater Rugby Club  in good time for scrutineering, sign on and catch up with other competitors before my start tine of 2252.  Bridgewater rugby club was full of a wide variety of bikes and cars to carry the 400 or so competitors on the trial.
We departed on time and I navigated - with trepidation given my homemade route book holder which I expected to explode at some stage; it did not so I was very pleased with this aspect of the event.  The directions were accurate and the first 2 stages were completed without incident.  I tried to be clever on the third more difficult section (advice from a very experienced off-road rider ringing in my ears) but this caused me to fall off within the first 10 metres!  Marshalls there to help and I was soon on my way up the hill without further incident; suitably humbled!.
The hours and miles ticked by and it was great fun.  There were 2 compulsory stops; one for half an hour and another for 1 hour.  All along the route and at all hours, selected garages were open for fuel and village halls open serving tea and cake -really welcome refuelling and caffeine hit.
The good thing about all this is each competitor is taking on the trial and not each other so the atmosphere is friendly and supportive – with a lot of self-deprecation and banter.  There are set times to arrive at sections and the time allowance is generous  - we arrived at Hayle with an hour to spare and we had averaged 15 miles per hour over the whole event.  Medals are awarded as follows:  the main trial no mistakes gold medal, one mistake (foot down or fail a section) silver medal, 2 mistakes bronze medal.  The O class no mistakes a tin medal is awarded with a copper medal for one mistake.  Each finisher is awarded a certificate.
Hugely satisfying to finish (with no problems with the Bike).  Whilst we were tired during the event the regular stops, sections and navigation kept you alert so I never felt as though I was compromising safety.  I will be going again next year and will try to do some other events if I can.  Provisional results have me 3rd in class with a Copper medal – I am chuffed!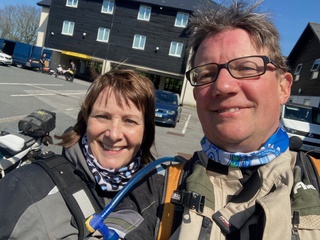 The Team at the end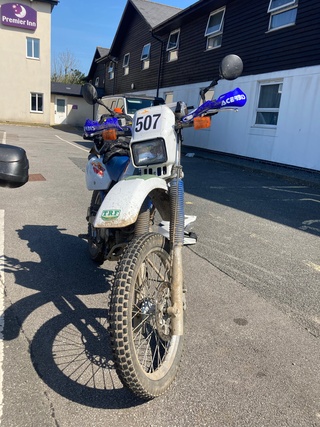 Promotional activities
SkillShare - 2022 - see poster above!
We are starting SkillShare again this year and alternating between the North and  South of the County.  Our first event is on 2 April at Three Trees Farm Shop in Chiseldon.  Sadly the Haven in Salisbury has closed and we are moving to 3 Guys Cafe 2 Rhodes Moorhouse Wy, Salisbury SP4 6SA (just off the A345 north of Old Sarum, Salisbury) for the Southern version on 7 May.

Wiltshire Police have the following proposed dates for BikeSafe:

We will be supporting Wiltshire Police with BikeSafe both with tutors to make up the instructor numbers and to help promote the Group.  We do this in conjunction with WABAM so it is a great way to reinforce advanced riding and to gather new members.
Calne Bike Meet - 30 July 2022

We have a stand at this huge event on Sat 30 July.  Please make a note in your diary as we will need plenty of people to help us promote our Group on our stand ( Car and Bike members please!)
I

f you have any ideas for events, then please get in touch with the committee using the committee email address

:
Look forward to hearing and discussing your ideas.
A generic set of slides has been created for use if you are asked about Wiltshire RoADAR and have the opportunity to present. This could be at a local club, workplace etc. Please send a mail to committee@wiltshireroadar.co.uk  
and the slides will be sent over to you.
We also have flyers and business cards so ask for these via the same means.
The new highway code changes are  in detail
here
. These introduce a hierarchy of responsibility for the safety of all road users.  Reading through them they seem to formalise what advanced drivers and riders should be doing already but please be aware of these changes – they come into force in Jan 2022 and many will not read them properly if at all!  Remember ALL other road users are dynamic hazards!
The following is doing the rounds on Social media but please do read the complete list of changes at the link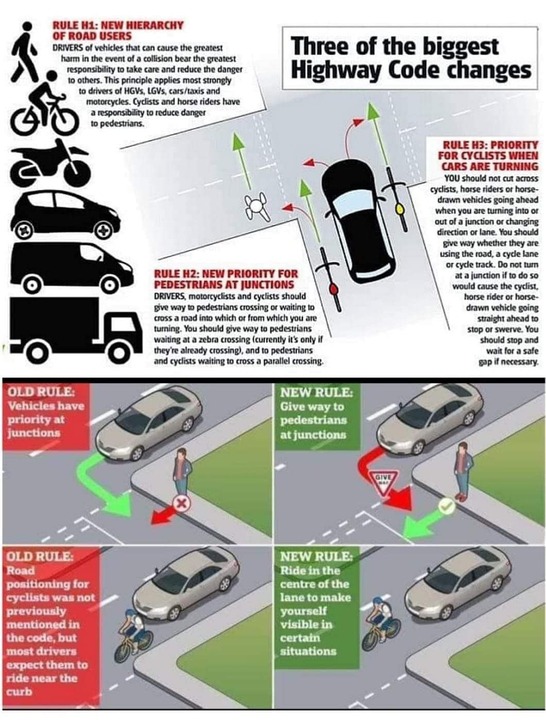 We continue to review these protocols at every Committee meeting and see no reason to change them at the moment for the next month.  Clearly with the changes in legislation some may feel these protocols are excessive; we continue to have your safety at the forefront of all we do - personal choice must lead the way.  From1 April we will no longer insist on a lateral flow test as these will no longer be free of charge.    The responsibility is on us all to do what we think is right for us and our loved ones.  The bottom line is if you do not feel safe doing something then do not do it!!

Wiltshire RoADAR COVID Secure Car Tutoring Protocol 
This is a voluntary activity and both parties (Tutor and Associate) must be content to be in the same car as each other (normally the Associate's car).  It is recognised each individual has their own circumstances and acceptance of level of risk.  There will be no judgement of individuals who do not wish to conduct car training.
Wiltshire RoADAR have a written risk assessment which is available on request.  The mitigation factors listed below are to minimise the risk of coronavirus infection for the Tutor and the Associate.  These are the absolute minimum required and if individuals wish to add their own factors the this is up to them.
Essential Mitigation Measures
No training if either party has displayed COVID 19 symptoms within 7 days or is self-isolating in line with Government guidance (including Test and Trace protocols).

Associate and tutor to have conducted a lateral flow test within 2 days of the training session.  A positive test should be treated as per Government guidelines and precludes training.

Face covering to be worn by both tutor and associate.  These must be in place prior to entering the vehicle.

Ensure hands are clean (washed for 20 seconds and/or alcohol gel as a minimum) prior to fitting face covering.

Tutor and associate must not touch their face when in the vehicle or prior to washing/sanitising hands/ or removing gloves if worn.

Vehicle ventilation system to be on and drawing air from outside the vehicle (NOT on recirculation). Ventilation enhanced by opening rear windows to allow air flow over tutor and associate to go out of the vehicle.

Avoid face to face activity and conduct discussions outside the vehicle where safe and legal to do so.
Recommended Additional Mitigation Measures
Tutor wears disposable gloves when in the vehicle.

Any equipment taken into the vehicle by the tutor to be sanitised post the session (alcohol wipes or a bleach solution)

Associate to ensure vehicle interior is cleaned with sanitiser prior to tutor entering the vehicle.
Wiltshire RoADAR COVID Secure Bike Tutoring Protocol

We must ensure the safety of both the Associate and the Tutor.  The following protocol is to be followed:
Both parties must be happy to partake in the tutoring session – there is no penalty for not wishing to partake provided communication is clear.

No tutoring if either the Associate or the Tutor have displayed symptoms within the last 7 days or are told to self- isolate by the

Government

Track and Trace protocol.

It is strongly recommended both the Associate and the Tutor conduct a lateral Flow test no sooner than 2 days prior to the session.  A positive test should be treated as per Government guidelines and precludes training.

All must follow Government guidelines on self-isolation and shielding.

Appropriate Social distancing must be rigorously applied. 

Follow Government guidelines for hand cleansing and personal safety – hand sanitiser useful at all times.

Avoid busy locations for meeting, follow the latest Government guidelines for the use of cafes and/or take own refreshments. 

Associates to be encouraged to bring their own copy of Roadcraft and the Highway code for ease of reference during briefing and de-briefing sessions.

Tutor explanations and diagrams to be suitable for understanding from 2 metres.
Advice will be updated as and when it is recieved. But, please follow government guidelines.
Books!

  These are the latest version of Roadcraft (been out for a while now).  Please ensure you are using the latest version to keep up to date with your skills.
Motorcycle Roadcraft is the police handbook for rider training. It's used by all the emergency services and forms a key reference for riding instructors.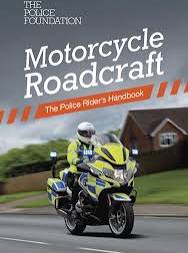 Updates for this new edition include a new overtaking chapter with separate sections on passing stationary vehicles, single stage overtakes, and multi-stage overtakes and new explanations of advanced concepts, such as limit points on left-hand bends. Guided by a working group of experienced instructors, Motorcycle Roadcraft is essential learning for police officers preparing for the demands of operational riding.

Roadcraft is the police handbook for driver training. It's used by all the emergency services and forms reference for driving instructors.
Updates for this new edition include a new overtaking chapter with separate sections on passing stationary vehicles, single stage overtakes, and multi-stage overtakes and new explanations of advanced concepts, such as limit points on left-hand bends.

Guided by a working group of experienced instructors, Roadcraft is essential learning for police officers preparing for the demands of operational driving.
Media coordinator - Help us to broaden our reach

To help promote the group we have a variety of online media platforms, FaceBook, YouTube, Instagram and Twitter. To help make the most out of the opportunities that these outlets provide, we could use some help from someone who has experience of using such tools. Drop me a line at secretary@wiltshireroadar.co.uk  if you would be interested in helping promote our group.
These are available from the Group Secretary if any member wishes to see them. If you are interested in reading the minutes, then please send a mail to the Group Secretary whom will promptly forward them onto you.
Forum
Please could all Members use the 
Forum
 on the Website which can be used for any purpose but particularly coordinating events, hints, tips and general conversation.  It is easy to register on the website so please do log on and chat away.
Test results 
Reminder to let the Membership Secretary and your tutor know when you have taken your Advanced Driving/Riding Test and result. This is so our database is kept up to date; there is no need or pressure at all to have the result published on the website or in this newsletter if you wish to keep your result confidential.  
Gloucester RoADAR Newsletter
If you are interested in the Gloucester Group newsletter
here
it is.