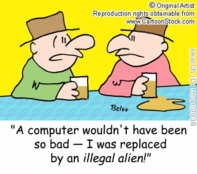 The Purpose of Amnesty for Illegal Aliens is to Crush America To Force Us Into the CFR's Planned North American Union Dictatorship
Watch
this video
to fully understand the
impact
of illegal immigration.
Amnesty
for illegal aliens would be a demographic nightmare, yet the Senate will be voting to do just that late Wednesday or early Thursday of this week. It would increase crime, increase unemployment, and would precipitate the Council on Foreign Relations planned creation of a North American Union Collectivist Dictatorship by collapsing the USA. With the NAU would come the destruction of health freedom in America. The Dietary Supplement Health and Education Act would be eclipsed by the
FDA's Trilateral Cooperation Charter with Canada and Mexico
and you would lose your access to high potency dietary supplements and to the most effective dietary supplements.
Reid Files for Cloture on DREAM Act; Vote likely for late-Wednesday, early-Thursday
S.729
/
H.R.1751
Senate Majority Leader Reid has filed a motion for cloture on the DREAM Act Amnesty. A vote is likely to occur late-Wednesday or early-Thursday and would require 60 votes to begin debate on the bill. Call your Senators NOW (202-224-3121) and urge them to vote NO on cloture. Visit your
Action Board
for new faxes that were posted earlier today.
Monday, December 6, 2010, 4:57 PM EST - posted on NumbersUSA
Congressmen Who...
Sponsored the DREAM Act
Updated Monday, December 6, 2010, 11:47 AM EST - posted on NumbersUSA
Sponsors of the DREAM Act
Sponsors of Senate Version (S.729)
Sponsors of House Version (H.R.1751)
(AR) Lincoln
(CA) Boxer
(CA) Feinstein
(CA) Honda
(CO) Bennet
(CO) Udall
(CT) Dodd
(CT) Lieberman
(DE) Carper
(DE) Kaufman
(FL) Nelson
(HI) Akaka
(HI) Inouye
(IL) Burris

(IL) Durbin

(IL) Jackson
(IN) Bayh
(IN) Lugar
(IA) Harkin
(MD) Cardin
(MD) Mikulski
(MA) Kennedy
(MA) Kerry
(MI) Levin
(MN) Franken
(MN) Klobuchar
(NV) Reid
(NJ) Lautenberg
(NJ) Menendez
(NM) Bingaman
(NY) Gillibrand
(NY) Schumer
(OR) Merkley
(PA) Specter
(RI) Reed
(RI) Whitehouse
(VT) Leahy
(VT) Sanders
(WA) Cantwell
(WA) Murray
(WI) Feingold
(AZ) Grijalva
(AZ) Pastor
(AR) Snyder
(CA) Baca
(CA) Becerra

(CA) Berman

(CA) Capps
(CA) Chu
(CA) S.Davis
(CA) Eshoo
(CA) Farr
(CA) Filner
(CA) Garamendi
(CA) Harman
(CA) Lee
(CA) Lofgren
(CA) Matsui
(CA) Miller
(CA) Napolitano
(CA) Nunes
(CA) Richardson
(CA) Roybal-Allard
(CA) Li. Sanchez
(CA) Lo. Sanchez
(CA) Schiff
(CA) Sherman
(CA) Speier
(CA) Stark
(CA) Thompson
(CA) Waters
(CA) Watson
(CA) Waxman
(CA) Woosley
(CO) DeGette
(CO) Perlmutter
(CO) Polis
(CT) DeLauro
(CT) Himes
(DC) Norton
(FL) Brown
(FL) Castor
(FL) L.Diaz-Balart
(FL) M.Diaz-Balart
(FL) Grayson
(FL) Hastings
(FL) Meek
(FL) Ros-Lehtinen
(FL) Wasserman Shultz
(GA) H.Johnson
(HI) Abercrombie
(HI) Hirono
(IL) Davis
(IL) Gutierrez
(IL) Jackson
(IL) Quigly
(IL) Rush
(IL) Schakowsky
(IN) Carson
(KS) Moore
(LA) Cao
(ME) Pingree
(MD) Cummings
(MD) Edwards
(MD) Sarbanes
(MA) Capuano
(MA) Delahunt
(MA) Frank
(MA) Lynch
(MA) Markey
(MA)McGovern
(MA) Neal
(MA) Oliver
(MA) Tierney
(MA) Tsongas
(MI) Conyers
(MI) Kilpatrick
(MI) Levin
(MN) Ellison
(MO) Clay
(MO) Cleaver
(NV) Berkley
(NJ) Andrews
(NJ) Holt
(NJ) Pallone
(NJ) Pascrell
(NJ) Payne
(NJ) Rothman
(NJ) Sires
(NM) Heinrich
(NY) Ackerman
(NY) Clarke
(NY) Crowley
(NY) Engel
(NY) Hinchey
(NY) Israel
(NY) Lowey
(NY) Maffei
(NY) Maloney
(NY) Meeks
(NY) McCarthy
(NY) Nadler
(NY) Rangel
(NY) Serrano
(NY) Tonko
(NY) Towns
(NY) Weiner
(NC) Price
(NC) Watt
(OH) Kucinich
(OR) Blumenauer
(OR) Wu
(PA) Brady
(PA) Fattah
(PA) Sestak
(RI) Kennedy
(RI) Langevin
(TN) Cohen
(TX) Cuellar
(TX) Doggett
(TX) Gonzalez
(TX) A. Green
(TX) G. Green
(TX) Hinojosa
(TX) Jackson-Lee
(TX) E.Johnson
(TX) Ortiz
(TX) Reyes
(TX) Rodriguez
(VA) Scott
(VA) Moran
(WA) McDermott
(WA) Larsen
(WA) Smith
(WI) Baldwin
(WI) Moore
Main bill sponsors in BOLD
Please Forward Widely
Appreciate This Effort to Defend Your Health Freedom?
IAHF Needs Your Urgent Support!
PAYPAL or IAHF 556 Boundary Bay Rd., Point Roberts WA 98281 USA
Without Your Support IAHF Won't Be Able to Continue in Operation-
Please Give Your Most Generous Donation Today!
Thanks