I hope everyone had a festive Purim and is looking forward to Pesach in just a few weeks. The Jewish calendar certainly keeps us connected to time and the speed with which it moves.
I want to share with you a decision by the Library Minyan Steering Committee regarding Tzedakah. We have held many co-sponsored kiddushim during 2017 and were blessed with many donations. At the recommendation of Treasurer Norm Green and Communications Chair (and past Rosh) Carl Sunshine, the Steering Committee agreed that 3% of kiddush receipts should be donated to an organization whose mission is to feed the hungry. So, the Library Minyan has donated $500 to SOVA. At the end of 2018, we will make a similar donation. When the opportunity arises, please participate in our co-sponsored kiddushim. You will not only help create an enjoyable Shabbat experience for our community, but also be part of our commitment to Tzedakah.
Our Simcha Coordinator, Fran Grossman, is eager to play
 an active role in helping you plan your simcha, as part of our Library Minyan leadership. If you have an upcoming Bar or Bat Mitzvah or aufruf, or any other celebration on Shabbat, please don't hesitate to reach out to Fran.  Her contact information is in the TBA Directory. 
I'm sure your weeks ahead will be busy, as will mine, in clearing out Chametz — literally from your kitchens, and figuratively, from your hectic lives. Kol tuv!
—Melissa Berenbaum
Purim Mitzvah & Merry-Making at TBA and Pico Union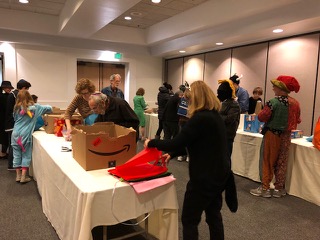 Mitzvah gorreret mitzvah: one mitzvah leads to another.  For those of us who fulfilled the Purim mitzvah of Matanot l'evyonim (giving gifts to those who need) by helping to assemble bags of food and supplies after Megillah reading on erev Purim, we were able to fulfill the mitzvah again on Purim day by giving out those bags. 
I must confess that I have a selfish reason for fulfilling the mitzvah, however, as each year I acquire new friends and acquaintances when I help with Operation PB&J. I have written in the past about some of the lovely recipients of the bags, so this year I will tell you about a new friend I met right here at Beth Am. Eldad is a shul member; he has a lovely daughter who is a student at Pressman Academy.  Eldad and his daughter were amongst the first people who came in to help put together the kits, and amongst the last to leave. The two of the them worked with smiles on their faces the whole duration of the program, and then thanked me as if I were doing something for them! When we encouraged people to take a few bags each to give away, Eldad scooped up as many as he could possibly hold, telling us that he works downtown, where he sees many homeless people daily.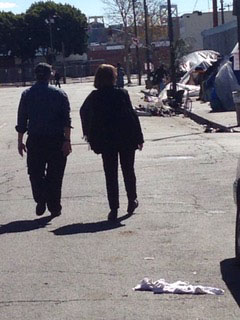 I was pleasantly surprised to see Eldad again on Purim day at the
Seudat Purim
. He greeted me with his now-familiar smile, and immediately whipped out his phone.  He showed me both a video and photos. The video was of the Ester/Mordechai tomb in Hamadan, Iran, which was fantastic.  The photos were of smiling faces of people whom I do not know. Why did the photos touch my heart and make my Purim one of real joy as much as the video?  Because the people in them were showing their gratitude for the PB&J bags Eldad had handed to them earlier that day.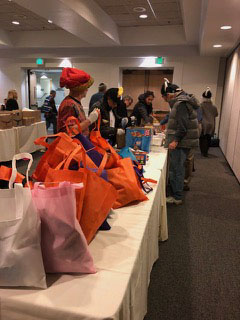 Thank you to all who participated in Operation PB&J!  I want to especially thank Sandy Brenner and Miriam Prum Hess, who helped set up, assemble, and clean up. We are all blessed to have a community of people who support both friends and strangers.
—Val Goldstein
TBA participated in Purim at the Pico-Union Project by participating in a Megillah reading for TBA members and neighborhood folks involved with PUP. The Pico Union Project is a multi-faith cultural arts center and house of worship founded in 2013 by composer and musician Craig Taubman, located in a historic old synagogue. The Project is dedicated to the Jewish principle to "love your neighbor as yourself," and the joyous celebration exposed diverse cultures to our Jewish Purim customs. Spanish speakers were enlightened by explanations in Spanish given by both Rabbis Chorny. The traditional Megillah reading was enhanced by dancers' and charcoal artists' creative interpretations of the Purim story. 
Following the reading, there was feasting, thanks to a kosher food truck, and music supplied by the Klezmer group Mostly Kosher. Adding mitzvah meaning to it all, Dianne Shershow led the way in making Project PBJ happen at this second location. Many helpers made short work of the packing food and supply bags that were then taken by volunteers to be distributed to LA's homeless population, thus fulfilling the Purim mitzvah of Matanot l'evyonim.
Thanks to everyone (especially to Lia Mandelbaum) who organized and participated in this meaningful erev Purim celebration.

And then the next day, the Library Minyan sponsored a Purim Seudah for the entire TBA community. It began with Larry Herman doing  a special Purim "Kiddush." Sandra Lepson organized a banquet, and in the interest of Na'afochu (let's turn everything upside down!) we had breakfast for dinner, including breakfast burritos and waffles. Larry and Diane Herman provided entertainment, including an original and very irreverent Purim spiel and some songs with silly Purim lyrics.  A great time was had by all.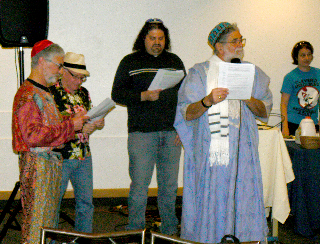 Interested in Sharpening Your Hebrew Grammar?
Your Library Minyan Education Committee is trying to ascertain the level of interest in a Hebrew Grammar class.  Please respond to 
Education@libraryminyan.org
if you or someone you know would be interested in attending such a class. If you have particular material you would like to have added to the class, please feel free to request that.
The class would focus primarily on intermediate Hebrew grammar, addressing reading and comprehension of Torah text, rather than modern conversational Hebrew. Emphasis would be on grammatical features: vocalization, the use of daggeshim, prefixes and suffixes, and conjugation of regular and "weak" verbs in the seven binyanim.
The class would likely be at TBA in the evenings during the week, once a week for 10 weeks. Dates are TBD.
—Anita Happel
Memories of a Wonderful Library Minyan Bar Mitzvah
On February 10th, 2018, our son, Elishai, had his Bar Mitzvah in Temple Beth Am's Library Minyan. The joy and pride we felt that Shabbat is hard to describe.  
Our family and friends who traveled from far and near were blown away by the sense of love and celebration that permeated the room. Being part of a minyan of Jews who are committed to davening and are somehow in love with davening elevated all who were present. The combination of dancing and singing, alongside Elishai's pure quiet confidence as he led this congregation, made my heart feel holy — and I sensed anew the beauty of being Jewish, as I myself felt the love-infused pride borne by generations.  
My husband Scott and I were both ordained at the Ziegler School of Rabbinic Studies, and being in the presence of so many of our beloved teachers and friends as we marked this moment in our lives was indescribably special. Teri Cohan Link and Sandra Lepson helped us with each step.
We arranged for a table to be brought in so that my elderly parents could have the first aliyah without having to climb the steps to the bimah; my father, Aron, who is 93, was therefore able to meaningfully participate. Seeing the sparkle in his eyes as he watched Elishai is a memory which will remain with me for all my days
Being amongst a community that deeply understands the significance of this moment in the life of our family and our child added so much to the morning. We are deeply grateful the the Library Minyan at Temple Beth Am for this experience.    
Kudos to the Minyan's DPL committee that sponsored a very successful potluck Shabbat lunch on February 24. 
Abby and Larry Harris very graciously opened their home to about 35 members of the Library Minyan, and we thank them for doing this.
Special thanks go to Miriam Prum-Hess who organized the event. All present got to sample many wonderful dishes and "shmooz" with people they might not otherwise socialize with.
This was the second DPL event of the year and we look forward to the next one on Shavuot. 
With Purim over, Pesach is not far away. The Ohel Patuach Committee will be facilitating matches for home hospitality for the first and second Seders. Essia Cartoon Fredman will be helping to arrange matches for both nights.
If you are new to the community, or even if you have been here for years and are looking for a place to spend one of the Seders, send an email to Essia at 
essiacar@aol.com
.
Likewise, if you have extra places at your Seder and would be willing to be a host for one of the nights, send an email to Essia and let her know how many people you could accommodate. 
— Diane Herman
Jewish World Watch's Walk to End Genocide is a community event that brings together activists of all ages and backgrounds to rise up in one united voice and say: "We will not stand idly by while genocide and mass atrocities occur." We walk for the 65 million refugees and displaced people — to urge our government  to take action and to raise funds to educate, advocate, and provide on-the-ground relief for survivors. 
JWW projects help people in Sudan, South Sudan, Syria, and the Democratic Republic of the Congo, as well as the Darfuris forced to flee Sudan and the Rohingya who have faced ethnic cleansing in Burma.
This year's Walk will take place from 9:00-noon at Pan Pacific Park. In addition to the Walk, there will be interactive booths and ways to get involved with advocacy. 
Please sign up for
Team Temple Beth Am.
  Register at
Los Angeles Walk to End Genocide - Sunday, April 22, 2018.
Contact Dianne Shershow, Team Temple Beth Am Team Captain, if you have questions at
dfshersh@aol.com
 or 323-314-3549.
— Dianne Shershow
Mar 10

Co-sponsored Kiddush

 

Apr 14
Torah Club
VISIT US ON SHABBAT
Mishna study 9:20
Tefillot begin 9:45
Temple Beth Am
Dorff-Nelson Chapel
1039 S. La Cienega Blvd, 90035