FREE STATE PREMIER & ANC PS TO SPEAK ON PALESTINE [BLOEM]
Premier of the Free State and ANC Provincial Chairperson, Ace Magashule, will address a Palestine solidarity event on Friday 10 March at 19h00 at the University of Bloemfontein.
Click here.
VIDEO: NEHAWU HOLDS PICKET AT SWAZI & ISRAELI EMBASSIES
Trade union NEHAWU together with the SACP, YCL, WFTU, COSATU, the Swaziland Solidarity Network (SSN) and others held a successful picket as part of #IsraeliApartheidWeek at the Embassy of Swaziland (against the Swazi monarch's oppression of its citizens) and at the Embassy of Israel (for its oppression of Palestinian and African people). At the protest, Comrade Sipho of the SSN passionately declared that: "Swazis are Palestinians and Palestinians are Swazis".
Click here to watch a short video clip.
JOIN BDS SOUTH AFRICA'S EMAIL MAILING LIST
To join BDS South Africa's email mailing list (& receive these newsletters) send a blank email message to alerts@bdssouthafrica.com
BDS SOUTH AFRICA

BANK: First National Bank
NAME: BDS South Africa
NUMBER: 62273997943
BRANCH NAME: Rosebank
BRANCH CODE: 253305
SWIFT CODE: FIRNZAJJ
 
BDS SA, is a registered Public Benefit Organisation (PBO) with Section 18A tax-deductible status. This means that any donations made to us can be used to apply for tax exemptions. Kindly send copy of proof of payment to finance@bdssouthafrica.com / 0866664995 for receipt.
THANKS TO SA COMEDIANS JOEY RASDIEN,

MASHABELA GALANE, 

KAGISO LEDIGA, THABANG ER, STIG DLAMINI... 
The third "Apartheid Ain't Funny" Palestine solidarity comedy show, 
part of the annual #IsraeliApartheidWeek campaign,
 took place last night in Pretoria. 

A big shout out and a humble thanks to the comedians Mashabela Galane, Joey Rasdien, 
Kagiso Lediga, 
Thabang ER, Muzi Dlamini, Mo Mothebe, Stig Dlamini and others. Salute for championing the Palestinian cause!
This year the #IsraeliApartheidWeek comedy show was co-hosted by BDS SA in partnership with the Tshwane University of Technology Student Governance & Leadership, Directorate of Extracurricular Development and the Campus Student Representative Council.
KARISHMA MAGAN: "AS A HINDU I AM ASKED – WHY DO YOU SUPPORT THE PALESTINIAN CAUSE?" [POST NEWSPAPER]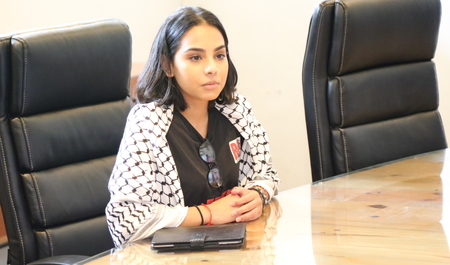 This week's Post newspaper carried an article by Karishma Magan where she talks about a recent trip to Palestine and explains why she, as a Hindu person, supports the Palestinian struggle against Israeli Apartheid. Magan writes:
"As a Hindu I am often asked – why do you support the Palestinian cause and struggle against Israel's occupation and oppression?"

"Palestinians constitute Muslims, Christians , atheists, etc, therefore this issue can't be reduced to just a "Muslim issue". Palestinian human rights are being suppressed by the Israeli regime. Therefore, I respond as a humanist, because this is a human rights issue."

"The Mahabarat focuses on deciding what is right from wrong and fighting social injustices, therefore , activism is promoted and we thus have the duty to act when we are faced with social injustice. "

"I also respond as a South African because we have the duty to help the international communities who helped us during apartheid, Palestine being one of them." 
Click here to read the full article online.