---
---
SIRA

Notice
Bushfire Support
Fine Fuel and Vegetation Collection

Residents of Scotland Island

To help reduce the risk of bushfire and ember attacks, Council is organising another fine fuel and vegetation collection.


FINE FUEL COLLECTION
Fine fuel includes leaves, twigs and bark that can easily catch fire. Fine fuels are less than the diameter of your little finger.

What do you need to do?


1. Bulka Bags will be distributed from Thursday 16 January. Resident's will receive one large bag per household.




2.Clear your roof and rake up all the fine fuel around your house and tip it into the large bag which you should place in the road reserve outside your property for collection.


When is it happening?


Bag collection starts from Monday 20 January until all the bags are collected.

 

VEGETATION COLLECTION
Council is working with URM who will be delivering a vegetation collection to Scotland Island.

What do you need to do?


3. Present your vegetation in tied bundles or a hard-sided container. Material presented in plastic, nylon, hessian bags, cardboard or foam boxes and untied bundles, will not be collected.




4. Place your vegetation in the road reserve outside your property for collection.




5. Pick up starts on Monday 27 January.


Please ensure a three-metre gap is left on the road to allow trucks to collect the vegetation.

Do not put green clean up materials in the bulka bags (which are provided for the fine fuels collection). 

Who can I ask for more information?

You can contact Scotland Island Residents' Association Cass Gye on 0418 220 107 or Northern Beaches Council David Munday on 9970 1248.

For more information about preparing for bushfire and for the latest updates, visit  www.rfs.nsw.gov.au

Kath Mckenzie
Executive Manager Community Engagement & Communications
Community Engagement & Communications

kath.mckenzie@northernbeaches.nsw.gov.au
northernbeaches.nsw.gov.au


---
Happy New Year, SIRA Members!
We would like to notify you of your SIRA Committee members for 2020.
Colin Haskell - President

Shane O'Neill - Vice President

Sharon Kinnison - Vice President

Tim Turpin - Treasurer

Leanne McLean - Secretary

Boyd Attewell

Brian Rodgers

Fabienne d'Hautefuielle

Gail Mackenzie

Jessica McGowan

Marie Minslow

Nadja Fisher

Robyn Iredale

Sue Armstrong
If you're lucky, there'll be a photo of us all for the next newsletter so you can see our smiling faces.
---
SIRA Sub-Committees to sink your teeth into...
Joining one of SIRA's sub-committees is a great way to actively participate and make our community stronger.

Sub-committees are not about politics. They are one of the most effective ways for you to be involved and contribute to ongoing improvements for all.

Here is a list of sub-committees for 2020 and their allocated team-leader.

Church Point sub-committee - team leaders: Sharon Kinnison & Colin Haskell
Community Engagement  & communications - team leader: Shane O'Neill
Finance & Insurance - team leader: Tim Turpin
Governance - team leader: Colin Haskell
Hall Management & Hire - team leader: Nadja Fisher
Roads, Drainage, Traffic & Environment - team leader: Sharon Kinnison
Strategy & Vision - team leader: Marie Minslow
Waste Management - team leader: Nadja Fisher
Water & Wastewater - team leaders: Boyd Attewell & Fabienne d'Hautefeuille
Wharves - team leader: Colin Haskell
To make a positive impact within our community, please contact Leanne (secretary@sira.org.au) to let her know which sub-committee you would like to join.


---
2020 Waste Collection Calendar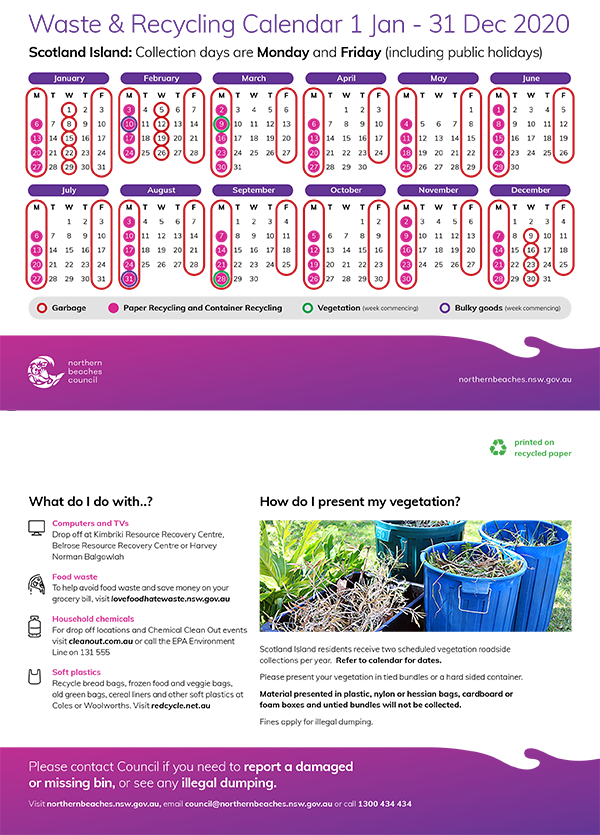 Click image to load pdf file


A meeting with Council executive will be held this month to discuss, agree and organise a further major green waste pick up towards the end of January or beginning of February, as well as ongoing green waste collections during the year.

We will keep you posted and inform everyone once the dates are set, which will allow residents time to really clear up their properties.

We also plan to  discuss our  reserves - Pathilda, Catherine, and Elizabeth Park -  to work out  how we can clear the build-up of fuel in these areas. We expect this may need both Council and community working together. Everyone did a great job before Christmas when we got rid over 400 large bags of fuel. A great result - Thank you! 

Let's make it a Happy and Safe New Year.


---
Update from the Scotland Island Fire Brigade
Obviously, we are in the midst of a horrendous fire season. To date, 1,995 homes and 4,041 outbuildings are confirmed destroyed and tragically 20 people have been killed. On the other hand, 12,413 homes, 10,276 outbuildings and thousands of lives have been saved.

Brigade Members have battled fires all around the state - north as far as places like Tenterfield and Taree - south as far as Milton and Batemans Bay and west into the Blue Mountains.

Thanks to families who have allowed Brigade Members to fight fires. Without them they couldn't do what they do.

Thankfully our Community Fire Unit haven't been engaged in any local fire operations to date. But our large and engaged Community Fire Unit means regular Brigade Members are able to travel further afield to assist in other areas without leaving our community exposed.

If you missed the Community Briefing most of the information is available on our web site (www.sirfb.org.au). Contact the Brigade if you want a Bushfire Survival Plan document or a Static Water Supply sign.

Thanks to the Pasadena, Scotland Island Lodge and Sailing Pittwater for donating prizes for our fund raising during the Scotland Island Dog Race. We were amazed by people's generosity. The funds raised will be used to assist people affected by the fires, the families of the fire fighters that have been killed and to run the Brigade.

Finally, its been impressive (and a little reassuring) to see the effort and team work put into bushfire preparation on the island. Thanks to everyone involved in organising the fine fuels collection. Discussions are underway with Council to have another collection in the next couple of weeks and also to implement more regular green waste collections for the island.

We are only half way through the Bushfire Danger Period, so for the foreseeable future, as a community we need to continue the focus on Preparation (remember trim, mow, remove, clear and prepare), Vigilance and Compliance (with Fire Permit requirements and Total Fire Bans especially).

Peter Lalor
Captain


---
AUSGRID NOTICE – INTERRUPTION TO POWER SUPPLY
between 8am and 3pm Wednesday, February 5.
 

Ausgrid is carrying out essential upgrade and maintenance work in various locations on the Island.
REFER TO THE MAP BELOW FOR THOSE PROPERTIES THAT WILL BE AFFECTED:
RICHARD ROAD, BETWEEN BELL TOWARDS CARGO
BELL AND CAROL'S AND THOMPSON STREET, BETWEEN HILDA AVENUE AND HAROLD AVENUE
click image to load MAP

 

The main power is required to be switched off for this installation following new regulations subsequent to the death of a linesman working on low voltage. 

 

 

AUSGRID CONTACT:  Geoffrey Macpherson 9981 9927  Reference No. NECF34203



---
Proposed meeting dates for SIRA Committee, 2020:
Sunday 19th January

Sunday 15th March

Sunday 14th June

Sunday 6th September

Sunday 18th October - AGM
---
  2020 WPYC PUTT PUTT REGATTA
Saturday January 25
Vessels assemble at Treharne Cove around 11am

11am registration for the race at 12pm on the day from Toby Jay who will be on board his barge .

The race is open to Putt Putts & Gentleman's launches.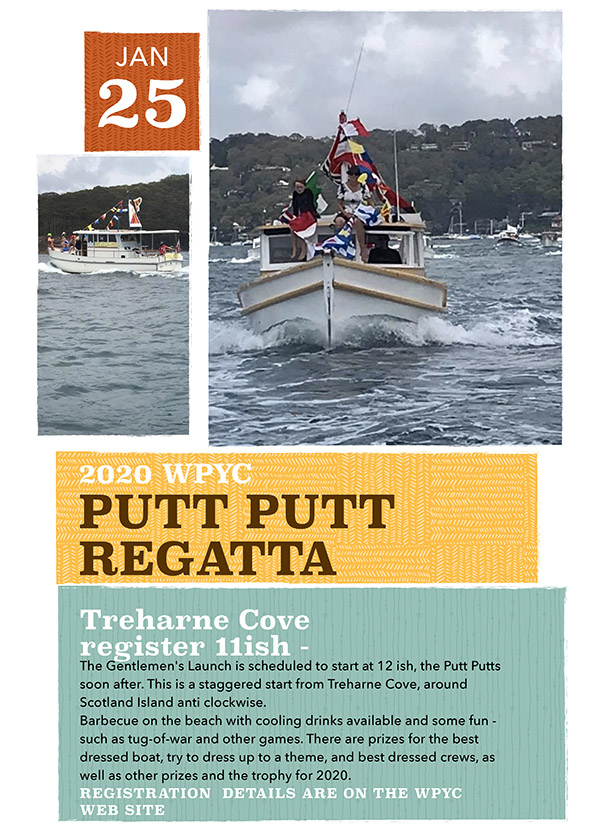 ---
Water Wars

How likely are the water wars to arise? The researchers put such chances at 75 to 95% in the next 50 to 100 years. How bad they will be, of course, remains to be seen.

Water is a precious commodity these days of drought and fire. As we live in a small community we need to look after each other. We have to thank the water line monitors and SIRA for providing this precious commodity to our small community.

A new paper paints a disturbing picture of a nearby future where people are fighting over access to water. These post-apocalyptic-sounding "water wars" could rise as a result of climate change and population growth and could become real soon enough if we don't take steps to prevent them.

The study, which comes from the European Commission's Joint Research Centre (JRC), says that the effects of climate change will be combined with an ever-increasing number of people to trigger intense competition for increasingly scarce resources. This can lead to regional instability and social unrest.

The paper pointed to several hotspots in the world where "hydro-political issues" are more likely to flare up. Hopefully Scotland Island is not one of them. Not surprisingly, these are areas having problems with accessing fresh water and where a "transboundary" to water exists. That means the people in that area share some body of water, like a lake or a river or small water line under the water to the top of Bells.  So in times of scarcity due to environmental factors and growing population, the water resources become thin and tensions result.

BUT it is NOT COOL TO STEAL WATER!!
If you are running low and feeling desperate talk to your neighbours. They can often assist with sharing some precious drops until its your turn to buy. This is how we have done it in the past lets stay connected with each other.

T&P



---
Dogsbodydobs Garden Maintenance Services
Hello Island and Bays Folk,

One hardworking, eager, reliable, somewhat skilled (but keen to upskill) individual available for pretty much whatever you need on the island and bays.

If you need:

your lantana removing
a recently lopped tree relocating
your block prepared for fire season
weeding
general garden maintenance
heavy stuff moving about...
Give me a holler, I'm your man.
We have a vehicle also so if you need something moving a bit further and the community vehicle can't help you out, I can be there too.
Definitely not afraid of the hard stuff. 💪




Give me a shout James 0439 455 901, or send me an email to dogsbodydobs@gmail.com and I'll get your job locked in.



---
---
A complete set of past electronic newsletters since May 2000 can be found and read at https://ymlp.com/archive_gesgjgm.php  or by clicking here or by visiting the Mona Vale Library.



---

---
To Contribute
If you would like to contribute to this newsletter it's easy!. Send an e-mail to the editor (editor@scotlandisland.org.au) or by clicking here. Type your contribution (100 words or so would be fine) and assuming it is of general interest to the community, does not include matter of a political nature and is not offensive, it will appear next month.
Subscription Information
To get on and off this newsletter,

click here

or got to:

http://www.scotlandisland.org.au/signup .


To change your address, click the 'modify' link at the bottom of this newsletter or send an email to the

editor@scotlandisland.org.au


---
Follow the PON
---
The Online Local Contacts Guide
Click HERE to load
---
---
The views expressed in this newsletter are not necessarily the views of the Scotland Island Residents Association (SIRA), or the Western Pittwater Community Association (WPCA)
---