PRESS INVITE: Professor Farid Esack to deliver Eid al-Adha sermon tomorrow in Johannesburg (Monday 12 September, 7am)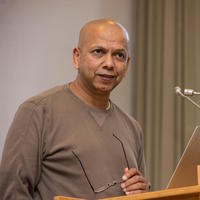 11 September 2016
BDS South Africa board member and well known anti-apartheid activist,
Professor Farid Esack
, will deliver the sermon and lecture at tomorrow morning's Muslim
Eid al-Adha
Prayers in Johannesburg.
Eid al-Adha, also referred to as the "Festival of the Sacrifice" or "Sacrifice Feast", is the second of two Muslim holidays celebrated worldwide each year. It honours the selfless exhibition of faith and sacrifice of Ibrahim (Abraham) when asked to sacrifice his son Ismael under divine revelation. The Eid al-Adha early morning prayers mark the start of the celebration that usually takes place over three days.
Esack's sermon will focus on
Hajar
, the wife of the patriarch and Prophet Ibrāhīm (Abraham) and mother of Ismail (Ishmael). Esack, other than a being Board Member of BDS South Africa, is also the President of the International Quranic Studies Association in South Africa and a professor in the Religion Studies Department at the University of Johannesburg.
Members of the media are invited to attend and cover tomorrow's Eid-alAdha event, sermon and prayers. Details follow below
DATE: Monday, 12 September
TIME: 07h00
ADDRESS: Hunter McLea Sports Grounds, Mercury Avenue, Crosby, Johannesburg
NOTE: Tomorrow's Eid al-Adha prayers at the Hunter McLea Sports Grounds is open to men, women and families.
SERMON TOPIC: "Hajar – The Black Mother of the Believers - bring back our lady Hajar! On Motherhood and Blackness"
From BDS South Africa, Eid Mubarak to all our Muslims supporters. May our different religions, its teachings and lessons sustain us in our solidarity with the Palestinian people and with all the oppressed peoples of the world.
ISSUED BY KWARA KEKANA ON BEHALF OF BDS SOUTH AFRICA



BOYCOTT, DIVESTMENT AND SANCTIONS AGAINST ISRAEL IN SOUTH AFRICA (BDS SOUTH AFRICA)
5th Floor
|
Mishumo House
|
77 De Korte Street
|
Braamfontein
|
Johannesburg
PO Box 2318
|
Houghton
|
2041
|
Johannesburg
T:
+27 (0) 11 403 2097
| M:
+27 (0) 74 054 3826
| F:
+27 (0) 86 650 4836
W:
www.bdssouthafrica.com
| E:
media@bdssouthafrica.com
www.facebook.com/bdssouthafrica
|
www.twitter.com/bdssouthafrica
|
www.instagram.com/bdssouthafrica
BDS South Africa is a registered Non-Profit Organization. NPO NUMBER: 084 306 NPO
BDS South Africa is a registered Public Benefit Organisation with Section 18A status. PBO NUMBER: 930 037 446