---
Editorial



Thank goodness we had a dry weekend ! Apart from being totally over the big wet like most Sydneysiders would be, we needed to have a special weekend for the Curlew farewell celebrations, and we weren't let down. Held by the Gone Fishing Gallery and the offshore community, the celebrations included music, speeches, poetry, wine, food plus all sort of magnificent pieces of artwork contributed by members of the community including children, and of course the resident artists. A wonderful gathering of happy vibrant people living life to the full. A more fitting celebration for the retirement of this wonderful old ferry could not have been wished.

Congratulations to everyone involved, and like the Curlew, you have all done this community proud yet again.

Enjoy!



Contents
---
Gwyn's August 2011 Calendar
"Wharf Dining"

To download a full version (A4 size) of this months calendar, ready for printing, just click on the calendar image.

You can contact Gwyn Perkins by email at g.perkins@gwyn.com.au


The file is quite large and in PDF format. To view PDF documents you will need the Adobe Acrobat Reader installed on your computer.

To download Acrobat Reader please

click here



---
SIRA Presidents Report & Membership Renewals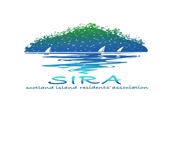 You can download a PDF of SIRA Presidents report HERE

You could also see the R&D Masterplans report to Council and Strategy document at this link Pittwater Council Website-18 July 2011 - Council / GOV / PIBE – then go to Item C11.2

The annual SIRA Membership mail out should have been received by all residents. Please take time to read the information and, importantly, complete the membership form to be signed by all adult householders and return with renewal fee of $20.00. If you did not receive this, please email cassgye@spin.net.au



---




Removal of timber from Elizabeth Park, Scotland Island


Pittwater Council's contractors working in Elizabeth Park have reported evidence of wood collection, large logs, dead wood, etc., from the Park with damage to the native vegetation. There is also evidence of damage from vehicles going into the Park to collect timber.

Removal of dead wood and timber is considered a Key Threatening Process by the Office of Environment and Heritage (OEH), as removal of dead wood, hollows, etc. has a major impact on the local fauna and its flow down impacts on the native biodiversity. For details see link to OEH website for below:

http://www.environment.nsw.gov.au/determinations/DeadwoodRemovalKtp.htm

Elizabeth Park itself is an Ecologically Endangered Community and removal of any materials including bush rock, dead wood, living plants etc is strictly illegal under legislation for protection of EEC's. Fines apply through the OEH to any persons undertaking such works including the removal of dead wood. No works at all can be undertaken within an EEC without a Section 91 License (issued by OEH) for a particular site and only by appropriately qualified contractors.

See details on web page below re Pittwater Spotted Gum Forest

http://www.environment.nsw.gov.au/determinations/PittwaterSpottedGumForestEndComListing.htm

Karin Nippard,
Bushland Management Officer
9970 1363 or 0417 040 945
karin_nippard@pittwater.nsw.gov.au



---
www.scotlandisland.org.au Update

Your island website: http://www.scotlandisland.org.au/home

The new Scotland Island website has Upcoming Events listed on the home page, and many other useful pages full of information for offshore residents, including links to the current Pittwater Offshore Newsletter.

If you have any Upcoming Events that you would like posted, just use the form/link on the website to let us know, or to suggest other website improvements.



---
Scotland Island and Western Shores Indigenous Interests Group – 2nd Meeting in 2011
Freedom Rides - 40 Years On.
NSW Freedom Rides, 1965 and 2005 What has changed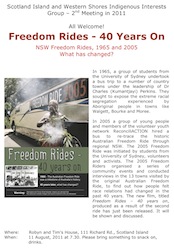 All Welcome!



......In 1965, a group of students from the University of Sydney undertook a bus trip to a number of country towns under the leadership of Dr Charles (Kumantjayi) Perkins. They sought to expose the extreme racial segregation experienced by Aboriginal people in towns like Walgett, Bourke and Moree.....




Where:

Robyn and Tim's House, 111 Richard Rd., Scotland Island


When:

11 August, 2011 at 7.30.
Please bring something to snack on, drinks.




Click image to load PDF flyer


---

Local Council Notices

Special Rate Committee Seeks Members



The Council will convene a new community-based committee to oversee spending on the three year special rate variation which came into effect in Pittwater from 1 July.

The introduction of the special rate, which will see ratepayers pay an average 4-5% on top of their existing rates over the next three years, will fund a 10-year program of spending on capital works and projects.

A total of $38 million will be spent in Pittwater up to the year 2021 on roads, footpaths, upgrades to surf clubs and other community assets, as well as a wide-ranging program of environmental protection measures.

The community committee was part of the agreement between the Council and IPART to introduce the three-year special rate variation.

In a report presented to the Council at its meeting this week, the special rate committee will operate in a similar way to the previous environmental infrastructure levy committee, which was in place from 2002 until this year. This committee oversaw spending on major environmental projects.

General Manager Mark Ferguson said the Council was seeking expressions of interest from up to six Pittwater ratepayers to participate in the committee. Three Pittwater Councillors will also sit on the committee, as well as senior and specialist staff.

"Committee positions are voluntary and for a three year term and the committee will meet every six months to consider expenditure and forthcoming projects," he said.

"It's also our intention to report regularly on progress through our website."

Applications to join the special rate variation committee are open until Friday 19 August and appointments will be announced by September. To download an application form visit www.pittwater.nsw.gov.a
Pittwater Council Ph: 9970 1108



---
A Reminder to Share the Road



Pittwater Council is launching a campaign to remind drivers and cyclists about the importance of sharing the road with each other.

According to statistics, cycling is booming across the Sydney region, with the number of bike riders
increasing by 10% every year over the last decade.

The Council's Road Safety Officer Michelle Carter said that with the increase in the number of cyclists on the road, it was important for road users to adjust their behaviour and ensure the roads are safe for all.

Ms Carter said that the campaign, which includes press advertising and information on bus shelters, will focus on reinforcing safe and courteous behaviour for both drivers and cyclists.

"Drivers are reminded to drive at a speed that will allow them to stop safely," she said.

"It is also essential that drivers look out for cyclists when they are opening their car door or driving away from the kerb, as well as leaving a reasonable space when passing a cyclist," said Ms Carter.

Reminders for bike riders include:

looking out for turning cars and avoiding the 'door-zone'
being in control, such as riding at a speed that allows you to stop safely
not weaving in and out between cars
using lights and wearing reflective clothing at night, including reflective tape on bags
Ms Carter also suggests where possible that bike riders make eye contact with drivers, even acknowledging their presence with a wave and a smile.

"This can be a great way to create a positive vibe with you and drivers on the road. It also guarantees that you have been seen, which may avoid a potential accident."

Ms Carter said that the statistics for crashes in Pittwater among cyclists and cars average around 10 to 15 a year. "However, many cycle accidents go unreported, so the figure is likely to be higher."

"In Pittwater the majority of crashes involve cyclists on main roads, especially Pittwater Road from Narrabeen through to Mona Vale and Church Point.

"This suggests that a number of those that 'come a cropper' are recreational cyclists, with the stretch along Pittwater Road through to the Ku-ring-gai Chase National Park a popular route.

"Recreational cyclists also need to heed these important safety messages and as a courtesy travel in single file when cars are wishing to overtake," added Ms Carter.

For more information on road safety issues in Pittwater visit www.pittwater.nsw.gov.au
Pittwater Council Ph: 9970 1196



---
Have your Say on Pittwater's New Social Plan



Pittwater Council is encouraging residents to provide input on its new social plan by filling in an online survey or joining a drop-in session at Mona Vale Library on Wednesday 3 August from 10am to 2pm.

Council's Community Services Manager Lindsay Godfrey said with the community's help, Pittwater Council will prepare a new social plan for the next four years between 2012 and 2016, with the theme of 'Live, Connect, Participate'.

"The plan will help Council understand Pittwater's community's social needs and priority areas ensuring we allocate resources appropriately, particularly for our older residents and younger people," he said.

Mr Godfrey said we are looking at a range of ways to connect with residents over the plan, including surveys, face-to-face sessions and online.

"We are encouraging residents to share their experience of living in Pittwater and how they would like to connect with other people in their community," he said.

"It should only take 10 minutes of your time to share your thoughts either face-to-face at the Mona Vale Library courtyard or online at www.pittwater.nsw.gov.au/socialplan

"We will also be enlisting the help of local schools to reach younger residents, with a youth forum scheduled later in the year."

"The plan will also take into account demographic statistics and an analysis of the current social environment, " added Mr Godfrey.

For more information about Pittwater's social plan and how you can be involved, contact
Melinda_hewitt@pittwater.nsw.gov.au
Pittwater Council Ph: 9970 1170



---
Helping Learner Drivers become Safer Drivers



A free workshop for parents and supervisors of learner drivers will be held by the NSW Roads and Traffic Authority (RTA) with Pittwater Council at Mona Vale Library on Wednesday 10 August 2011.

The course, 'Helping Learner Drivers Become Safer Drivers', will offer parents and supervisors hands-on advice on how to provide the most effective driving practice for learner drivers.

The Council's Road Safety Officer Michelle Carter said licence conditions for learner drivers meant there was a minimum of one year on 'L' plates and 120 hours of supervised driving, including a mandatory 20 hours of night-time driving.

"A more rigorous driving test has also been introduced, focusing on hazard perception and driver reactions," Ms Carter said.

"Parents and supervisors of novice drivers have a crucial role to play in making our roads safer, and that is why the RTA has developed a course to better support them."

The free course will cover topics such as:

laws for learner and P-plate drivers
how to use the Learner Driver Log Book
how to plan on-road driving sessions
"Parents and supervisors who have attended this course found it boosted their confidence, helped them better plan driving sessions and allowed them to share experiences with other parents and supervisors," added Ms Carter.

Bookings for the Helping Learner Drivers Become Safe Drivers course are essential and can be made by calling Michelle Carter from Pittwater Council on 9970 1196 or by email at michelle_carter@pittwater.nsw.gov.au.



---
Fireshed Winter Dinner - Italian Feast
Saturday 6, August from 7pm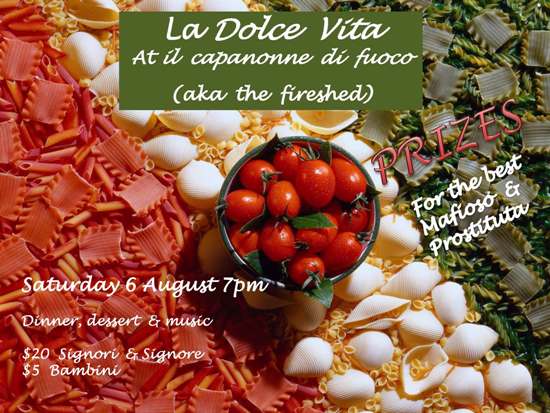 Dinner, Dessert and Music



Adults $20


Children $5





And For Union Lovers...

NZ v Aust at 5.30


Union lovers won't miss out either as the game will be shown on the large screen BEFORE the dinner - just be at the Fireshed by 5.30 to watch the game - then stay on for the dinner and nights entertainment!



---
Artist Floor Talk at Manly Gallery

Scotland Island Printmaker Jan Melville will be one of the artists who will be giving a brief floor talk at Manly Gallery on her work "Pod Sculptural Book" in the current exhibition "Hot of the Press'.
Sunday the 14th August at 3.p.m.

---
News from Carmen Ky
Indian Tantrik Lecture


As an ex-resident of 22 years I thought I'd send you some news of my own .. old friends and Island artists will probably be interested.

I was responsible for getting the Gyuto Monks of Tibet onto Scotland Island in 2000 for 3 days of workshops and a wonderful concert.

I now live in the pristine environment of Mystery Bay on the NSW South Coast ... and am hosting an Indian Tantrik Art Workshop in my studios. Indian tantrik yogi Kulavadhuta Satpurananda also known as Baba will be here.

He was first brought to Australia in 2006 to speak at "The Goddess: Divine Energy" exhibition at the Art Gallery Of NSW.



Click image to load PDF flyer


This is his third visit to Australia and after teaching in Byron Bay and Sydney he is coming to Mystery Bay to give a workshop on Indian Tantrik Art before returning to India.

It's rare to have an authentic teacher from the Himalayan kingdom of Sikkim here.

I met him in 2006 .... when I was asked by the one of the organisers of his visit if she could bring him to Mystery Bay to rest after his lectures in Sydney at the AGNSW.

He enjoyed his few days in this pristine environment and has agreed to do a teaching here.

Carmen Ky
202 Mystery Bay Road,
Mystery Bay. NSW. 2546
T: 02 44737122



---
S cotland
I sland
C rochet &
K nitting
O! rganization
Open Invitation to Join...
Contact Betsi on 9999 6306

---
Winter WOW
Women on Water now takes place 4 times a year with the changing of the seasons.

We welcome any old or new community members to join us for our Winter WOW which will be held on


Tuesday Aug 9th at 12.30 at Jane's house, next door to Scotland Island Lodge

.

For our August 9th meeting Jane invites you to bring along an extract from a much loved book. We will share our treasures, whatever they might be and explain why we value them. Looking forward to hearing all the little gems.

So rug up in your warm woolies, bring a plate to share and a drink, and come and join us for a warm winter WOW.

Hope to see you there - Nila



---

Authors Talks at Mona Vale

Library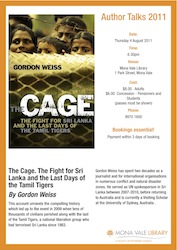 The Cage.




The Fight for Sri Lanka and the Last Days of the Tamil Tigers




By Gordon Weiss



This account unravels the compelling history which led up to the event in 2009 when tens of thousands of civilians perished along with the last of the Tamil Tigers, a national liberation group who had terrorised Sri Lanka since 1983.



Date:

Thursday 4 August 2011


Time:

6.30pm


Venue:

Mona Vale Library
1 Park Street, Mona Vale


Cost:

$8.00 Adults $6.00 Concession - Pensioners and Students (passes must be shown)


Phone:

9970 1600

Bookings essential!


---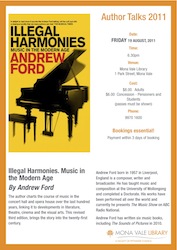 Illegal Harmonies.


Music in the Modern Age




By Andrew Ford



The author charts the course of music in the concert hall and opera house over the last hundred years, linking it to developments in literature, theatre, cinema and the visual arts. This revised third edition, brings the story into the twenty-first century.



Date:

Friday 19 August 2011


Time:

6.30pm


Venue:

Mona Vale Library
1 Park Street, Mona Vale


Cost:

$8.00 Adults
$6.00 Concession - Pensioners and Students (passes must be shown)


Phone:

9970 1600
Bookings essential!
Payment within 3 days of booking



---
COMPUTERS? ...... yes you can!
A FREE seminar for Seniors on computing skills
WHEN: Friday 19 August 2011 from 1pm to 3pm
WHERE: Newport Community Centre, 11-13 The Boulevard, Newport Beach
Phone 02 8064 3574 to register
AGENDA:
Facebook Made Easy – by Greg Ross
Meet your Ancestors – by Margot Paul
Picture Power – by Brian Hindes
Bridge Online – by Patricia Kalf
Computing Made Easy – by Mike Mannington
Question Time
Amazing Lucky Door Prize Draw *

After Question Time refreshments will be served and the Lucky Door Prize Draw will take place.
Throughout the seminar we will be running informative computer displays.

* Lucky door prize consists of one year free membership and tuition at Avalon Computer P

Download flyer with details and directions HERE



---
Babysitter available



I am a responsible high school student who lives on the island. I'm available for after school and evening babysitting during the week and on Friday nights.

I can also help with home readers, tidying up & occupying your kids while you cook dinner or relax.

My hourly rate is $8.
For a small commission I can also sell your unwanted items on eBay.

Please call Jessica on 0401 415 891 outside school hours.



---
Island Kinesiology Clinic
Kinesiology is a potent natural therapy for

Food sensitivities/intolerances
Depression •Stress and anxiety
Children's health •Relationship issues
Digestive problems •Disease and illness
Weight-loss and eating disorders
Take advantage of professional Kinesiology at 'special Island rates' exclusively for off-residents
available on Mondays only..

Phone Jen Cudmore 0425 212 849
www.holistickinesiology.biz



---
House for Rent - Oct & Nov 2011


3 Bedroom fully furnished house on Scotland Island


Easy walk to ferry
$500 week

Contact Anthony 0415 846 172 or ant@anthonypugh.com



---
The Local Guide
Community Information
What's On in Pittwater - Self Editing Event Calendar

click to go to the Calendar

Scotland Island Community Vehicle -

0404 103 700
Number, Usage & Charges

Scotland Island Rural Fire Brigade -

9999 4404
http://www.sirfb.org.au

West Pittwater Rural Fire Brigade

- 9997-3795
www.westpittwater.rfsa.org.au

Offshore Photo Gallery

http://picasaweb.google.com/offshoregallery/
Scotland Island Residents Association (SIRA) Membership Application

- click here to download
West Pittwater Community Association (WPCA)

- http://www.wpca.org.au
Scotland Island Water


SI Emergency Water Contacts and Guidelines for water: click here for information and contacts
Scotland Island 'Water Agreement' - click here to download
Scotland Island Children's Centre

- (SIOCS - Scotland Island & Offshore Childrens Services)
Catherine Park (Long Day Care Service) 8.30am - 4.30pm (Tues, Weds & Thurs)
Playgroup @ Children's Centre every Monday, 10.00am - 12 midday
Other services include: School Holiday Programme / Facility & Equipment Hire
For information call 02 9979 7856 or email: siocs@comcen.com.au
Scotland Island Community Hall Bookings:

Kez on 9999 4092 or kezborthwickbolton@gmail.com
---

Transport
---
Real Estate
---
Services, Clubs & Accommodation
Scotland Island Traders - On-line shopping

from your computer, through your door on Scotland Island. Contact Graeme on 0419 460 331 or click here for full details

Justice of the Peace

- Bob Bolton - 9999 4092
Justice of the Peace

- Paul Purvis - 9979 9667
Justice of the Peace

- Paul Burchall - 0414 975 793
Justice of the Peace

- Bob Mitchell (Mackeral Beach) - 0419 745 628
Pittwater Community Arts Inc.

- Enquiries Lorrie Morgan 9997 8079 lorriemay@bigpond.com
Woody Point Yacht Club

- http://www.wpyc.com.au commodore@wpyc.com.au
Royal Prince Alfred Yacht Club

-

02 9997 1022

http://www.rpayc.com.au/
Royal Motor Yacht Club

- http://www.royalmotor.com.au/ 02 9997 5511
Scotland Island Lodge - Bed & Breakfast -

02 9979 3301 or http://www.scotlandislandlodge.com.au
Elvina Escape - B & B at Elvina Bay -

Alison Newham 0423 598 760
Treetops on Towlers Bay -

02 9332 2611 info@walkabouttours.com.au
Pittwater Youth Hostel

- 02 9999 5748 www.yha.com.au/hostels/details.cfm?hostelid=31
Nila Chambers - Celebrant (marriages, funerals etc)

Discount for all offshore residents. 9999 2445
Offshore IT Computer Services

- Contact Robert 0427 890 357 or 9999 2942
Handy Service

- "No job too small" - Call Alan 0447 775 541
Electrician Wayne

on Scotland Island 0418 229 277 - offshore community sparky - www.sparky.com.au
---
Island Classes (Fitness, Dance, Art etc)
Pilates, Meditation and Group Fitness with Patrice

- 0406 483 036 patrice.corrie@gmail.com
Anusara Yoga

- Thursdays - 0421762236 dominiquemarill@gmail.com or floydcbg@ozemail.com.au
Art with Max

- Watercolour classes. Phone Max on 9997 4527
Art Classes

- drawing and painting in oils, acrylics and mixed media- Marion 9979 3993 or 0431 457 431
@ Nathalie's Table - Cooking Classes

- Mediterranean cooking fortnightly - Nathalie - 9999 4449
---
Groups
Gurdjieff / The Forth Way

- Call John on 9979 5584, Marion on 9979 3993 or Anne on 9999 3478
Island Kinesiology Clinic

- Mondays on SI Phone Jen Cudmore 0425 212 849
Green Group For Catherine Park

- Run by SIOCS - Emmie Collins on 0405 330 781
WOW - Women on Water

- second Wednesday of the month - contact Nila on 9999 2445
Parents & Kids Groups Playgroup

- Run by SIOCS - email Emma trysemz@tpg.com.au
Scotland Island Players

- contact Bob or Kez on 9999 4092
Catherine Park Bush Care Group

, 2nd Sunday @ 9.30am, Sharon Kinnison @ 9997 6017
Elizabeth Park Bush Care Group

, 1st Saturday @ 9 am, Bob Bolton @ 9999 4092
Island Thinking Group -
Roy Baker, 9999 6891, roybaker99@yahoo.com
Offshore a capella choir

– Saturdays at 2:30 pm, SI Community Hall. Call Gordon on 9997 2035.
---
Government Organisations
---
Airlines, Buses and Railways
---
Weather
Scotland Island Tides, Moon phases, Sun rise & set
Local Weather Forecast

Radar weather for Sydney (128k circle)
---
Emergency Contact Numbers
| | |
| --- | --- |
| ALL EMERGENCIES (Police - Fire - Ambulance) | 000 |
| Police Assistance Line & Information | 13 1444 or 9281 0000 |
| Broken Bay Water Police | 9910 7899 or 0412 162 093 |
| Scotland Island Rural Fire Brigade | 9999 4404 |
| NSW Fire Service General Information 9265 2999 | 9265 2999 |
| Rural Fire Service General information | 9450 3000 |
| State Emergency Service, Warringah/Pittwater SES | 9486 3399 |
| National Parks & Wildlife Service: 000, general information | 9457 9322 |
| Dept of Community Services: general information | 9977 6011 |
| Sydney Water | 132 090 |
| Energy Australia | 131 388, (ah) 131 909 |

---
Join SIRA
You can now join the Scotland Island Residents Association by
clicking here.
Please print the page and return the completed form to SIRA at this address:
The Treasurer, SIRA, PO Box 70, Church Point 2105.
Please NO CASH.

Contact SIRA at
sirapittwater@gmail.com
Join WPCA

To join the Western Pittwater Community Association, contact Michael Wiener at
m2wiener@bigpond.net.au
---
Archived Newsletters


A complete set of past electronic newsletters since May 2000 can be found and read at https://ymlp.com/archive_gesgjgm.php or by clicking here or by visiting the Mona Vale Library.

The Island website is at www.scotlandisland.org.au


---
To Contribute


If you would like to contribute to this newsletter it's easy!. Send an e-mail to the editor (editor@scotlandisland.org.au) or by clicking here. Type your contribution (100 words or so would be fine) and assuming it is of general interest to the community, does not include matter of a political nature and is not offensive, it will appear next month.

Subscription Information


To get on and off this newsletter,

click here

or got to:

http://www.scotlandisland.org.au/signup .


To change your address, click the 'modify' link at the bottom of this newsletter or send an email to the

editor@scotlandisland.org.au


---

---
The Online Local Contact Guide

Click HERE to load
The views expressed in this newsletter are not necessarily the views of the Scotland Island Residents Association (SIRA), or the Western Pittwater Community Association (WPCA)

---