Yes, Colorado Springs, we have lift off!
This is a free annual event located at Memorial Park, only a short drive from Holden House. Read more here about the
Labor Day Lift Off.
This is a fun, colorful and exciting event. And, be sure not to miss the evening balloon glow for an evening you'll long remember September 4-6, 2021.
---
History comes alive in historic Colorado Springs
at Holden House and beyond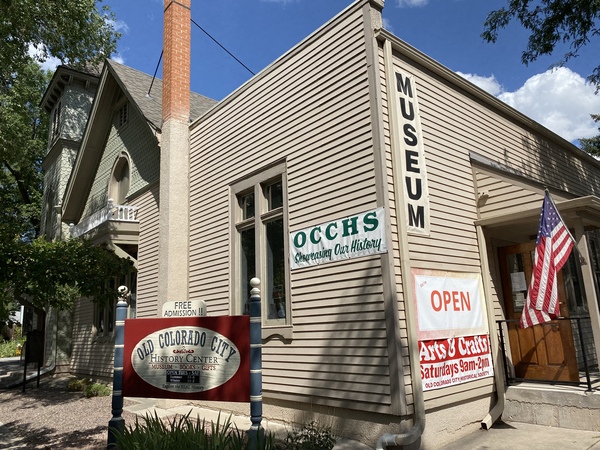 Some may remember the popular public television show, "
This Old House
". Years ago, when we were researching and restoring our 1902 Victorian, I was glued to the show, then hosted by
Bob Vila
with master carpenter
Norm Abram
and in awe of their expertise and focus on restoration, no matter how difficult the task. Then came the movie
The Money Pit,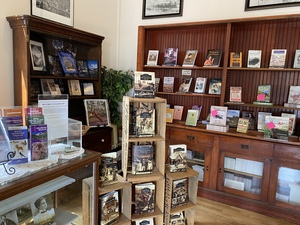 featuring a young Tom Hanks and Shelley Long which my husband Welling always took the opportunity to jokingly refer during our initial restoration and renovation sta
ges (and still occasionally mentions it today when repairs are required). Today,
HGTV
, subsequent streaming services and social media sites like Pinterest offer great decorating and restoration tips. All of these educational and entertainment options offer opportunities for appreciating the history and love of old homes like ours. And, during that time, The
Old House Journal
was known for calling restoration, "the mushroom factor" by trying to change a lightbulb and ending up rewiring the entire house.
READ MORE...
---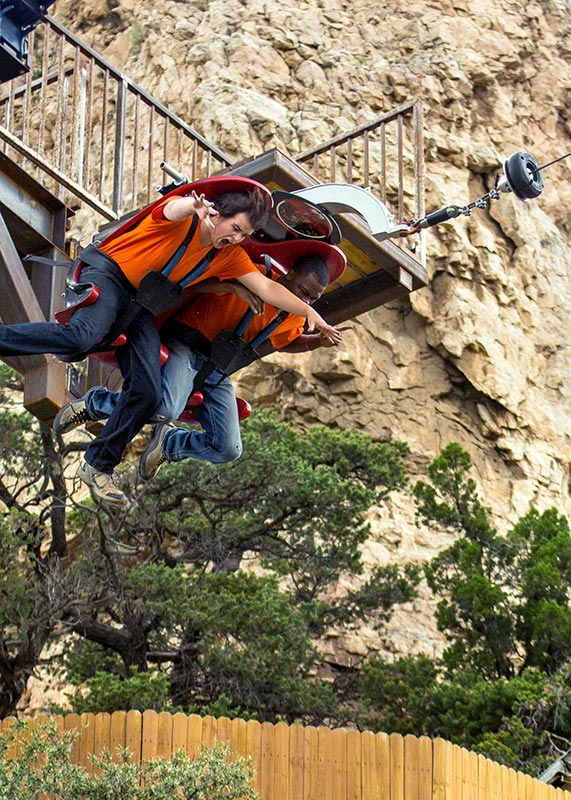 As stated on the VisitCOS.com website, "
Cave of the Winds has a full day of inside and outside adventure for everyone! Enjoy the perfect combination of relaxation, recreation, history and natural beauty; created for a mountain of good times and great memories! Choose from three cave tours or enjoy their Outdoor Attractions." Here at Holden House, we know first-hand that you'll have plenty to make your visit exciting, from cave tours to zip lines, haunted lantern tours to the Terror-dactyl, there's something fun at every turn.
The Pikes Peak Area offers the opportunities for an amazing vacation or staycation with a plethora of attractions, activities and adventures. From museums to arts and culture, live music to theatre peformances, outdoor recreation to historic sites, and scenic views to wildlife glimpses, there's something for everyone. We pride ourselves at helping our guests find the best activities to match their tastes. Here are a few of our favorite places to check out before you stay. Once you're at the inn, our innkeepers will be available if you have questions before venturing out.
A Few Great Local Outdoor Hiking Options:
More Pikes Peak Area Visitor and Event/Activity Links:
---
COMING SOON...Colorful Colorado Fall!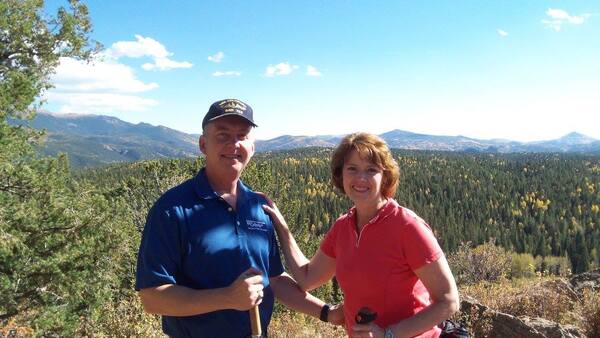 Innkeeper Owners Sallie & Welling Clark enjoy an annual hike in Mueller State Park
You'll want to reserve now for mid-September to enjoy the upcoming "leaf-peeping" season that Colorado's high country offers. An easy drive from Holden House is the historic mining camp and town of Cripple Creek, the scenic Florissant Fossil Beds National Monument and Mueller State Park with extensive hiking trails, all great places to take a "peek of our peak" Fall colors. Sallie and Welling and the Holden House assistant innkeeper staff will point you in the right direction to the best views of the changing Aspens. We are starting to book up, so reserve ahead by visiting our Holden House 1902 Bed & Breakfast Inn website or calling us at 719-471-3980.
INN THE KITCHEN AT HOLDEN HOUSE
Apricot-stuffed French Toast with Orange Syrup
Makes approximately seven servings
About 14 slices of Texas Toast OR
1 (1-lb) loaf crusty French bread
6 oz cream cheese, softened
1/2 C part-skim ricotta cheese
1/2 C chopped dried apricots
1/4-1/2 C sugar (or to taste-I like the syrup a little tart because the filling is a bit sweet)
1/3 C frozen orange juice concentrate
* Use two pieces of Texas Toast or use French bread, cut into diagonal slices about 1 inch thick. Cut a pocket in each slice, cutting from top crust side almost to bottom crust side.
In small bowl beat together cream cheese, ricotta, preserves, and apricots.

Spread about 2 Tablespoons on to regular bread or if using French bread, spoon about 1 T mixture into each pocket Mix together eggs, milk, vanilla, cinnamon, and nutmeg

Spray insulated cookie sheet(s) with non stick coating

Dip stuffed bread slices into egg mixture

If using Texas toast, place the slice of bread with cream cheese on to cookie sheet. Dip another slice of bread into the egg mix and place that one on top of the slice having the cream cheese.

As an option, melt butter in medium skillet and toast/cook bread over med. Heat until golden brown, turning once. Allow about 1/12 to 2 minutes for each side.
For orange syrup, combine all ingredients in saucepan. Heat over low heat, stirring occasionally, until butter is melted. DO NOT BOIL.
Remove from heat and cool 10 minutes. Using rotary beater, beat until slightly thickened. Serve warm over Stuffed French Toast.
VARIATION: Substitute blueberry preserves for the apricot preserves. Add 1 cup frozen or fresh wild blueberries and mix gently. Stuff bread slices and proceed with recipe as directed. Serve with maple syrup.
Read our Holden House Blog

for inn updates,

recipes and more!

VIRTUALLY YOURS...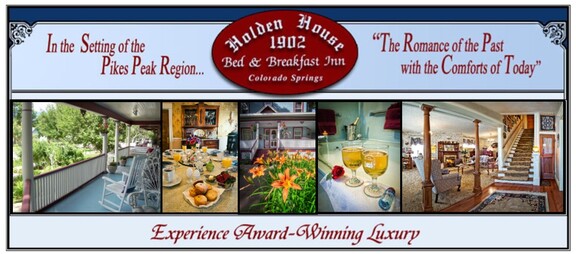 1102 West Pikes Peak Avenue
Colorado Springs, Colorado 80904