A reminder that all Plot holders, Site Reps and CoWorkers
are invited to the BHAF AGM!

It will be on
Wednesday 28th March at 7pm
at
The Brighthelm Centre,
North Road
Brighton

Refreshments will be provided! Details of the AGM are further down this email.
---
Free Compost Update
The first deliveries of the free compost have already happened with many more deliveries coming over the next few weeks. We are distributing over 60 lorry loads of top quality compost to our plot holders for FREE!

Over the last few years the BHAF has managed to save enough money together with some money from the Councils Allotment Development Fund to be able to afford to pay for this distribution of compost! Times at present are financially difficult for a lot of people and compost is an essential resource for allotmenteers. Hopefully this give away will especially reach those who need a bit of extra help. Please bear that in mind and restrict yourselves to a maximum of two barrows per plot. Your local site rep will know when the deliveries are due at your site.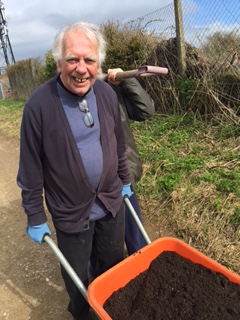 Special thanks goes to Hannes (BHAF Treasurer) for arranging this and to Darryl (Brighton Community Compost) for giving us a special deal and carrying out the deliveries. Brighton Community Compost will continue to support allotmenteers in Brighton and Hove, if you mention the BHAF to them, you will get 10% OFF any of their products!
http://www.brighton-compost.coop/

---
Team Pollinate 2018
Scientists at the University of Sussex are once again looking for growers in Brighton & Hove to volunteer to become 'citizen scientists' and help us learn more about which insects are pollinating the food you grow. Last year our volunteers surveyed over 17,000 flowers across the city and, on average, grew £425 worth of food.
​As a Team PollinATE you will:
*Learn how to identify bees and other pollinators
*Find out how much your home-grown food is worth
*Meet other growers in the city
To find out more about the project, please visit our website or call 01273 873310. Please also join us at our pollinator identification training events, held on Saturday 7th April, 10-12 at the Brighthelm Centre and Sunday 8th April, 10-12 at Moulsecomb Forest Garden.
---
Restricted Mobility Plots
Do you or anyone you know use a wheelchair and would like to work an allotment? At Coldean Lane allotments there are some limited mobility 'raised beds' specifically designed for wheelchair users, and they are not being used!

So there would be no waiting, you could be gardening your own raised bed come the spring. There is even a toilet for wheelchair users. Please email us for more informations. bhaf.contact@gmail.com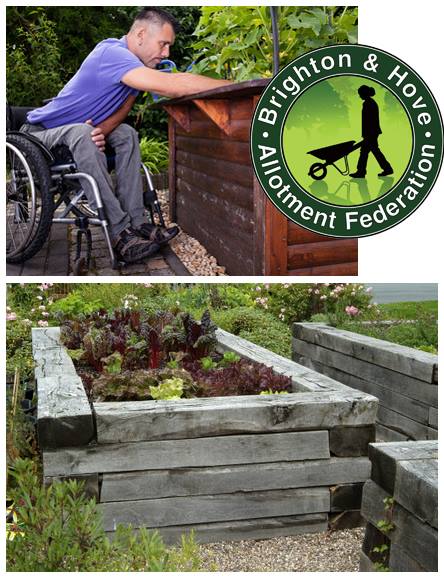 ---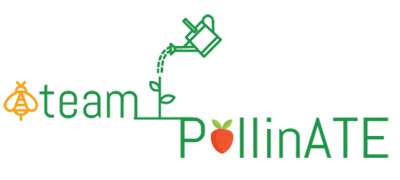 Along with all the usual AGM business this year we will welcome Dr Beth Nicholls, from The University of Sussex's 'Team Pollinate' who will be giving a presentation of the results from last years data collection which many allotment holders took part in.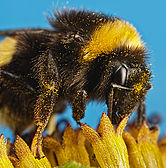 Team Pollinate is aiming to find out more about food production in urban areas like Brighton and understand how important the bees and other pollinators are to urban food production. Last year many Allotmenteers provided data on the pollinators they saw on their plots and the pests and diseases that affected their crops. They also measured their harvests and the data will be used to show how much value pollinators bring to urban food production.
It is sure to be a fascinating talk, and we look forward to hearing the results. I think many of us will be surprised at to how much value pollinators bring and how beneficial they are to allotment growers.
Water Saving using Permaculture techniques
We will also be having a short presentation on how to save water using permaculture techniques. Water is our biggest expense, and keeping our water bill as low as possible will help keep our rents as low as possible. Water is also a resource which is locally under pressure, and any savings we can make will be good for the wider community and environment.

Permaculture is the development of agricultural ecosystems intended to be sustainable and self-sufficient.

---
If anyone has any items for the AGM Agenda then please let us know by email in advance.

The BHAF Committee is run by volunteer plotholders, and we welcome new members who feel they have a small amount of time to help run the BHAF. We represent plot holders interests to the City Council, we support plot holders and site reps and we manage an allotment development fund.

If there are any nominations for any Committee positions please let us know in advance of the meeting.
---
Best Regards,
Mark Carroll
for
BHAF Committee.