An overdue hello from the DAN EO!  This is a short newsletter to share details of the following:
* Dates for the 2016 Diary:  March 2016 DAN PD Workshops & Senior Student Workshops with renowned UK Educator, Robert Kirkwood
* Advertised Position: Head of Religious Education, St Cuthbert's College, Auckland NZ
* Special Issue (34) Dialogue Australasia Journal on 'Evil & Suffering' due out early November
.................
And finally, a favourite recent discovery (thanks to Jules Evans) is Creative Commons Qur'an where you can hear the complete Qur'an recited beautifully by the famed Indonesian female reciter Dra.Hj.Maria Ulfah. 
More from me in November!

Belinda Hill, DAN EO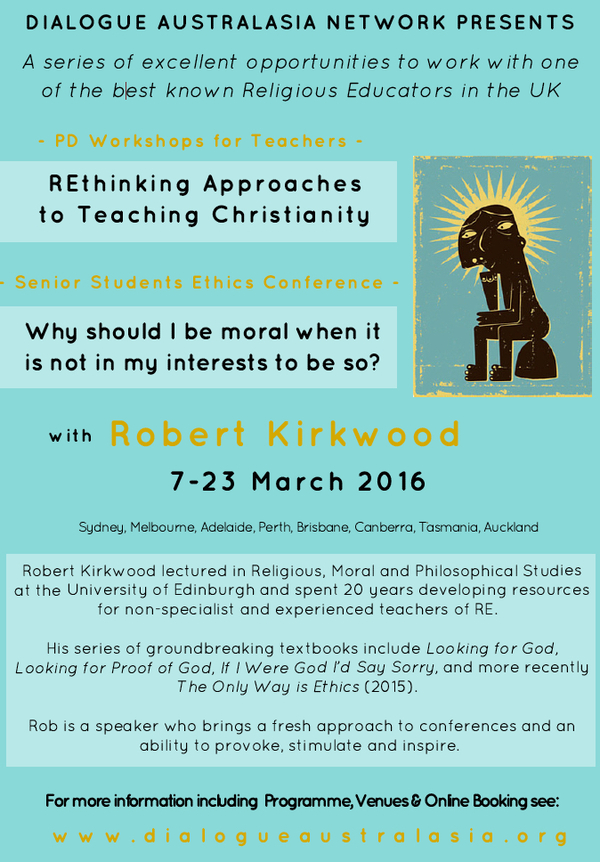 HEAD OF RELIGIOUS EDUCATION/State other subject

ST CUTHBERT'S COLLEGE, AUCKLAND NZ

 

* Permanent, Part Time/Full Time

* Years 9-13

* Commencement: Term 1, 2016

 
One of NZ's leading schools, St Cuthbert's College invites applications from specialist RE teachers to join a well-resourced and supportive team in a school that promotes excellence. This role has the overview of the R.E in the College, guided by the College Chaplain and the successful appointee is responsible for the delivery of the Religious Education curriculum for Year 9 - Year 13.
St Cuthbert's College is an independent day and boarding school with a Reception to Year 13 roll of 1475, providing a world class education for girls in a supportive Christian environment.
Applications close 1 November 2015
 

34th Issue of Dialogue Australasia Journal due out early November 

A special themed issue on 'Evil & Suffering' will be sent to financial members & subscribers in early November with an accompanying DAN Membership/Journal renewal invoice for 2016.

If you have yet to renew for 2015, and are keen to maintain your relationship with DAN and receive Issue 34 of Dialogue Australasia, please contact the DAN EO asap.



 

GREAT NEW 'LOCAL' RESOURCE:




Founded by Shaun Healy (Melbourne based Religious Educator) and David Collins (Creative Producer), Finding Out is a growing collection of engaging, bite-sized web videos that stimulate inquiry and support essential skills in RaVE.  These videos

have been developed to expose students to aspects of religious communities that they may not otherwise have an opportunity to experience.

 




Also available through Finding Out is a series of videos, Scrolls Club, that model a discussion based model for exploring Biblical texts. Students are encouraged to develop their own insights into Biblical texts before exploring them on a more contextual level.




There is a free 30 day trial available for anyone wanting to view the resources on behalf of their organisation.