Contents
---
---
Scotland Island Fire Brigade

Australian Tucker Night & Bush Dance

Saturday 17 Nov. from 7pm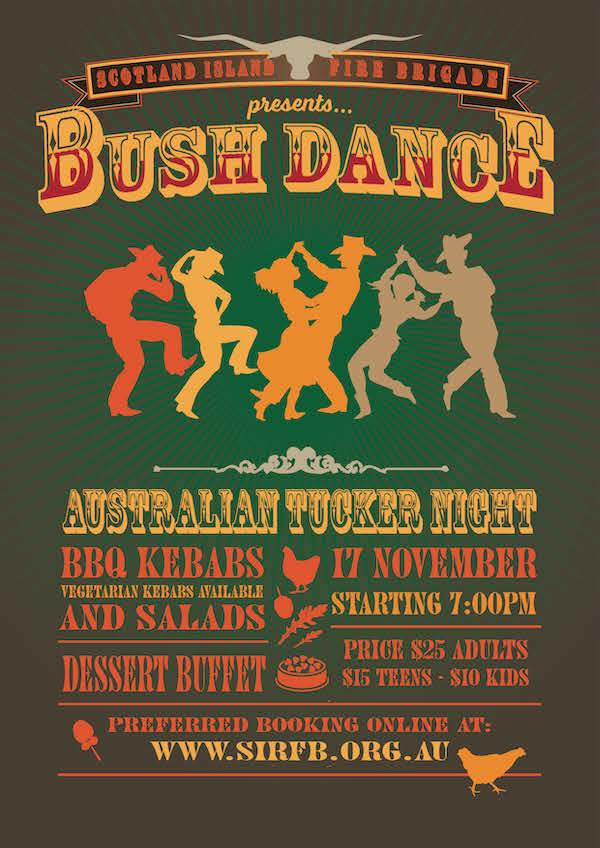 Preferred Booking online HERE


---
Bushland Eco-Award Winner for Northern Beaches
Congratulations to Sharon Kinnison
Congratulations to our own Sharon Kinnison for being chosen as the winner for the Bushland category of the inaugural Northern Beaches Council EcoAwards.


Sharon has lived on the Island for over 30 years, and has worked tirelessly to help the environment here and on the mainland. She has led and laboured on many, many works in Catherine Park: ongoing bush regeneration, the construction of the waterfront stone gardens, many plantings, visits by Floating Landcare volunteers, applying for and implementing several grants addressing stormwater in the catchment with practical works on the roads and park itself.

Sharon has been a member of the SIRA committee for most of the last 30 years, as well as the Fire Brigade and Landcare, attending countless meetings with Council staff and others to negotiate the best outcome for Island roads, drainage, wastewater and bushland. Her "Keeping the soil on the island" grant led to works which significantly reduced the sediment erosion into the bay at Tennis Wharf.

Through her work at the Coastal Environment Centre, Sharon developed the very popular "Our Coast" program for schools, taking thousands of children onto the rock platform, around the lagoon and through local bushland. With numerous Streamwatch activities, Sharon led water testing of the creeks flowing into Narrabeen Lagoon and McCarr's Creek to monitor their health. Sharon has inspired so many people to care more deeply and effectively for our natural environment.

And being Sharon, what she would really like more than anything else is that you gave the bush a hand by attending Bushcare – even a short burst is appreciated. A very few dedicated volunteers work with Sharon to keep Catherine Park beautiful for all of us, preserving our native plants from the onslaught of introduced weeds. 

Turn up XXXXX!
​
---
WPYC Commodore's Chrissy Cocktails
Saturday 17 November 7pm
WPYC is having its annual Cocktail / Christmas Party .

Saturday Nov 17 th 6pm on Bayview Scout Hall
Theme James Bond
All welcome
$ 50 per person Includes Food ,Wine Beer Soft drink & entertainment.
Pick up by ferry Reliance from
Newport, Church Point & Scotland Island $5 each way

---
4th Young Musicians' Concert
Sunday 18th November 2.30 to 4.30pm 
Scotland Island Community Hall
Our next concert is calling for performers – any instrument, voice, dance, reading.
Please contact David Richards or Robyn Iredale if you would like to participate.
We are also looking for comperes and help with setting up and dismantling the concert.  
Gold Coin donation (to cover the cost of the hall) and plate of food or drinks.
David RICHARDS
drjavoo@gmail.com
Robyn Rae Iredale
rriredale@gmail.com

---
Pasadena
Pantry & Fresh

Happenings!
9th of November knife sharpening, drop them in by 8:30 am on the morning but you can drop them in anytime the week before.
We are now stocking Kitchen Curries, ready made meals perfect for home or the boat, Thomas Duck was a stockist 

    Swap & Go gas bottles
    Soda Stream refills
    Ice
    Tweed Bait

Our online shop goes live soon, you will be able to pick up from the store or our wharf
Follow us on #instagram #pasadenapantry
We have vegan & gluten free meals

Muchos Gracias

Colin & Pepe
Pasadena Pantry & Fresh





---
The Co-Op Club Presents
November 2018 Bookings
Church Point Cafe -  Artists play between 3:30 - 6:30pm
Sunday Nov 4th - THE KATE LUSH BAND

Look out!! THE KATE LUSH BAND is bringing her stellar band to the Co-Op! Think Old School soul drenched rhythm & blues with a dash of New Orleans FUNK. Together with songs from their USA-charting success 'Let It Fly' Album they are bringing a whole bunch of new tunes from STEVE MILLER, JOE COCKER, STEELY DAN , TEDESCHI TRUCKS, CLAPTON, GERRY RAFERT and many more + some sneaky inclusions from their next album due for release early 2019.

Think Susan Tedeschi with a dash of Aretha's Soul & Bonnie Raitt's rock edge.
Feat: Matt Roberts – Guitar and vocals, Tony Boyd – Drums, Christian Young – Bass and Wes Harder on Hammond, Keys and vocals.g: Ben Kidson – drums, Nemo Lynn bass & Len Samperi guitar.




Sunday Nov 11th -

THE CJ RAGGATT BAND!
THE CJ RAGGATT BAND! This is the first time the Co-Op will showcase our local Blues & Roots legend. He plays a double-neck guitar of his own design, incorporating an open-tuned slide guitar and a conventional six-string electric guitar. CJ is one of Australia's finest slide guitarists, his playing has been compared to that of Derek Trucks, Bob Brozman and John Butler. He was also a founding member of top Australian band "Matt Finish".
He will be joined by an incredible band featuring Antero Ceschin on Drums, (ex Mighty Reapers) and John Tweed on Keys and Keyboard Bass, (ex Renee Geyer)
The CJ Raggatt band thrill audiences with their stomping original Rhythm and Blues music but can also mesmerize with beautiful acoustic and steel guitar ballads with three part vocal harmonies. They embrace Country, Gospel, Blues and Reggae music. Whether singing his original material or covering Rhythm and Blues classics CJ and his band amaze crowds with their passion, joy and musical ability

Harmonica player Kelvin Carlson and CJ won the solo/duo section of the Sydney Blues Society blues competition and represented Sydney at the 2017 International Blues Challenge in Memphis Tennessee.

Sunday Nov 18th - DARRYL BEATON AND D1 CARTEL
DARRYL BEATON AND D1 CARTEL
Artist, Creative Director, Songwriter and Producer Darryl Beaton takes Australian soul music to a new level, with all the nuances of Stevie Wonder, D'Angelo, Frank Ocean and MeShell, this classically trained and jazz refined musician takes audiences on a journey of his own brand of 'Universal Soul'.
A multi-instrumentalist of the highest calibre, Darryl has lent his talents to an extensive array of Australian and international talent. He has recorded with multi Grammy award winning artist Kanye West and performed with Jessica Mauboy, Aloe Blacc, Katie Noonan (George), Stan Walker.

As well as being an artist in his own right Darryl is currently Musical/Creative Director for artists such as Guy Sebastian, Jessica Mauboy, Delta Goodrem and Stan Walker.


Sunday Nov 25th - Sly Dogs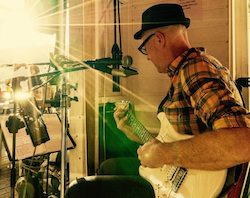 Featuring 'music loving' Scotland Islands very own quintessential Blues band, THE SLY DOGS!! The Co-Op Club's house band will be playing the very best mix of feel good Sunday afternoon faves to fire you up for a great start to the week. They always have audiences whooping and hollering in a furor of excitement with songs from JJ CALE, RODRIGUEZ, TAJ MAHAL & CREDENCE CLEARWATER to name a few. Veteran Blues vocalist, guitarist and harmonica player Matty "Harp Dog" Trapnell leads the fray with singer Narelle Lewis, David Richards on bass, Stew Eagles on keyboard, Nic Anderson on the Violin and Chuck Bradley on drums. Always a big crowd so grab a table and join in the fun!




The Waterfront Café's Co-Op Club presents the finest live music North side of the bridge from 3.30pm every Sunday. Come and immerse yourself in some wonderful music by the waters edge with great friends, your favourite beverage, some wonderful music and a huge range of delicious menu specials. 

1860 Pittwater Rd Church Point – bookings 99796633

www.facebook.com/thecoopclubchurchpointwww.waterfrontstore.com.au




---
House to Rent Dec. and Jan.




---
Northern Beaches Family Seeking a Long Term Rental on Scotland Island
Hi everyone.

We are interested in moving to the Island in the new year and are seeking to rent a house long term with min of 3-4 rooms.

We are a family of 4, my partner works as a firefighter for NSW fire and rescue, I work as a Graphic Designer in the CBD, our daughter 14, goes to Pittwater high and our youngest daughter 11, goes to Newport Primary.

We both pride ourselves as good tenants, who would treat, love, care and look your home like it was our own.

We would love to hear from you
Kind regards

Please contact
Claudine at claudinestelzner@gmail.com



---
Boat for Sale
Cox Craft Fibreglass 4.3M Runabout
New canopy installed last year with covers.
Original 40 HP Yamaha long leg engine rebuilt.
Steering cable replaced. Gear box replaced.
2 Fuel Tanks, safety gear, lights, bilge pump, battery less than 2 yrs old
Anti-foul is one year old.
Requires a polish, seats intact but require new vinyl on bases and one interior side panel.
There is a marine radio and antenna that can be re-installed.
   
We bought a bigger boat, so price is negotiable.

Circa $4000

Contact Mary @ mcfrey37@gmail.com or 0438 632 855







---
For Sale
 Approximately 10 metres of plastic coated cyclone fencing wire.
 
Make an offer.
  
Contact Therese on 0418640910



---
Armidale Family and Scotland Island
We have friends who are looking to house sit over the Xmas holidays.

Kate will be recuperating from an operation. Edouard is a long time friend of mine and has family in Sydney who they would like to visit.

I recommend them highly. Let me know if you are interested.

Our house will have swappers from Italy after 30 December but up till then they could stay here.

Robyn Iredale (99791096 or 0425216350)
 


---
---
The Local Guide
Community Information
Scotland Island Web Site

 www.scotlandisland.org.au
click to go to the Calendar

Scotland Island Residents Facebook Page

click to go to Page

Scotland Island Community Vehicle -

0404 103 700
Number, Usage & Charges

Scotland Island Rural Fire Brigade

- 9999 4404
http://www.sirfb.org.au

West Pittwater Rural Fire Brigade


http://www.westpittwater.com.au/rural-fire-brigade/WPRFB-contacts

9997-3795
Offshore Photo Gallery
offshore gallery
Scotland Island Residents Association (SIRA) Membership details - click here for details
West Pittwater Community Association (WPCA)

-
www.westpittwater.com.au
Scotland Island Emergency Non-potable Water
Agreement for Sale of Non-potable Water
SIRA Membership Application
Emergency Non-potable Water Guidelines
General Information, Map & Contacts
http://www.scotlandisland.org.au/community/emergency-water/
Scotland Island & Offshore Children's Services (SIOCS)
Long Day Care at The Island Kindy in Catherine Park
Days of operation: Monday, Tuesday, Wednesday & Thursday
Times: 8.00am - 6.00pm
Before & After School Care
8.00am until walked to school ferry - collected from school ferry until 6.00pm
Vacation Care, Casual Care and Playgroup on Fridays
Hire the Kindy for Birthday Parties
Please call

02 9979 7856

or email SIOCSdirector@gmail.com
Facebook: https://www.facebook.com/theislandkindy
Website: http://scotlandislandkindy.business.site/
Scotland Island Community Hall Bookings

:  Barbara Labram M: 0473008339  or hall@sira.org.au
Pittwater Online News

-  http://www.pittwateronlinenews.com
Tick Fact Sheet
TUG Waitlist   (Tennis User Group) - Application Form
---
Transport
---
Real Estate
---
Services, Clubs & Accommodation
Scotland Island Traders

- On-line shopping from your computer through www.g2u.com.au -delivered to your door Scotland Island by Scotland Island Traders -  Graeme Richmond - Mobile: 0419 460 331
email scotlandislandtraders@gmail.com
Justice of the Peace

- Bob Mitchell (Mackerel Beach) - 0419 745 628
Justice o

f the Peace

- Tony Hendel - 0419 242723
Justice of the Peace

- Andy Derijk - Elvina Bay 0418 613 890
 

Justice of the Peace  - 

Lexie Le Blang 0418399674 or 99992574
Justice of the Peace  - 

Graham Stenner - 0407216405
J

ustice of the Peace  - 

Carolyn Milani - 0409914699
Pittwater Community Arts Inc.

 - Enquiries Lorrie Morgan 9997 8079  lorriemay@bigpond.com
Peninsula Music Club

- enquiries Janice Tuynman - 99991937 - jt@swift dsl.com.au
Woody Point Yacht Club

-  http://www.wpyc.com.au   commodore@wpyc.com.au
Royal Prince Alfred Yacht Club

-

02 9997 1022

  http://www.rpayc.com.au/  
Royal Motor Yacht Club

- http://www.royalmotor.com.au/ 02 9997 5511
Scotland Island Lodge

- Bed & Breakfast - 02 9979 3301 or  http://www.scotlandislandlodge.com.au 
Pittwater Youth Hostel

 - (02) 9999 5748 (8-11 am and 5-8 pm)
http://www.yha.com.au/hostels/nsw/sydney-surrounds/pittwater/ 
Handy Service

- "No job too small"  - Call Alan 0447 775 541
Electrician Wayne

on Scotland Island 0418 229 277 - offshore community sparky - www.sparky.com.au
David Walsh

-

Graphic Design

-

Custom Made Sculpture

- 0404 239 212 - ital2@optusnet.com.au
Dog Wash & Grooming

- Call Jenni: 0450 444 100 or Email: jena50@hotmail.com
Free Pump Outs for Boats

- Council with RMS installed a pump out at Careel Bay wharf
Top water purification system installed for offshore homes:

  Call Juliette 0418349448
Solicitor - Rachel Carter - Carter O'Neill Legal - 0406 239 946
Island Based Domestic Cleaner

 - Kath - 0405097424 - kathando@yahoo.com
Building Design and Drafting Services

  - Samuela Madej – Murphy ph. 0450331573 email: samuelamadej@gmail.com
Qualified Deep Tissue & Swedish Massage

- Mona 0490701213
Island Based Cleaner - Uses predominantly Organic & Nnatural products

- Mona 0490701213
---
Island Classes (Fitness, Dance, Art etc)
Pilates, Meditation and Group Fitness

with Patrice -  0406 483 036 patrice.corrie@gmail.com
Art Classes

- drawing and painting in oils, acrylics and mixed media- Marion 0431 457 431
Dru Yoga

- Tuesday 9.00 to 10.30 Tuesday morning - Phone Katya on 0414 187 916
---
Groups
Green Group For Catherine Park

- Run by SIOCS - Emmie Collins on 0405 330 781
Parents & Kids Groups Playgroup

- Run by SIOCS - email Emma trysemz@tpg.com.au
Catherine Park Bush Care Group

, 2nd Sunday @ 9.30am, Sharon Kinnison @ 9997 6017
Island Thinking Group

-

Roy Baker, 9999 6891, roybaker99@yahoo.com
---
Government Organisations
---
Airlines, Buses and Railways
---
Weather
Pittwater Weather
Scotland Island Tides, Moon phases, Sun rise & set
Local Weather Forecast
Radar weather for Sydney (128k circle)

---
Emergency Contact Numbers   
ALL EMERGENCIES (Police - Fire - Ambulance)
000
Police Assistance Line & Information
13 1444 or 9281 0000
Broken Bay Water Police
9910 7899 or 0412 162 093
Marine Rescue Broken Bay - Weekend
(02) 9999 3554 - (02) 8411 1121
Marine Rescue Broken Bay - VHF Radio channel
VHF Radio Channel: VHF 16
27MHz Radio Channel: 86 or 88
Scotland Island Rural Fire Service 
9999 4404
Elvina Bay Rural Fire Service
9997 3795
Lovett Bay Rural Fire Service
9979 1612
Mackerl Beach Rural Fire Service
9974 1162
Rural Fire Service Headquarters Terrey Hills
9450 3000
NSW Fire Service General Information 9265 2999
9265 2999
Rural Fire Service General information
9450 3000
State Emergency Service, Warringah/Pittwater SES
13 25 00 9486 3399
National Parks & Wildlife Service: 000, general information
9457 9322
Dept of Community Services: general information
9977 6011
Sydney Water
132 090
Energy Australia
131 388, (ah) 131 909

---
---
A complete set of past electronic newsletters since May 2000 can be found and read at https://ymlp.com/archive_gesgjgm.php  or by clicking here or by visiting the Mona Vale Library.

The Island website is at www.scotlandisland.org.au




---
To Contribute
If you would like to contribute to this newsletter it's easy!. Send an e-mail to the editor (editor@scotlandisland.org.au) or by clicking here. Type your contribution (100 words or so would be fine) and assuming it is of general interest to the community, does not include matter of a political nature and is not offensive, it will appear next month.
Subscription Information
To get on and off this newsletter,

click here

or got to:

http://www.scotlandisland.org.au/signup .


To change your address, click the 'modify' link at the bottom of this newsletter or send an email to the

editor@scotlandisland.org.au


---
Follow the PON
---
The Online Local Contacts Guide
Click HERE to load
---
T

he

Editor

and the publisher disclaim responsibility for any injury to persons or property resulting from any ideas, articles or products referred to in this publication. Further, t
he views expressed in this newsletter are not necessarily the views of the Scotland Island Residents Association (SIRA), or the Western Pittwater Community Association (WPCA)
---