---
Looking Back/Thinking Forward Festival Programme
Saturday 11 & Sunday 12 September

Note your best option is to click each image and load the flyer...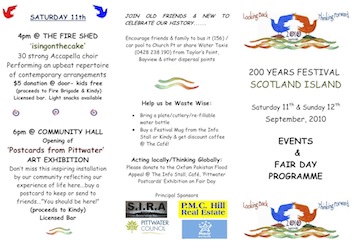 Note both flyers can be downloaded by clicking the images.
---
Kindy News




The Kindy welcomes and congratulates Tamie on her new role as assistant director.



The children are already enjoying the new weekly programs of drama and cooking recently introduced by Tamie into the centre. The children have had lots of fun and learnt many skills from making muffins and performing a fairy story through creative drama, using musical instruments and magical wands that turn children into animals.

She has taken on this role with enthusiasm and has come up with many new ideas to be implemented into our program. Tamie has worked in children's entertainment previously and brings a lot of ideas that will get our children moving and pretending. Drama helps children develop imagination, language skills, cooperation and other social skills, confidence, and creative expression.
 
Tamie has started the PALS program. Through a variety of games, puppet plays and songs the children have learnt a variety of skills including….


Greeting others-look smile & say hello.


Taking turns & listening- look at the person who is talking (look)


Be quiet when someone else is talking (Shhh)


Listen to what is said (Listen)


Taking turns at play- (My turn, your turn)



The children love the puppets and show that they are fully engaged throughout the show by giving suggestions and ideas. Then we encourage and practice throughout the day what we have learnt.
 
Master Chef is well underway and the children are loving it. Our kindy children have made muffins and organic fruit salad, a chocolate muesli slice and savoury muffins but the winner seems to be our apple crumble.  We have talked about what organic means, where our food comes from, being grateful for our food & the importance of hygiene.  We make sure we wash hands before and after & not put our mixing spoons in our little mouths. The apple crumble was so yummy the children wanted seconds!!!!

Thanks Tammie!



---
Island Cafe




Open Sunday 5 September - Weather Permitting !





Island Cafe Haiku




 




community

many sounds of laughter

but your own mug

 




by




Cafe Poetry Division

!



---
Your Say





Share a Stall ?


Is there anybody out there who would like to go halves, or share a stall at the Fair?
Please phone me if you are interested..................Phillippa Thomas..............0407 244 677



---
For Sale
Glass Table for Sale
Square Italian Glass Table (sits 8)




$1,250.00 - 8 chairs thrown in.

Glass and stainless steel coffee table     




$100.00
Ring Michele on 0418 533 701
---

---
The Local Guide - Community Information


 Click HERE to load
---