---
---
SIRA

Notices
International Folk Dancing Evening
Saturday, 28th September, from 7:00-9:00pm
!! DON'T MISS YOUR SECOND LAST OPPORTUNITY TO EXPERIENCE

THIS WONDERFUL EVEN

T !! The Scotland Island Recreation Club has organised another Folk Dancing Evening on Saturday, 28th September, from 7:00-9:00pm. Come along for a great time with our hosts and experts, Annabelle and Branko! Meet other islanders in a friendly environment and have fun.

The last of these events for the year will be held on 26th October, so save that date.


---
Council Garden Organics Roadside Collection
STARTS WEEK BEGINNING MONDAY, 30th SEPTEMBER
The main points you need to know:
grass cuttings
large branches no wider than 75mm
cut up palm fronds
tubers without soil
twigs
leaf litter
plastic bags
general waste
food scraps / kitchen waste
painted & treated timber
soil
large tree stumps and roots
Council encourages home composting and worm farming.




Food scraps and kitchen waste are 100% recyclable if treated properly.



100% of the garden organics collected will be recycled at Kimbriki Resource Recovery Centre.



---
Wharves Public Consultation
Council have now finalised the proposed plans for the upgrades to Bell and Carols Wharves. The designs and opportunity to comment are available at https://yoursay.northernbeaches.nsw.gov.au/wharf-upgrades

Please Note that the designs depicted in the mailed out letter were the original plans the designers had in June and have now been superseded by the plans displayed on the website.




---
Commodore's Cocktail Party

November Saturday 9th from 6:30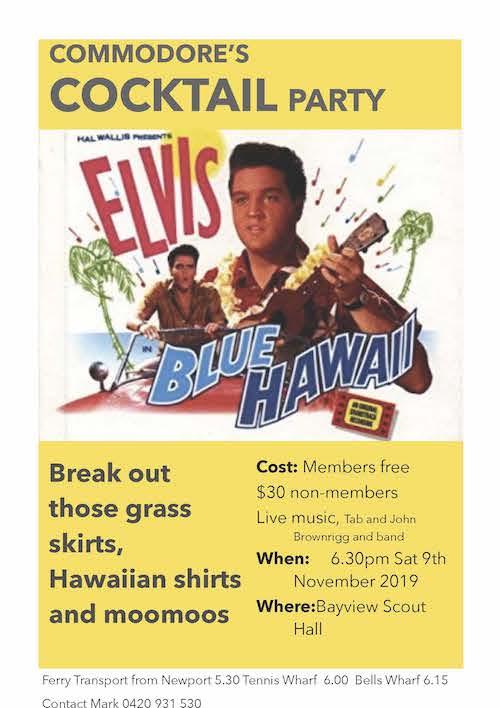 ---
MOVERS, SHAKERS, AND GROOVERS NEEDED
We need you! Island Daze is calling anyone and everyone for a super secret funky endeavour.
If you can flail your limbs in jubilation, tap your toes to the sound of lapping waves, or flick your salty hair in the southerly - you've got what we need!

All ages and all experiences welcome.

Contact 0422534565 to find out more.


---
Pittwater Offshore Wine Syndicate
Sunday October 13 from 3-5pm
Pittwater's Only Wine Syndicate Newsletter
All the Wine that's fit to Drink :)
Greetings
IT'S ON AGAIN
This is the biggy. This is the important one. This means summer is approaching. This means the thirst can be quenched. This means the Christmas holiday season is approaching.
Tasting is at the wonderful
boatshed of Alan and Ruth Gaines on the Eastern side of Scotland Island
 Start now on reducing your fluid intake :)
Friends signup
HERE
---
Wanted Jetty to Rent.
We are looking for a jetty to rent to park our commuter boat.

Call if you would consider.

Justin 0499006476'





---
A complete set of past electronic newsletters since May 2000 can be found and read at https://ymlp.com/archive_gesgjgm.php  or by clicking here or by visiting the Mona Vale Library.

The Island website is at www.scotlandisland.org.au


---
To Contribute
If you would like to contribute to this newsletter it's easy!. Send an e-mail to the editor (editor@scotlandisland.org.au) or by clicking here. Type your contribution (100 words or so would be fine) and assuming it is of general interest to the community, does not include matter of a political nature and is not offensive, it will appear next month.
Subscription Information
To get on and off this newsletter,

click here

or got to:

http://www.scotlandisland.org.au/signup .


To change your address, click the 'modify' link at the bottom of this newsletter or send an email to the

editor@scotlandisland.org.au


---
Follow the PON
---
The Online Local Contacts Guide
Click HERE to load
---
---
The views expressed in this newsletter are not necessarily the views of the Scotland Island Residents Association (SIRA), or the Western Pittwater Community Association (WPCA)
---