We love the holiday season and welcome you to Holden House to enjoy our beautiful Christmas decorations waiting just for you! Whether it's been awhile since you stayed with us or only recently, this is a magic time of year here at the inn.
Imagine the scent of gingerbread cookies, freshly ground coffee brewing
a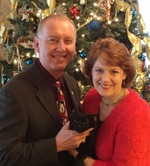 nd our breakfast treats baking in the oven to awake you from slumber in your
beautifully appointed luxury suite, complete with a cozy fireplace.
Visit our website to book online at HoldenHouse.com or feel free to call us direct at 888-565-3980. Happy Holidays!
-Sallie and Welling Clark (and Mingtoy)
-Heather, Connie, Tracy, Sahouda and Jenny