Flatiron's first involvement in Afghanistan was in November 2007 when we began to help a small IDP camp about 30 miles north of Kabul as they struggled to survive the Afghan winter. We started by sending over emergency supplies of jackets, blankets, and food and water followed soon by more small teams of volunteers every few months to listen, learn, help them rebuild their lives, and reassure them that they were not forgotten.
Now six years later the community of Barek Aub has a year-round deep water well, two schools with more than 500 boys and girls, permanent housing for more than 90% of the families, and a basic health clinic serving more than 12,000 people from several surrounding villages and tribes. Much is still needed in terms of long-term sustainable development, but the residents are justifiably proud of the progress they have made.
We are very thankful that we were able to visit Barek Aub today. Traveling freely in an around Kabul is never a certainty and actually getting to visit the center point of so much of our prayer and focus -- even for those of us who have been many times before -- is totally fulfilling. We got an in-depth look at the health clinic and its community center, the boys' school, and the water well and supply project. But we all agreed the highlight was sharing a coveted cup of tea with the village elders as we sat together and listened to several of them share their stories.
We were all deeply moved by the numerous heart-felt expressions of thanks and gratitude from the elders about everything their FCC family in America has helped them to achieve and the relationships and friendships we've built together over the last few years.
As we left our meeting place, another man from the village was waiting patiently outside and proudly presented us with a fresh loaf of naan (bread) to take with us on the long drive back to Kabul. This outpouring of generosity reminded us of the story of the widow's offering in Mark 12… this gracious and humble man – in a classic act of Afghan hospitality – eagerly gave us what was likely his family's lunch or dinner. Such unselfish acts of giving are the rule, not the exception, in Afghanistan.
After dinner we enjoyed a great evening of discussion and fellowship. We're all excited to see what tomorrow will bring. I'm betting it will be equally unexpected.
Thank you for your continued prayers and good thoughts!
--Bob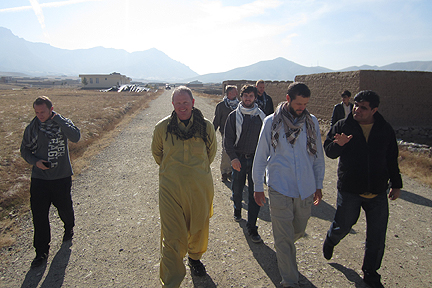 The team makes one of the most enjoyable walks on the planet -- from the clinic to the school in Barek Aub.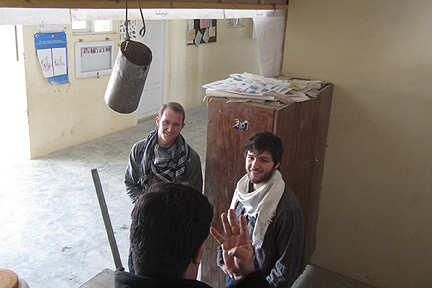 The Barek Aub school "bell" is no ordinary bell... in its previous life it was an artilary shell.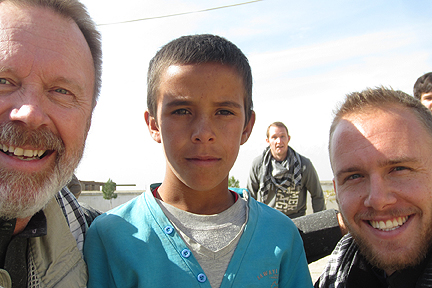 David and I enjoyed reconnecting with an old friend... Shakked. Jim, well... he just couldn't help himself.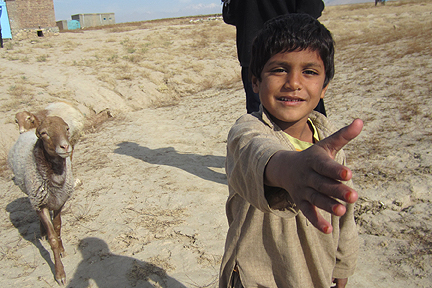 Kids all over Afghanistan are eager to make new friends, but this little guy seemed to be running for Mayor of Barek Aub.