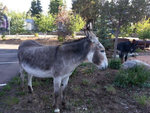 Carr Manor
in Cripple Creek is getting ready for fun, festivities and donkey races at Donkey Derby Days! June 21-23. People from all over the world descend on downtown, drawn by a chance to watch a race inspired by the town's resident donkey herd, believed to be distant relatives of the original donkeys from the town's Gold Rush days. Enjoy games, live entertainment, heritage competitions and don't miss meeting the new, baby donkeys! Carr Manor owners Gary and Wini Ledford report that the donkeys have been let loose to roam the streets of Cripple Creek. Donkey's have the right of way, so cars must yield to them. Their guests love to feed the donkeys and they come to visit often, including the yard (pictured above).
The Cla

remont Inn & Winery

Claremont Trekkers!

Join Fellow Claremont Inn & Winery Trekkers Traveling In the U.S. and Europe! If you love staying at B&B's - you will love traveling with these professional innkeepers as your personal travel hosts! They have the staff and the experience to get you on your way to an unforgettable adventure. The Claremont Inn & Winery

has joined forces with a full service travel agency to offer escorted trips and elite travel agent support for private getaway travel. Other trips will be to great places they have been and checked out, perfect for couples or small groups to travel on their own. As the innkeepers get more trips lined up, they'll be hosting

Travel Discovery Days at the Claremont Inn & Winery

to share ideas and hear what you guests would like to see in upcoming trips at these fun and informative get-togethers. Give us a call 719-348-5125

Holden House 1902 Bed & Breakfast Inn
Ducky Bubbles & Breakfast Package
is a great addition to your sweetheart getaway, honeymoon, anniversary or special occasion which includes sparkling chilled cider
and fresh roses on arrival, a Romance Package with breakfast in privacy delivered to your door one morning, a bubbles for two complete with a rubber ducky, and two take-home commemorative Holden House signature embossed wine glasses. Prefer 24-48 hours notice for package. Additional $110/couple.
---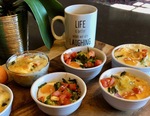 *Serve with a slice of French sourdough Miche toast and a light side of greens with lemon and white wine vinegar.
Note: The french bread is a local delight baked in an outdoor brick oven and comes from Small Potatoes Bakery here in Paonia Colorado
1 red onion diced- add to taste
Bunch of asparagus- diced
4 teaspoons melted butter
8 eggs -prefer farm fresh
8 tablespoons heavy cream
Freshly ground black pepper (to taste)
1/4 cup cheddar cheese (shredded) and a bit of parmesan
Steps:
Saute the onions, tomatoes,and asparagus together with a bit of olive oil until soft and add to buttered ramekin dishes
Break the 2 farm fresh eggs on top
Add 2 TBS of heavy cream to each and sprinkle with salt and pepper
Bake in preheated oven at 350 for 10-15 minutes
Sprinkle the cheese on a few minutes before you take them out so it melts
Enjoy more Recipes from Bed & Breakfast Innkeepers of Colorado!
---
Did you know if you #BookDirect you can save time & money?
Booking Direct through our Bed & Breakfast Innkeepers of Colorado (BBIC) InnsofColorado.org website which lists each of our members and direct links to the official individual websites.
#BOOKDIRECT
AND SAVE!
~
Visit our website with direct links to our bed and breakfast association members in Colorado
In This Issue
Quick Links:
~
Let's Get Social! Join us on
Social Media
~