ISRAEL AND THE "WHAT-ABOUT" DISEASE
This weekend's Mail&Guardian Newspaper carries an article that responds to the usual argument raised by the Israeli lobbyists:
"Why Israel? What about Syria, Tibet, Yemen, North Korea etc.?"
Click here.
NEW BDS CANVAS BAGS [R80]
"Apartheid: I don't but it!" canvas bags are available for R80 at the BDS South Africa offices in Johannesburg (5th Floor, 77 De Korte Street, Braamfontein). The BDS boycott Israel bags will also be sold at some of the upcoming #IsraeliApartheidWeek events.
Click here.
SCHEDULE OF UPCOMING ISRAELI APARTHEID WEEK EVENTS
The 13th international Israeli Apartheid Week (IAW) campaign takes place in South Africa between the 6th and 12th of March. IAW is an annual international series of self-organized events held in over 250 cities, communities and campuses across the globe. IAW raises awareness of Israel's apartheid policies towards the indigenous Palestinians and is endorsed, in South Africa alone, by more than 105 organizations, trade unions, embassies, youth movements and other groups including South Africa's governing party, the country's largest student formation and SA's largest trade union federation. There are over 100 IAW events taking place across the country in the coming week.
Click here for the full schedule of events and activities.
IN HIS FINAL SHOW, ISRAELI TV  HOST CALLS ON ISRAELIS TO WAKE UP AND SMELL THE APARTHEID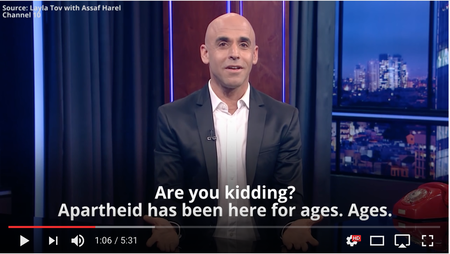 An Israeli comedian and television host used the final episode of his late-night show to criticize the country's treatment of Palestinians, saying: "Are you kidding? Apartheid has been here [in Israel] for ages. Ages. It's just that we're on the good side, so it doesn't really bother us."
Assaf Harel, the host of the night-time comedy show "Good Night With Assaf Harel," in his final show, on Israel Channel 10, slammed his fellow Israelis for their "amazing ability to ignore what's happening mere kilometers away." The show wasn't renewed for another season.
The Israeli TV host said, on his last show: "If you look at our life from a bird's-eye view, we're doing pretty great. Really. Great weather, great food, great people, great beaches. It's not so bad here, in general. And that's exactly the point, that we're doing great, but there are a couple of million [Palestinian] people that we're responsible for, and they're in a horrible state. Infrastructure, food, health care, education. Millions who are living in abject poverty. Gaza is on the verge of plague, hours on end without electricity or water. Israel controls everything that goes in or out…".
Click here to watch online.
NEW "BOYCOTT APARTHEID ISRAEL" BILLBOARDS GO UP NEAR JOBURG AIRPORT FOR ISRAELI APARTHEID WEEK
"Boycott Apartheid Israel" billboards have gone up near Johannesburg's OR Tambo airport for #IsraeliApartheidWeek. Click here to see photos.
The Israeli lobby had previously tried to remove billboards that BDS South Africa had put up with pro-Palestinian messaging, falsely accusing BDS SA of anti-Semitism. The Israeli lobby failed in their previous attempts to have the BDS SA billboards removed with the High Court declaring that the BDS billboard was legal and should remain.
BDS SOUTH AFRICA

BANK: First National Bank
NAME: BDS South Africa
NUMBER: 62273997943
BRANCH NAME: Rosebank
BRANCH CODE: 253305
SWIFT CODE: FIRNZAJJ
 
BDS SA, is a registered Public Benefit Organisation (PBO) with Section 18A tax-deductible status. This means that any donations made to us can be used to apply for tax exemptions. Kindly send copy of proof of payment to finance@bdssouthafrica.com / 0866664995 for receipt.
JOIN BDS SOUTH AFRICA'S EMAIL MAILING LIST
To join BDS South Africa's email mailing list (& receive these newsletters) send a blank email message to alerts@bdssouthafrica.com