---
PUBLIC MEETING – Scotland Island




Draft Plans Roads, Stormwater & Drainage




Sunday, April 3, 2011




Community Hall 10am to 11am



See advice below from Pittwater Council of Public Meeting.

You may have noticed that there are signs in various locations around the Island, posted on trees, poles, stakes. These have a Priority # and relate to information in one of three documents on exhibition, the Implementation Plan.

Please have a look at the signs, particularly in your area, so you can familiarise yourself with planned works detailed in the document and to assist with your submission.

If you have any questions to ask at the Public Meeting, please email Pittwater Council Attention: Paul Davies in preparation for the presentation.


---

A public meeting about draft plans for Scotland Island's Roads, Stormwater and Drainage will be held on Sunday 3 April at Scotland Island's Community Hall from 10am to 11am

The draft plans will be on public exhibition until Monday, 2 May and can be viewed at: www.pittwater.nsw.gov.au/council/documents_on_ex/document_pages/Scotland_Island
or
Council's Customer Service Centres: 59a Old Barrenjoey Road, Avalon and at 1 Park Street, Mona Vale

Written submissions should be mailed to: Pittwater Council, PO Box 882, Mona Vale NSW 1660
or
emailed to: Pittwater_Council@pittwater.nsw.gov.au – by Monday 2 May

Enquiries: Paul Davies 9970 1177



---
Who floats boats ?



Luke Smith and Anton last night between 10pm and god knows when spent at least 2 Hours bailing boats @ Tennis and then 2 hours bailing boats @ commuter wharf.

A huge vote of thanks.

We know because Don went down to do ours and John Christies and they had already been done

Doesn't this community make your heart sing ??

Bev & Don Dwyer

In a world where we often focus on the negative news, there is sometimes some good news. This morning at 4am 2 of our wonderful offspring of the Island spent 2 hours bailing out boats at Tennis (after a long night of celebrating, (congratulations Anton and Rachel on your engagement).

Then when they went back across the water to commuter wharf they spent another 2 hours bailing out more boats at risk. Finally at 9 am they are home, wet and very tired.

Thank you to the beautiful boys who have been raised on the island with the community in their hearts and no wish for any thank yous.



---
Currawong to become State Park




MANLY DAILY




21 MAR 11 @ 10:25AM BY JOHN MORCOMBE



CURRAWONG has been bought by the State Government and will be incorporated into a new state park, ending years of fear and speculation about the future of the iconic site on the western side of Pittwater.

The deal follows months of secret negotiations between Pittwater Council and the State Government over the future of Currawong.

The proposed state park will also include two parcels of Crown land at Palm Beach Governor Phillip Park and Pittwater Park and two council-owned reserves Mackay Reserve at Palm Beach and Mackerel Reserve between Currawong and Mackerel Beach.

Although the details are yet to be formalised, the state park is likely to be managed by a board consisting of representatives of the government, the council and the community.


---


Monday, 21 March 2011

Member for Pittwater Rob Stokes today said he was delighted that the decades long campaign to save Currawong Beach has resulted in the entire site being returned to public ownership.

Rob Stokes comments follow a decision by the State Government to purchase Currawong Beach from Eco Villages Pty Ltd, preventing the long opposed residential subdivision and redevelopment of the heritage listed site.

"This is a historic victory in our community's epic struggle to secure Currawong in public ownership" Rob Stokes said today.

"I salute Shane Withington and the Friends of Currawong who own this victory after fighting tirelessly on behalf of our community.

"I'm delighted that people power has prevailed and Currawong will be secured in public ownership for future generations to enjoy", Rob Stokes conclude



---
SI Fireshed Winter Dinners are Back!
First Saturday of the Month - April to September
A CAJUN FEAST - Saturday 2 April 7:00pm
Prepared for you by Nathalie and her Southern All Stars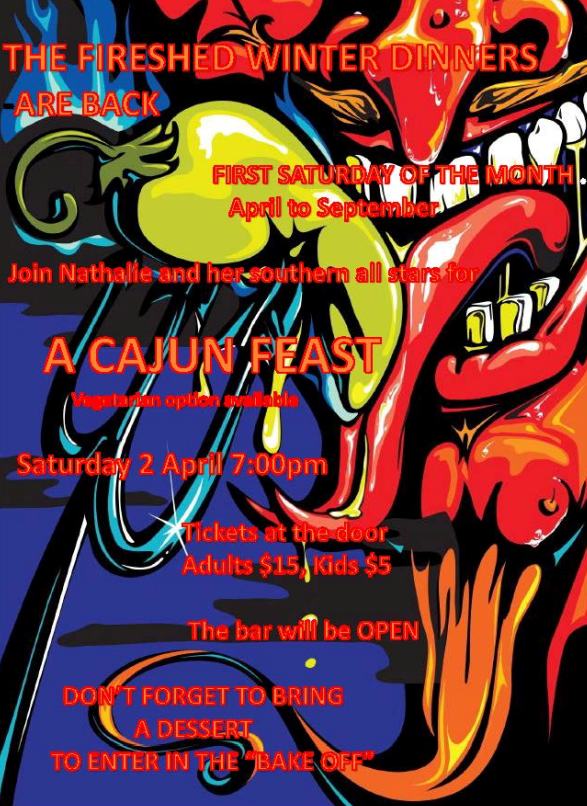 Don't forget to bring a Dessert and enter in the "BAKE OFF"
---
Animal Baiting on Western Side of Island



Two days ago a possum that had been living behind my bathroom for at least 6 years came into my home and lay down at my feet. I could see that it was very ill although no obvious external signs of damage. It was healthy, a female and in good condition. I covered it with a towel and rang WIRES, being able to travel by boat but not having a car for transport. Wires rang back and I ferried the possum to the WIRES co-ordinator at Newport. The possum died before arrival at the vet, however an autopsy was performed and the WIRES coordinator confirmed that the possum appeared to have been poisoned with ratsack or similar. Since possums are territorial and do not move far from their area, it placed the baiting very close to my home and neighbours were duly notified.

Ratsack will not only kill rats, but other native animals i .e. bandicoots, lizards and birds and snakes who eat the rats before they die, as well as indiscriminately killing dogs and other pets. Pythons are a very good ecological means of controlling rat populations. If baiting must occur, the baits should be place in narrow carboard tubes so that other native animals cannot get their heads in to reach the bait, but that does not stop the killing of animals who ingest the rats.

This possum died a very painful death and came to me for help at the end. I apologise to it daily for the thoughtlessness of some human being.

The possum coordinator for WIRES is Lynette Millett and she may be contacted through WIRES.

Another possibility is to go to the interview with Margaret Throsby on ABC Classic FM radio on Friday 18 March 2011 with Associate Professor Clare McArthur of School of Biological Sciences at Sydney University on why you should love possums!

http://www.abc.net.au/classic/throsby/stories/s3164112.htm

To whoever is doing the indiscriminate baiting, please be aware of the sad and unintended consequences of your actions.

Corinne



---
---
Accomodation/Housesitting



I am looking for affordable accommodation at fairly short notice. I run a green initiative out of Vancouver BC called www.thespruceinitiative.ca, I am also writing a children's novel and work as an artist and inventor.

When I was growing up I visited Scotland Island with some friends and liked it very much. My grandpa built a yacht which I am trying to locate and refurbish, so I thought the Pittwater area would be a good place for me.

If anyone in the area would like a housesitter or could rent me a room or flat I would be most grateful.

Thank you,

Felicity Fane, Ph.D.
0459079088



---
Tinny for Sale


4m De Havilland tinny with 25HP Johnson outboard. Power tilt and trim – front steering wheel drive – key start – new windscreen – new lights – recently anti-fouled – auto bilge pump – canopy – 2 fuel tanks – extras include life jackets, anchor etc - motor recently completely overhauled at a cost of $2000+ – boat also has oars and rowlocks – trailer available on mainland.

Registered to March 2012

$4500 ONO

Phone John 0419 432 626 or 9997 7469
81 Richard Rd., Scotland Island



---
Found




Sunglasses



1 pair of italian designed sunglasses at Church Point Tuesday 15 March around lunch time.

Please call Anne on 9999 4002 if these could be your beloved sunnies...



---
The Online Local Contact Guide

Click HERE to load
The views expressed in this newsletter are not necessarily the views of the Scotland Island Residents Association (SIRA), or the Western Pittwater Community Association (WPCA)
---