We warmly invite you to join the presentations

by Satellietgroep & Onkruidenier

of the project 'Waterpionier'.
Can we taste climate change and the influence of mankind in the Anthropocene?

September 14 & 15:
5 years Zandmotor Conference

September 14: Talk & Presentation 'Zandmotor as cultural phenomenon', Kurhaus Scheveningen
September 15: Public Expedition#9: 'A Taste of the Zandmotor', Zandmotor south of The Hague
September 22: presentation of Expedition Landschapsextracten during Amsterdam Atlantis & Water Republic#11, 20:00-22:00 in Pakhuis de Zwijger, Amsterdam
September 22: participation with sound piece 'Water Pioneer' by Satellietgroep & Sciant Lentement during Audio-DH. Curated by Francisco Lopéz with the works of 250 of The Hague's most vibrant sonic art, in Korzo Theater The Hague with iii & TodaysArt: http://iiinitiative.org/agenda/
W
ith special thanks to all participants, partners, Province of South-Holland, municipality of The Hague.
HOORAY! THE ZANDMOTOR IS FIVE YEARS!
During the celebration of the fifth anniversary of the Zandmotor Helga van Leur, meteorologist and weather presenter on Dutch National Television, will lead a program involving international speakers and guests that reflect on the results and implications of the Zandmotor - Building with Nature - for future coastal protection. For more information about the Zandmotor conference on 14 & 15 September 2016:
http://www.dezandmotor.nl/en/research/the-sand-motor-five-years-of-building-with-nature/programme/
INVITATION

THURSDAY SEPTEMBER 15, 15:30-17:30
PUBLIC EXPEDITION ZANDMOTOR#9
A TASTE OF THE ZANDMOTOR!
LOCATION: ARGUS MAST, ZANDMOTOR
Satellietgroep and Provincie Zuid-Holland kindly invite you to this Public Program of the Zandmotor conference on September 15th. The Zandmotor is an open air scientific laboratory, but also a favorite spot for young and old, walkers, kite surfers and fossil collectors and we organize a special public program for all to join!
Satellietgroep & Onkruidenier will offer you an alluring tasting. Visit the Zandmotor Cocktail Bar and taste the unique palette of the Zandmotor! Hang out by our bar and hear all about the latest gossip of the Zandmotor.
www.satellietgroep.nl | www.onkruidenier.nl | www.dezandmotor.nl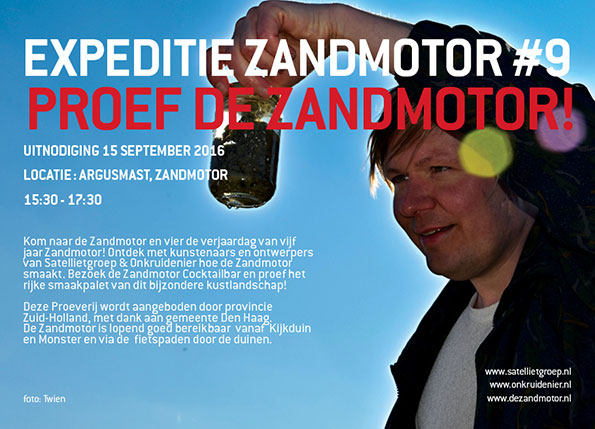 SEPTEMBER 14, KURHAUS SCHEVENINGEN
5 YEARS ZANDMOTOR CONFERENCE
ZANDMOTOR AS CULTURAL PHENOMENON
Satellietgroep is invited by Rijkswaterstaat and Provincie Zuid-Holland to participate during the Zandmotor Conference on the 14th of September in order to celebrate 5 years of the Zandmotor. We will give a Talk and Presentation of the Zandmotor as a Cultural Phenomenon.
The Zandmotor is described as Building with Nature, a conceptual shift in our relationship with the sea. This relationship is as much a cultural phenomenon as it is an ecological or engineering one. Designed by man, performed by nature. Satellietgroep explores the Zandmotor as an innovation that generates innovatory visual narratives about the hybrid relationship of mankind and man made nature.

It requires the arts and design to further explore the implications of this evolving relationship

to be shared with broader audiences.

 

 
During the Expo Market of the conference Satellietgroep presents a selection of our growing Zandmotor Collection, developed by artist in residents Zoro Feigl, Theun Karelse, Josje Hattink, Berndnaut Smilde, Sarah Cameron Sunde, Laboratory for Microclimates, Esther Kokmeijer and students of the ArtScience Interfaculty, in close collaboration with cultural partners, scientists and local experts.
Together with Onkruidenier we present the ongoing research called Water Pioneer, with A Taste of Climate Change, drinks and amuses made from edible plants found on the Zandmotor.     
Design duo Atelier NL presents ZandGlas, an unique set of glassware, made of sand from the Zandmotor.
TU Delft presents the innovation called Beachrock, a process that turns sand into stone.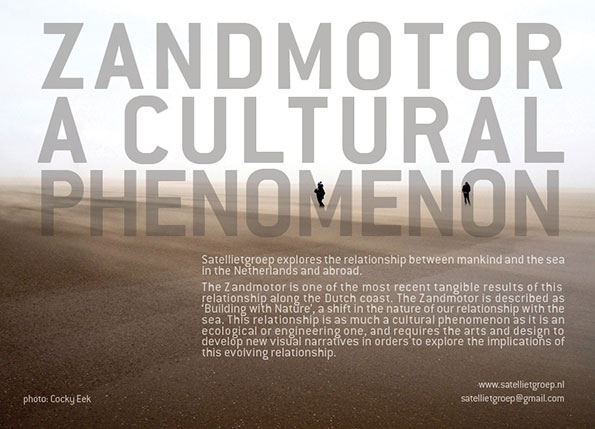 ZANDMOTOR COCKTAIL BAR
A TASTE OF CLIMATE CHANGE
Water Pioneer by Satellietgroep & Onkruidenier
The Anthropocene influence on climate change may well be closer to our bodies than we suspect.

As the world is changing, we need to develop a new idiom to create a profound understanding of our shifting coexistence with the sea and the impact of climate change. The idiom of the arts is not language itself but to evoke our imagination and appeal to individuals and audiences by sensory experiences.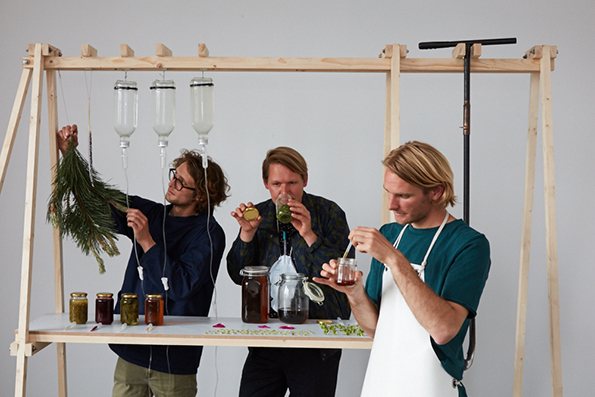 Photo: Studio Johan Nieuwenhuize.
Zandmotor ZandGlas by Atelier NL tells the stunning narrative of the sea, currents, wind, rivers, time, mankind and the origins of the Netherlands. This new glassware is a prime example of Innovatory Heritage, an innovative method of storytelling through arts, design and science. These are the very first prototypes of a new serie and a real collector's item. ZandGlas is for all coastal, art and design enthusiasts with a passion for history and innovation.
Contact Atelier NL if you are interested at office@ateliernl.com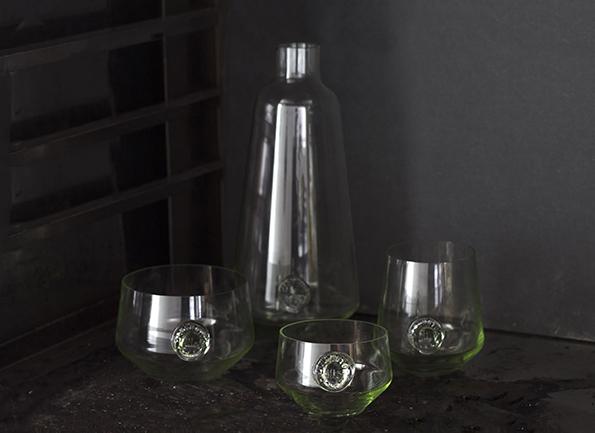 Photo: Wouter Kooken.
BEACHROCK BY TU DELFT
Department of GeoScience & Engineering, Faculty of CITG
Watch the video how sand is turned into stone: https://www.youtube.com/watch?v=wxkAwJUStNs
For the CoRncrete workshop, see the other movies:
https://www.youtube.com/watch?v=hqff5Iq7iCs
https://www.youtube.com/watch?v=yP8ivpt72iQ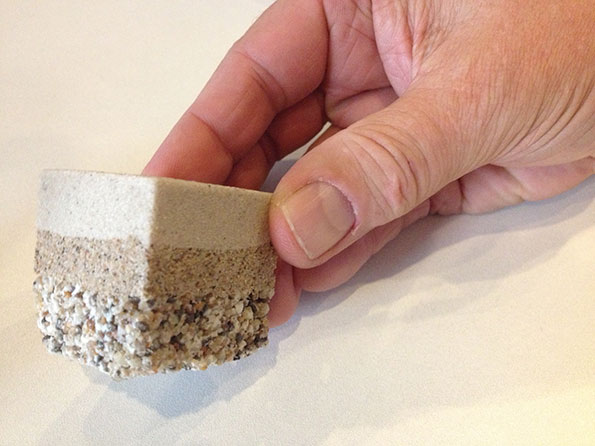 CONNECTING TO YOU!
You can also contribute to the activities of Satellietgroep! Spread the word or invite us for a presentation, research, collaboration or exchange project. Satellietgroep works also on commissions. Feel free to contact us at satellietgroep@gmail.com or browse our website
www.satellietgroep.nl
for ideas. 
DCR GUESTSTUDIOS
Satellietgroep programs 3 DCR Gueststudios at DCR, the cultural incubator in The Hague that also houses 35 permanent studios for artists and designers, including the studio of Satellietgroep, Zaal 3 - laboratory for performing arts of Theater aan het Spui, sound studio Loos, Cloud Danslab and exhibition space Nest.
Contact our coordinator Lotte Bosman at dcrgueststudios@gmail.com if you are interested in a short or long term cultural visit in The Hague. More at www.gueststudio.com | www.dedcr.nl

Looking forward to meet you!
Jacqueline Heerema,
Ronald Boer & Francois Lombarts, the curatorial team of Satellietgroep and Jonmar van Vlijmen, De Onkruidenier.