---
Contents
---
Gwyn's

Illustration
'Bad-cat'

To download a full version  of this months image ready for printing,  just click on the  image.










You can contact Gwyn Perkins by email at g.perkins@gwyn.com.au





---
| | |
| --- | --- |
| | SIRA News |

INTERIM COMMUNICATION ON CHURCH POINT

There has been much conversation lately about parking  at Church Point. This communication is a brief update about what's happening



Let's go down memory lane …



For over 30 years the Offshore communities have advocated for additional parking spaces at Church Point.
In 2005 the Department of Lands wanted to remove the carpark and we nearly lost it!

The Offshore communities rallied to fight

for our right to access our homes.
In 2006 the Department of Lands proposed commercial parking rates at $1,200 per year per car!

Again the community rallied.

Many community members worked together with Pittwater Council to come up with the Church Point Plan of Management. Whilst many proposals have been put forward, this was the first time in 20 years that an agreed plan was forged.
In 2009 the Church Point Plan of Management (CPPOM) was adopted to a standing ovation from

300 Offshore residents.
What's happened since 2009 …
Council has gathered funds for the past 3 years into a dedicated Church Point account ready for the implementation of whatever choice is made (approx. $250,000 per year - $150,000 from Permits, $75,000 from the pay and display and $30,000 from fines)
Installed upgraded lighting and some resurfacing in the main carpark (from those funds)
Built the Commuter Wharf as per the CPPOM with an annual fee ($210) lower than that proposed in the CPPOM ($275)
Council has informally said that proposed fees for the ground level only option (see below) will be significantly lower fees than those outlined in the CPPOM
What are the options on the table from Council …
The

60 space ground level only option

opposite the Commuter wharf
The

120 decked option

opposite the Commuter wharf, with two sub-options
a.    With 60

privately leased

spaces underneath 

b.    All 120 s

paces

available for all

those with a CP Parking Permit
What other options are possible …
Recently some Offshore residents have proposed that we revisit the option for a deck in the main carpark
Over the past 30 years many options have been proposed. We hope to exhibit and discuss some of these at a proposed upcoming Church Point Expo (see below)
How will decisions be made …
In the next month or so an

Open Community Expo

, with various options on display,

a free lunch

, followed by a

Community Forum with hopefully senior Council staff

An Offshore

community-wide referendum

will be held with options and their associated fees clearly set out 

Council is the final arbiter

and will make the final choice
Assuming no holdups and all preparations are made

works could commence in 2014-15

Both Offshore Associations are committed to getting the best possible deal for Offshore community members, who need to access their homes and meet their costs of living.  That is, we want to get the best options on the table for the lowest fees possible so that the community as a whole, properly informed, can make their choice.

Click on the following for additional information about Parking; or Fees; or Community Consultation



---

Scotland Island Rural Fire Brigade

Open Day, Saturday, September 28
Community Fire Unit (CFU)

---
SCHOOL HOLIDAY DAY CARE ON THE ISLAND
Need child care during preschool holidays?
Scotland Island Kindy is open during the spring holidays for casual enrolments.
Please enquire at
director.siocs@comcen.com.au
or call 9979 7856
Opening hours are 7.30am - 5.30pm
Tuesday, Wednesday, Thursday & Friday
Maximum age: 5 years old
Book your place NOW!
---
COMMITTEE MEMBERS NEEDED
The Scotland Island kindy is part of the fabric of the off-shore community and has been in operation through thick and thin for over 25 years. It is currently undergoing an exciting phase of re-development with a new Director, new staff, a new committee and some inspiring and fresh ideas to help bring it into the future.  The kindy is a community concern and relies heavily on strong cooperation from the local community.
The Kindy's Management Committee is currently in need of some more members. You don't have to have children attending the kindy to be on the Committee, in fact not having children there would make you a valuable and unbiased Committee Member.
Do you have a particular skill that could be of use to the kindy? Are you a retired educator with a myriad of valuable information and knowledge that would benefit the kindy? Perhaps you have a life skill or an occupational skill which may be advantageous to the kindy.
Committee meetings are held monthly and typically last for 2 hours.
Please contact the Director Rebecca Tringham on
director.siocs@comcen.com.au
  or 9979 6354 to express your interest or find out more.

---
An Invitation to All to Join In


Pittwater YHA Bush Regeneration Event - Sat. 7 & Sun. 8 September



Pittwater YHA is running a Bush Regeneration Event on the mornings of Saturday7 and Sunday 8 September.

The work will start around 8.30 am and go till lunchtime. Come even if you can offer an hour or two to help. Instruction given to those new to bush regeneration.

The Sunday morning's effort is also part of the Australia-wide Major Day Out programme and is co-sponsored by Pittwater Council.

The weekend is sponsored by the Hawkesbury Nepean Catchment Authority with funding from the Australian Government's Caring for Community Programme: Pittwater Estuary Care
 
All persons of the Offshore community and your friends are invited to come along and wage war on the Asparagus Fern, Mother of Millions, Lantana  and Bidens of Morning Bay.
 
Morning tea and a bbq lunch provided on both days.Take time in the afternoon to enjoy the wildflowers of the National Park or go for a kayak ride on one of the YHA kayaks.
 
If you have friends from more distant locations who would like to join in, there is the option to stay at the hostel overnight on the Friday and Saturday.

Details on this option are in the attachment below.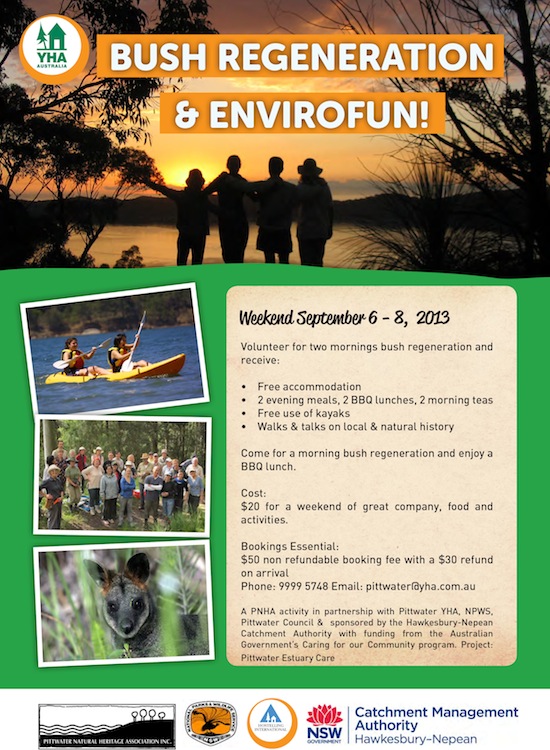 For further information to to let us know you can come along, call  Sarah and Michael on 99995748.
 
Thanks,
Pittwater YHA
Managers Sarah Polomka, Michael Doherty
p: (02) 9999 5748 (8-11 am and 5-8 pm)
w: www.yha.com.au/pittwater



---

Local Council Notices

Policing of Church Point Wharf to begin


Council would like to inform Offshore residents that policing of the Church Point Commuter Wharf will begin in the coming weeks.
 
Any residents using the Church Point Commuter Wharf without a permit should obtain one as soon as possible to avoid a possible fine and/or their dinghy being impounded.

Application forms can be found HERE or on Council's website http://www.pittwater.nsw.gov.au/recreation/boating_facilities/boat_tie-up_on_wharves
or by contacting Council's Customer Service centre on 9970 1111.


---



Church Point Parking Permits Now Available


Council advises that the 2013-2014 Church Point Parking Permits have now arrived and are available from Council's Customer Service Centre at Mona Vale.

Application form can be downloaded HERE.


---

HSC 'LOCK-IN' and Free Pizza Offer Returns
Mona Vale Library is once again offering to 'lock up' HSC students for special after-hours study sessions at the library from 24 September.

To make studying for the HSC exams even more palatable, the library will be offering students free pizza along with Tuesday evening study sessions.

The lock-in and free pizza sessions will be every Tuesday evening from 6pm to 9pm between 24 September and 22 October.

Early opening hours at Mona Vale Library will also be on offer to HSC students each weekday from 9am to 10am, from Monday 23 September to Tuesday 5 November.

The library normally opens at 10am on weekdays, but HSC students will have access to the library from 9am during this period.

Library Manager Cathy Howie said that the after-hours study sessions aimed to help HSC students to make use of a quieter environment for studying.

"We hope the offer of free pizza on Tuesday evenings will also make studying a little less stressful for them," she said.

"The only requirement for students to take advantage of the study 'lock-in' is for them to arrive by 6.15pm on the Tuesday evening at the library, or by 9.15am for the early morning sessions."

Mona Vale Library is located at 1 Park Street, Mona Vale.

For more information please call 9970 1600.



---
Local Government Referendum Off - Due to Early Federal Election





The referendum to financially recognise Local Government in the Australian Constitution will no longer proceed alongside the upcoming Federal election.



With Prime Minister Kevin Rudd's announcement on Sunday 4 August that the Federal election will be taking place on 7 September, plans to hold the referendum have been cancelled.

The news is disappointing for Local Government as polling suggested there was an extremely good chance of winning the referendum.

With the referendum now off, all campaign material that had been issued should no longer be used.

The need for Local Government to be recognised in the Australian Constitution remains a priority and Local Government NSW (LGNSW) will advocate that a referendum should be held in the near future. Already, the current Federal Government has committed to holding a referendum if re-elected and ALGA will be seeking the same commitment from the Federal Opposition.

The referendum could not proceed as it could only be held more than two months and not less than six months after it passed through Federal Parliament. As the referendum bill passed through the Senate on Monday June 24, and pre-polling will commence on Monday August 19, not enough time will have elapsed.

A letter was sent from the LGNSW Joint Presidents to all Mayors and General Managers earlier last week updating them on the referendum campaign and council's contributions.

JOE SUMEGI
SENIOR COMMUNICATIONS OFFICER
LOCAL GOVERNMENT NSW

With thanks to,
Pittwater Online News.
For, About and By Pittwater.
Ph: 9974 2874 or 0409 465 779.
At:www.pittwateronlinenews.com/



---
Free


Free Packing Boxes



We have just moved onto the island, and now have lots of cardboard boxes of good quality and various sizes to give away.

Call Nicole on 0410 701 643



---
For Sale
50% Share in "GEEPS"
49 ROBERTSON RD,  SCOTLAND ISLAND
$500,000
Absolute north facing waterfront / sun all year round
180 degree unobstructed Pittwater views from Lovett Bay to Clareville
Deep water jetty and pontoon
Sandstone sea wall with level prepared boatshed site
Private sandy beach
Inclinator
One bedroom open plan cottage with large entertaining deck and wood fire
Secure views/ unable to be built out.
Potential to build new house or expand existing cottage/ would suit split level pavilion style home
Would suit investor or family/couple/single looking to live on the island full time or build weekender/holiday home
Short walk to park/kindy/ferry/community hall
Short boat ride to restaurants, cafes, shops
Please call Sophie on 0432 611 976 for details




---

Outboard Motor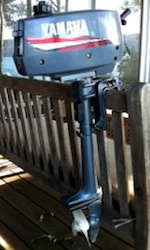 2008 Yamaha 2HP Outboard Motor (has not been used-as new)


$700 o.n.o.


Comes with manual.


Contact Suzie-0408 229931
suzievboyd@gmail.com




---

Boat for Sale

Very reliable, never let us down in 5 years.

We moved off the island and don't use it anymore, refurbished it while at home.

Has a fresh coat of paint.


Trailer included.
Stessl Hull 4.0m (aluminium)
Suzuki 30HP 4 stroke Outboard

Rego till - 26th August 2014

Includes:

Canopy
Life jackets x 4
Anchor
New rear light
New steering column and cable
New engine cover
Fishing rod holders
Key start
New rope
Cabin lights
Rubber fenders x 5
Contact - Johnny
0418 408 894
johnnyplopez@yahoo.com
Boat stored in Forestville




---
---
The Local Guide
Community Information
Scotland Island Web Site

 www.scotlandisland.org.au

What's On in Pittwater - Self Editing Event Calendar 

click to go to the Calendar

Scotland Island Community Vehicle -

0404 103 700
Number, Usage & Charges

Scotland Island Rural Fire Brigade -

9999 4404
http://www.sirfb.org.au

West Pittwater Rural Fire Brigade

- 9997-3795
www.westpittwater.rfsa.org.au

Offshore Photo Gallery

offshore gallery
Scotland Island Residents Association (SIRA) Membership Application

- click here to download
West Pittwater Community Association (WPCA)

- http://www.wpca.org.au
Scotland Island Water


SI Emergency Water Contacts and Guidelines for water: click here for information and contacts
Scotland Island 'Water Agreement' - click here to download
Scotland Island Children's Centre

- (SIOCS - Scotland Island & Offshore Childrens Services)
Catherine Park (Long Day Care Service)  7.30am - 5.30pm (Tues, Weds, Thurs & Friday)
Other services include: School Holiday Programme / Facility & Equipment Hire
For information call 0

2 9979 7856

or email:  siocs@comcen.com.au
Scotland Island Community Hall Bookings:

  Kez on 9999 4092 or kezborthwickbolton@gmail.com
---

Transport
---
Real Estate
---
Services, Clubs & Accommodation
---
Island Classes (Fitness, Dance, Art etc)
Pilates, Meditation and Group Fitness with Patrice

-  0406 483 036 patrice.corrie@gmail.com
Art with Max

- Watercolour classes. Phone Max on 9997 4527
Art Classes

- drawing and painting in oils, acrylics and mixed media- Marion 0431 457 431
@ Nathalie's Table - Cooking Classes 

- Nathalie - 9999 4449
Dru Yoga

- Tuesday 9.00 to 10.30 Tuesday morning - Phone Katya on 0414 187 916
Dynamic Yoga

  - Saturdays from 9am - 10.30am 0402 752465 nadineomara@gmail.com

---
Groups
Gurdjieff / The Fourth Way

- Call John on 9979 5584, Marion on 9979 3993 or Anne on 9999 3478
Green Group For Catherine Park

- Run by SIOCS - Emmie Collins on 0405 330 781
WOW - Women on Water

- meets 4 times a year - Jenny Frazer 0410533728 / 99994460.
Parents & Kids Groups Playgroup

- Run by SIOCS - email Emma trysemz@tpg.com.au
Scotland Island Players

- contact Bob or Kez on 9999 4092
Catherine Park Bush Care Group

, 2nd Sunday @ 9.30am, Sharon Kinnison @ 9997 6017
Elizabeth Park Bush Care Group

, 1st Saturday @ 9 am, Bob Bolton @ 9999 4092
Island Thinking Group -
Roy Baker, 9999 6891, roybaker99@yahoo.com
Offshore a capella choir

–  Saturdays at 2:30 pm, SI Community Hall. Call CB on 9997 2035.
---
Government Organisations
---
Airlines, Buses and Railways
---
Weather
Scotland Island Tides, Moon phases, Sun rise & set
Local Weather Forecast

Radar weather for Sydney (128k circle)
---
Emergency Contact Numbers
ALL EMERGENCIES (Police - Fire - Ambulance)
000
Police Assistance Line & Information
13 1444 or 9281 0000
Broken Bay Water Police
9910 7899 or 0412 162 093
Marine Rescue Broken Bay - Weekend

(

02) 9999 3554 - (02) 8411 1121



Marine Rescue Broken Bay - VHF Radio channel

VHF Radio Channel:

VHF 16


27MHz Radio Channel:

86 or 88



Scotland Island Rural Fire Service 
9999 4404
Elvina Bay Rural Fire Service


9997 3795



Lovett Bay Rural Fire Service


9979

1612



Mackerl Beach Rural Fire Service


9974 1162



Headquarters Terrey Hills


9450 3000



NSW Fire Service General Information 9265 2999
9265 2999
Rural Fire Service General information
9450 3000
State Emergency Service, Warringah/Pittwater SES
13 25 00 9486 3399
National Parks & Wildlife Service: 000, general information
9457 9322
Dept of Community Services: general information
9977 6011
Sydney Water
132 090
Energy Australia
131 388, (ah) 131 909

---
Join SIRA
You can now join the Scotland Island Residents Association by
clicking here.
Please print the page and return the completed form to SIRA at this address:
The Treasurer, SIRA, PO Box 70, Church Point 2105.
Please NO CASH.

Contact SIRA at
 sirapittwater@gmail.com
Join WPCA

To join the Western Pittwater Community Association, contact Michael Wiener at
m2wiener@bigpond.net.au
---
Archived Newsletters


A complete set of past electronic newsletters since May 2000 can be found and read at https://ymlp.com/archive_gesgjgm.php  or by clicking here or by visiting the Mona Vale Library.

The Island website is at www.scotlandisland.org.au


---
To Contribute


If you would like to contribute to this newsletter it's easy!. Send an e-mail to the editor (editor@scotlandisland.org.au) or by clicking here. Type your contribution (100 words or so would be fine) and assuming it is of general interest to the community, does not include matter of a political nature and is not offensive, it will appear next month.

Subscription Information


To get on and off this newsletter,

click here

or got to:

http://www.scotlandisland.org.au/signup .


To change your address, click the 'modify' link at the bottom of this newsletter or send an email to the

editor@scotlandisland.org.au


---
Follow the PON
---
The Online Local Contacts Guide
 Click HERE to load
The views expressed in this newsletter are not necessarily the views of the Scotland Island Residents Association (SIRA), or the Western Pittwater Community Association (WPCA)

---