VIDEO: PRESIDENT ZUMA ON PALESTINIAN STRUGGLE & ISRAEL TRAVEL BOYCOTT
Speaking on Sunday in Soweto, South Africa's President Jacob Zuma has reiterated the governing party's solidarity with the Palestinian struggle as well as again re-affirming the travel boycott to Israel and pledging the ANC's support for the recent UN Security Council resolution against Israel's illegal settlements. Click here to watch.
S.AFRICA'S GOVERNING PARTY SLAMS DA OPPOSITION LEADER FOR ISRAEL TRIP
South Africa's governing party, the African National Congress (ANC), has slammed the leader of the opposition party,

Mmusi Maimane of

 the Democratic Alliance, for his and three other colleagues propaganda trip to Israel as well as their meeting with right-wing Israeli Prime Minister Benjamin Netanyahu. Click here to read online.
BDS STATEMENT: DA NORMALIZING APARTHEID WITH ISRAEL
During Apartheid, Prime Minister BJ Vorster had initiated a foreign relations policy of "dialogue and détente" trying to break the increasing isolation that South Africa was coming under. Apartheid SA offered free propaganda trips as well as agricultural, water and other support to African countries in an attempt to bribe and silence criticism of the Apartheid regime. Israel has recently also embarked on a similar initiative to try and win over African leaders and countries in the face of its increasing isolation. Mmusi Maimane in Israel, it would seem, is the Israeli regime's attempt to break the boycott, with a willing collaborator - the DA.
Click here to read the full BDS SA statement.
ANC (WC): DA TAKING US BACK TO APARTHEID WITH ISRAEL
The ANC in the Western Cape has criticised the DA's cosy-ing up with Israel as collusion with the collaborators of our former oppressors. Israel backed and supported Apartheid South Africa with weapons including nuclear weaponry that was used against our people. The DA, it would seem, is trying to forge relations (including business links, according to the spokesperson of the DA's Mmusi Maimane) with countries like Israel and other regimes that backed Apartheid. Click here for more info.
INVESTIGATION: HOW ISRAEL TARGETS PARLIAMENTARIANS AND "TAKES DOWN" POLITICIANS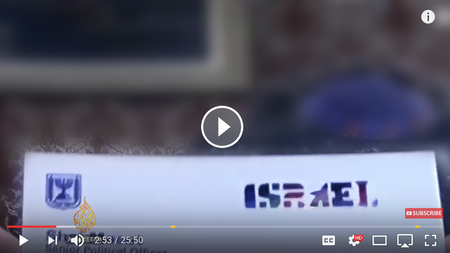 A recently released six-month investigation has exposed how the Israeli Government, Israeli Embassy officials and Israeli lobby organizations are trying to counter the growing non-violent BDS boycott of Israel movement. 
The four-part investigative series, focusing on the UK, reveals an Israeli embassy agent plotting to "take down" parliamentarians, including the deputy minister for Foreign Affairs, because they are deemed barriers to Israeli policy and because of their opposition to Israel's illegal settlements.
One of the primary tactics used by the Israeli lobby, the Al Jazeera investigation lays bare, is to falsely accuse critics of Israel as being anti-Semetic. Another tactic, an Israeli Embassy official exposes, is to setup seemingly "independent" organizations to advance Israel's government agenda.
The video also shows an Israeli Embassy official telling a UK Parliamentarian that he had "more than 1 million pounds" approved in Israeli government funding to take UK parliamentarians on propaganda junket trips to Israel. 
The release of the investigations has led to one Israeli Embassy staff member being sent back to Israel in disgrace, and a UK civil servant (who was also filmed discussing ways to discredit pro-Palestinian MPs) has resigned from her post.
Click here to watch part one of the four part series.
AFRO-PALESTINIANS HARDEST HIT BY ISRAELI APARTHEID AND OCCUPATION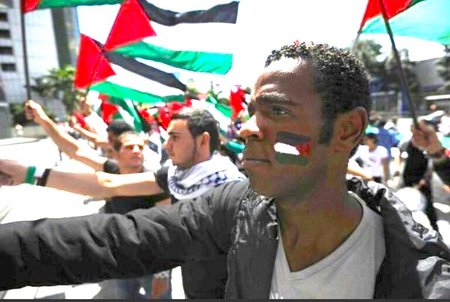 Hendrik Verwoerd, the architect of Apartheid, in 1961 already, was one of the first South Africans to have compared racial supremacy in Apartheid South Africa to that in Israel when he said: "Israel, like South Africa, is an apartheid state".

After democracy in South Africa, in 2009, in a 300-page report commissioned by the SA Government, the Human Sciences Research Council (HSRC) found that Israel is practicing forms of apartheid. Human Rights Watch, Amnesty International and other human rights groups have subsequently published similar reports, including investigations revealing Israel's discriminatory policies regarding natural resources and, in particular, water.

Israeli racism toward Palestinians has now also turned to African refugees with xenophobia against Africans being shared and even encouraged by leading Israeli politicians including the Israeli Prime Minster, Benjamin Netanyahu, who has said: "If we don't stop their [African immigrants'] entry, the problem that currently stands at 60000 could grow to 600000, and that threatens our existence…and threatens the social fabric of society."

Israel's Minister of Interior, Eli Yishai, has said that African immigrants "think the country doesn't belong to us, the white man." And the Israeli Minister of Culture and Sport, Miri Regev, has publicly compared Africans to "a cancer".

It was also revealed in 2013 that Israel was forcing African women to take birth control injections without their consent.

Click here for an article, originally published by the Atlana Black Star, documenting the plight of Africans living under Israeli Apartheid and, in particular, the struggle of Palestinians of African descent. Click here to read online.

BDS SOUTH AFRICA

BANK: First National Bank
NAME: BDS South Africa
NUMBER: 62273997943
BRANCH NAME: Rosebank
BRANCH CODE: 253305
SWIFT CODE: FIRNZAJJ
 
BDS SA, is a registered Public Benefit Organisation (PBO) with Section 18A tax-deductible status. This means that any donations made to us can be used to apply for tax exemptions. Kindly send copy of proof of payment to finance@bdssouthafrica.com / 0866664995 for receipt.
JOIN BDS SOUTH AFRICA'S EMAIL MAILING LIST
To join BDS South Africa's email mailing list (& receive these newsletters) send a blank email message to alerts@bdssouthafrica.com