---
SCHOOL HOLIDAY DAY CARE ON THE ISLAND
Need child care during preschool holidays?
Scotland Island Kindy is open during the spring holidays for casual enrollments.
Please enquire at
director.siocs@comcen.com.au
or call 9979 7856
Opening hours are 7.30am - 5.30pm
Tuesday, Wednesday, Thursday & Friday
Maximum age: 5 years old
Book your place NOW!
---
Scotland Island Rural Fire Brigade
Open Day, Saturday, September 28
Community Fire Unit (CFU)
---
Dog Side of the Moon

Final Weekend Rescheduled
Friday 27 & Saturday 28
Just a reminder that the postponed final shows of Dog Side of the Moon are
on this weekend.
If you'd booked for the original weekend dates and haven't reconfirmed,
please let us know that you are intending to come.
either by joining the event on Facebook (and commenting if you are bringing
non-Facebook users):
Friday
https://www.facebook.com/events/198313417010528/
Saturday:
https://www.facebook.com/events/350150758454133/
or via eMail:
theflamingdoghouse@gmail.com
See you on the Dog Side!
---
Heaven Can Wait Regatta



The skipper and crew of Balthazar are representing WPYC and heading up to Lake Macquarie in mid November to compete in the annual Heaven Can Wait regatta.

This as an arduous series not for the feint hearted and will seriously test the crew that includes Tim Marshall and Scotty Taylor amongst two others.

They are entered in all three challenges, one lap dash, twelve hour and the final challenge, a twenty four hour event where the winner sails the most distance.

It is a charity fund raising weekend held by the RMYC Toronto in aid of the Cancer Council for cancer research, Balthazar has already raised over $800 and is hoping to top $1500.

This is a very worth while cause and support should go to https://hcw2013.everydayhero.com/au/Balthazar

On behalf of the Woody Point Yacht Club I would like to wish them well and hope they bring back both glory and trophies to our club and much needed funds for the Cancer Council.

John Travers
Commodore WPYC



---
Appreciation!



Thank you very much for including me in your notices, which gives me not only pleasure, but information and keeps me in touch with local events.

I thank also, producers of the new POD, which is an excellent publication.

Thanks a lot. Marg.Molloy O.A.M.


---

I also add my congratulations to Ian Souter for this well deserved nomination..

Ian has greatly assisted a number of projects at Church Point and on Scotland Island with a high degree professionalism, good humour and always with the bests interests of the broader community at heart.

Well done Ian and much appreciated.

Yours sincerely

Chris Hunt
Director - Urban & Environmental Assets Division
Phone: (02) 9970 1371
0417 495 401

---
Wanted to Rent...





Long term island family (couple and one child) looking for a home to rent on Scotland Island.



We are looking for a 2-3 bedroom home, we are all ready to move now.
We have been living on the island for over 10 years and love the lifestyle.
If you are looking for tenants for your home please give us a call on;

Emma 0415 192 088
Trystan 0405 310 801

We can provide references.



---
Tis the season for TICKS ...



I am a vet nurse and trainee dog groomer on the island (near Bells) and now offering the following pet grooming services:

Wash & Tidy - Bath, blow dry, brush, nails
Full groom - Kennel clip (tick clip - full body short all over), brush, blow dry, nails
Call Jenni: 0450 444 100




Download PARALYSIS TICK INFORMATION SHEET courtesy Mona Vale Vet surgery





---
Free Couches



Free to Good Home/s



Two very good quality matching couches:
one three seater with fold out bed;
the other a two seaters.

If anyone would like one or both of these please call
Robyn or Tim on 9979 1096 or mobile: 0417 215 783.





---
Lost




White and blue kayak from Lovett Bay

.
Please call Tim on 0408 608628 if this happened to wash up on your beach.
(modest reward offered!)


---
Magnetic Navi Light Red/Green/White



We lost our navi light while driving. It floats and is waterproof so it should still work fine and pop up somewhere around the island.
It is round and looks like this:
https://www.whitworths.com.au/main_itemdetail.asp?cat=123&item=53852&intAbsolutePage=

If you bump into, please give us a ring. Thank you!

Rob 0410499734



---
For Sale
Make me an Offer!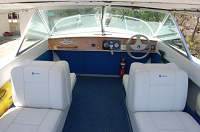 A classic motor cruiser. Refurbished.

Mercruiser V6 inboard engine (reconditioned circa 2006) with recent insurance inspection certificate.

Fibreglass Hull. Anti-fouled.
Local history available as Pittwater-based.
No trailer.
Lovely boat, good condition.
Moving from area, hence reluctant sale.


All reasonable offers considered – Go on – make me an offer !! (Valued in the region of $14500)

Phone Gill 0408722296








---
---
Missed out on a Newsletter?




Go to the archives to download previous notices



A complete set of past electronic newsletters since May 2000 can be found and read at https://ymlp.com/archive_gesgjgm.php


---
The Online Local Contact Guide
Click HERE to load
The views expressed in this newsletter are not necessarily the views of the Scotland Island Residents Association (SIRA), or the Western Pittwater Community Association (WPCA)
---