SA MINISTER OF ENERGY WRITING ON WOMEN, PALESTINE & BDS
Marking women's month, South Africa's Minister of Energy, Mmamoloko Kubayi, wrote an article for the Daily Maverick on the struggle of women, international solidarity, Palestine and the BDS boycott of Israel. In the article she explained: "when we speak of struggle we must also maintain an internationalist perspective, as our struggles for emancipation and human rights are intertwined…[during the 1980s] the boycott, divestment and sanctions of Apartheid South Africa, championed by peoples of the world, brought necessary pressure on Apartheid. This tactic seems to be having the same effect today on other regimes." Click here to read the article online.
TOP SA JUDGE: ISRAEL HAS LOST MUCH OF ITS CLAIM TO MORAL STANDING

Justice Edwin Cameron, Judge at South Africa's highest court, the Constitutional Court, has referred to Israeli separation practices as a "daily" violation of international law. Speaking at the Beit Emanuel Progressive Synagogue in Johannesburg, Cameron explained that: "By flagrantly and persistently violating international law' Israel forfeits much of its claim to moral standing." Click here for more info.
CAPE TOWN & JOBURG EVENT ALERT: PSA PALESTINE WALK FOR FREEDOM

This Heritage Day join the Palestine Solidarity Alliance (PSA) together with the National Coalition 4 Palestine (NC4P), BDS South Africa, Al-Quds Foundation, AKF and the PSA YL for the PSA's 8th annual Palestine awareness-raising "Walk for Freedom".

Call +27(0)729108483 for more info.
BDS SOUTH AFRICA

BANK: First National Bank
NAME: BDS South Africa
NUMBER: 62273997943
BRANCH NAME: Rosebank
BRANCH CODE: 253305
SWIFT CODE: FIRNZAJJ
 
BDS SA, is a registered Public Benefit Organisation (PBO) with Section 18A tax-deductible status. This means that any donations made to us can be used to apply for tax exemptions. Kindly send copy of proof of payment to finance@bdssouthafrica.com / 0866664995 for receipt.
"FREE PALESTINO" MUSIC TRACK BY SOUTH AFRICAN ARTIST VELAPHI LIVE

South African musician and composer Velaphi Ngqaqu (aka "Velaphi Live") has produced this short song for BDS South Africa, titled "Free Palestino". 
Velaphi, 
who started performing live music at the age of 17,
 is best known for his debut album 'In The Soil' with his band, Seed. The band's second album, 'Germination' was an entrant into the afro-soul/neo R&B category at the 14th MTN South African Music Awards. 


Velaphi's music has a South African beat with a strong Afro-Cuban flavour. In 2009, Velaphi was nominated for a SAMA award and his second solo album, 'Ikhala Kamnandi,' is a favourite on local radio stations. 
Velaphi travels the African continent showcasing his music with upcoming gigs scheduled in Madagascar and Trinidad & Tobago. 
CLICK HERE
to watch on Facebook or 
CLICK HERE
to watch on YouTube.
INTERNATIONAL ARTISTS AND BANDS PULL OUT OF GERMAN MUSIC FESTIVAL DUE TO ISRAELI FUNDING LINKS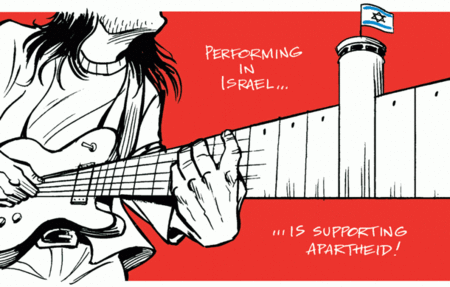 I
n yet another success for the international BDS boycott of Israel, last month several international artists pulled out of a Berlin music festival due to its collaboration with and receiving funding from the Israeli Embassy in Germany. 
The cancellations came after the organization, Artists for Palestine UK, wrote to music bands urging them to respect the cultural boycott of Israel.
In a series of tweets, multi award-wining Scottish band Young Fathers, said: "Due to the addition of the Israeli government's logo to the list of partners and in solidarity with the Palestinian people, Young Fathers regrettably will not be performing…this is a very tiny act on our behalf in the grand scale of things but one we still believe is worth it".
DJ, artist and academic Annie Goh also cancelled her scheduled appearance on a panel discussion, she wrote on her Facebook page: "As an artist and academic, I am taking a stand against participating in the festival due to its partial sponsorship by the Israeli embassy, in solidarity with Palestinians who have called for a boycott of Israeli state institutions until they adhere to international law."
Finnish black metal group Oranssi Pazuzu also dropped out of the festival saying that the co-funding by the Israeli embassy of the event "resulted in giving a political character to the festival." They further explained that they "do not want to endorse any state, governance or agenda; open or hidden."
Writing on their website, Mazzaj Rap Band said: "It did not take us a minute to know what we had to do; we will not participate in a festival that accepts the partnership with an embassy representing a state and a government led by right-wing party Likud and Netanyahu."
Others who boycotted the festival included Hello Psychaleppo from Syria, EEK featuring Islam Chipsy from Egypt, as well as Tunisian singer Emel Mathlouthi. 
Thurston Moore, the American musician best known as a member of Sonic Youth, was among the many artists, activists and human rights organizations that welcomed the cancellations by the artists from the festival over its Israeli links. 
As South Africans, the academic and cultural boycott of Israel reminds us of the successful cultural boycott of Apartheid South Africa. The boycott against South Africa during the 1980s urged artists to cancel their gigs in South Africa or performance at events supported or funded by Apartheid South Africa. Similarly the international boycott against Israel, called for by Palestinians (and supported by progressive Jewish Israelis), it is hoped, will non-violently force Israel to end its human rights abuses, violations of international law and bring the regime to the negotiating table so that a just solution can be found for all.
Click here for more info.
JOIN BDS SOUTH AFRICA'S EMAIL MAILING LIST
To join BDS South Africa's email mailing list (& receive these newsletters) send a blank email message to alerts@bdssouthafrica.com