---
One Month after Ending Chemo Wade Gets a Great Report
They removed Wade's chemo port on July 26th, one month after he completed chemo - a big step in the race back to normalcy. His reports - both the blood work and the cat scan - were all clear, no evidence of the disease at all. Wade said, "I am very optimistic and really happy, as are my doctors. I'm eager to get back to work, raring to go, ready, willing and able. It's nothing short of a miracle to be where I am at this point from where I was in December. I'm ready to write some happy songs. Thank you for all the love and support. I want you to know how deeply appreciative I am for your prayers."
Please keep the prayers and the encouragement up. This is a very sneaky disease. Let's build a prayer wall that will keep it out.
---
Country Weekly Features Wade
Wade got the superstar treatment in Country Weekly's magazine (July 23rd). Besides the cover, there was a 4 page spread inside with some great new photos taken especially for the magazine. Wade tells the story of his battle with cancer in a forthright, open manner. He has a mission: to save others from what he's going through; to encourage others to not ignore symptoms as he did, but to seek testing.
When Wade left the doctor on a very sobering day last November, he made it to his truck and sat pondering the words of his doctor - "We'll get the tests on Thursday; then we'll know how much it's spread." How do you deal with that kind of news? Wade started a song right then that laid out, for all to hear, the heavy thoughts that were running through his mind. Country Weekly went into the studio as he was cutting the song. They've posted a video interview on their site of that event. They have also provided a link for a free download of the song, "Is it Already Time?" I know you'll want to hear his heartfelt message. And the more downloads, the more likely the song will get to radio.
I hope you've downloaded the new song and have encouraged others to do it also.
These links are still available:
---
Wade Makes that Atlanta Visit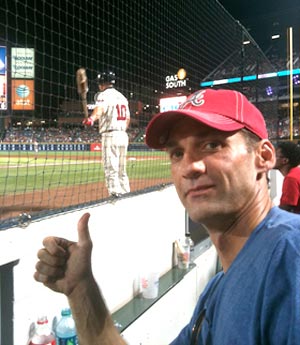 I
n the Country Weekly article Wade spoke of some things that he wanted to do, now that chemo is behind him. First was a plan to be there for his high school class 25th anniversary. He did that last month. There are pictures on his Facebook Friends Page.
Secondly, he spoke of wanting to make a trip to Atlanta to see Chipper Jones play his last year with the Braves before retiring. With a seat right behind the Braves' dugout last Saturday, Wade had a good view of Braves' players as they waited their turn to bat. You can see Chipper in the background of the picture.
What I'm seeing is a much healthier Wade Hayes.
---
The alliance helps those families with living expenses, when medical expenses are leaving them strapped. Wade has appeared on two of their benefit shows.
Those who might wish to contribute to the Colon Cancer Alliance in honor of Wade can do so at this site:
There are plans for a future concert to benefit the Colon Cancer Alliance. A major country act will join Wade for the event. No, I don't have details, yet. I'll let you know when I do. ~ Helen
---