---
---
Church Point Ferry Service
Revised 2017 Ferry Fares
---
Thank you dear Scribbly Gum 

The beautiful tree by the BBQ in Catherine Park was sadly removed last week.
This beautiful tree has been there as long as anyone can remember. Sheltering and shading us and providing a great climbing tree for many generations of our children.

She recently dropped a large branch on the picnic table and another large branch fell in the same spot a year ago. No one was hurt.

Council's Tree Preservation Officer assessed the tree and ascertained she was diseased and had to go.

She will be replaced by two trees in cooler weather.

Thank you beautiful tree, you have served us well.

Annette Ritchie



---
Fund Raiser For EK - Lovett Bay Fire Shed
Date: 20-Jan-2017
One our young Western Foreshore locals, Ek Lambert-Leplastrier in year 12, of Lovett Bay has achieved sporting recognition and been selected as part of the NSW combined high school squad to tour South Africa early 2017.



To help him get there a fund raising dinner is being held Lovett Bay Fire shed on Friday 20 January.


Bookings Therese O'Neill 0438 279 766.

Please RSVP for catering

If you can't make the dinner but would like to help EK achieve has goal and make a donation:

Donations can be made to:

Ek Lambert-Leplastrier
Commonwealth Bank
BSB: 062205
ACC#: 10418997

See more at: http://www.westpittwater.com.au/BookingRetrieve.aspx?ID=63839#sthash.QehedsVY.dpuf



---
Kindy needs Volunteers
Sunday 22nd Jan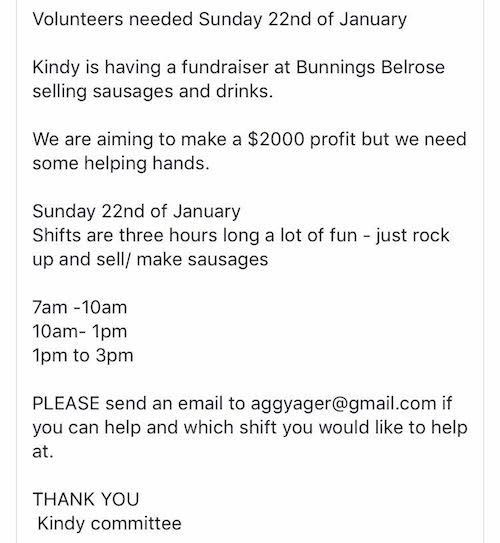 ---


Australia Day 2017
Australia Day is fast approaching and Northern Beaches Council invites you to participate in the day's events.



Australia Day Citizenship & Northern Beaches Australia Day Awards, Manly, from 2pm

Australia Day BBQ Breakfasts

Bert Payne Park, Newport Beach, 7.30 - 11.30am
Dee Why Beach, 7am - 2pm
Lakeside Reserve, North Narrabeen (new venue), 8am - 12pm
Warringah Aquatic Centre, Aquatic Drive, Frenchs Forest, 9am - 12pm
---
Scotland Island Waste Calendar 2017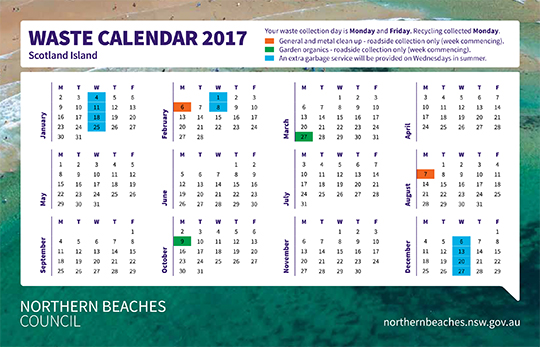 click to load complete document in PDF
---
Western Foreshore Waste Calendar 2017
---
MIXED MEDIA ART CLASSES AT

AVALON SAILING CLUB
MEREDITH RASDALL VISUAL ART
Term starts week of 14th Feb.
Tues  10am-1pm
Thursday 10am -1pm
Great for offshore artists as you can tie your boat on the pontoon .

Contact –meredith 0402121184
Meredith.rasdall@westnet.com.au
 


---
Remedial, Pregnancy & KaHuna Massage
on the island
Remedial, Pregnancy & KaHuna Massage on the island again on Sunday 26th February - 10am-6pm.

I'm aiming to be out the last Sunday of each month, give or take.
Health fund rebates available.
Please book online following this link http://embodiedmassage.com.au/scotland-island-bookings

Appointments will be confirmed as the day fills up.

Feel free to contact me for any info - info@embodiedmassage.com.au or 0422 988 501.

Jae Lalor
Owner - Embodied Massage



---
For Sale
Cedar Slimline Venetian blinds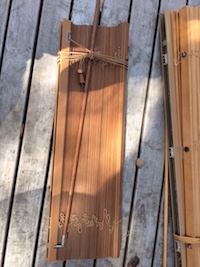 Width:
Various lengths.

Either window or door length.
Call for more details.

$50 the lot. All or nothing !
Pick up near Fireshed

Annette
0410 007 501


---
Lost
Last THURSDAY 13/1 BELLS WHARF
A NUMBER OF BEADED BRACELETS, one of rose quartz

Sentimental value so would be very grateful of you've seen it.

Please call Nadine 0402 752465.
 Thanks!



---
Wanted Kayak or Canoe
We are moving to the island and are looking to get a double kayak or canoe in good condition.

I can be contacted on 0401843797
Fabienne



---
---
---
A complete set of past electronic newsletters since May 2000 can be found and read at https://ymlp.com/archive_gesgjgm.php  or by clicking here or by visiting the Mona Vale Library.

The Island website is at www.scotlandisland.org.au



---
To Contribute
If you would like to contribute to this newsletter it's easy!. Send an e-mail to the editor (editor@scotlandisland.org.au) or by clicking here. Type your contribution (100 words or so would be fine) and assuming it is of general interest to the community, does not include matter of a political nature and is not offensive, it will appear next month.
Subscription Information
To get on and off this newsletter,

click here

or got to:

http://www.scotlandisland.org.au/signup .


To change your address, click the 'modify' link at the bottom of this newsletter or send an email to the

editor@scotlandisland.org.au


---
Follow the PON
---
The Online Local Contacts Guide
Click HERE to load
---
---
The views expressed in this newsletter are not necessarily the views of the Scotland Island Residents Association (SIRA), or the Western Pittwater Community Association (WPCA)
---