FOR IMMEDIATE RELEASE
CANADIAN COUNTRY ARTIST JOJO MASON RELEASES BRAND NEW SINGLE "RED DRESS" TODAY
MASON SIGNS WITH VANCOUVER'S 604 RECORDS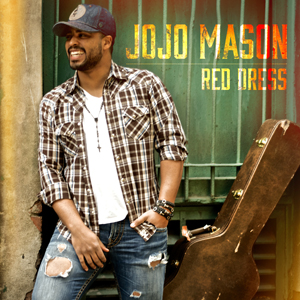 Toronto, ON (May 17, 2016) – Canadian country artist Jojo Mason is thrilled to announce the release of his brand new single "Red Dress". The punchy track is Mason's debut with Vancouver's 604 Records, with whom he signed earlier this spring, joining the ranks of such 604 heavyweights as Dallas Smith, Carly Rae Jepsen and Marianas Trench. Mason will hit the road later this summer for a slew of festival dates, including stops at Dauphin Countryfest on July 1st, Cavendish Beach Music Festival on July 10th, Calgary Stampede on July 16th, Boots and Hearts Music Festival on August 6th and more.
"We are so excited to have Jojo join the 604 family," said Jonathan Simkin, CEO, 604 Records. "The first time I heard him on the radio, I could tell he was a truly unique voice in country music. He is an engaging, charismatic young man who has a long career ahead of him."
When an injury sidelined his dreams of a career in hockey, an interesting twist of fate, a jar of moonshine and a chance encounter with writer/producer Dan Swinimer altered Mason's path entirely. Swinimer signed Mason to Manicdown Music Inc. and a short year later released his debut single "It's All Good" to radio across Canada. Soaring into the Top 10 on the Canadian Country radio charts, "It's All Good" was the number one most added song at country radio its first week of release – a first in Canadian radio history for an independent artist's debut.
His second single "Good Kinda Love" also released by Manicdown Music Inc. was again the No. 1 most added song at radio in its first week of release, and marked Mason's second entry into the Top 10. This was the moment Swinimer and Manicdown Music Inc. joined forces with 604 Records. On "Red Dress", Mason's infectious hooks and huge voice are immediately captivating. It's no surprise the 26 year old draws comparisons to country superstar Darius Rucker, sharing an affinity with the megastar for fresh lyrics and upbeat melodies.
"I believe that Jojo Mason is a generational talent and after an unprecedented two consecutive Top 10 singles out of the gate, I knew it was time to get help," said Dan Swinimer, CEO, Manicdown Music Inc. "Not only does Jonathan Simkin and his staff at 604 Records have an undeniable track record, they have amazing vision and they aren't afraid to think outside of the box. They are perpetual leaders in an ever changing industry, they are excited about the future of music and they are thriving at a time when many established players are struggling."
"Jonathan's unique vision and outright enthusiasm for what we are doing is the perfect fit for us at this time and we are incredibly grateful to be a part of the 604 family."
Simkin adds, "604 Records is stoked to be partnering with Dan Swinimer on this project. Dan has demonstrated extraordinary abilities as an A&R guy, in the classic sense of that phrase. The story of how he met Jojo and developed him shows an uncanny instinct for finding talent, and he has accomplished all of this on his own. We want to support him in his continued efforts by providing resources and a larger staff, and feel that with this support the sky is the limit for Jojo, Dan and Manicdown!"
This summer Mason will take his show across the country, sharing the stage with such notable acts as Blake Shelton, Sam Hunt and Tim McGraw. For more information on Jojo Mason please check out:
JOJO MASON 2016 TOUR DATES:
July 1 – Dauphin, MB – Dauphin Countryfest
July 2 – Vancouver, BC – Roxo (JRFM 30th Birthday Celebration)
July 10 – Cavendish, PEI – Cavendish Beach Music Festival
July 16 – Calgary, AB – Calgary Stampede (Nashville North)
July 29 – Merritt, BC – Rockin' River Fest
August 6 – Oro-Medonte, ON – Boots and Hearts Music Festival
August 27 – Lucknow, ON – Music In The Fields Festival