SHOP HOURS
Monday: CLOSED
Tuesday: 11 - 5
Wednesday: 11 - 5
Thursday: 11 - 5
Friday: 11 - 5
Saturday: 10 - 4
Sunday: 12 - 4

 

 

 

It is officially summer in Lexington, folks! We've moved on from warm weather into just plain sticky and hot. And you might think it's too hot to knit and crochet during these dog days of Summer, but you'd be wrong. Summer is the time for smaller and lighter weight projects: socks, linen shawls, or time to pick up a new yarn skill, like tapestry weaving. We have so many new things in the shop right now and we are so excited to see you!! Again, we can't fit all of the new stuff into the newsletter so we are including the highlights and we encourage you to visit our class page, our Facebook, or our Instagram for more of what is new. 

 

 
Emma's July Colorway is in and it is FABULOUS!!! Seriously, we can't stand the magic summer feels this yarn is bringing. It's like a summer raspberry gave a peach a hug and we're HERE for it!! And just so you know, this colorway pairs perfectly with Aloha, Briar Rose, Buttonwood, Beach Please, and Whisper. You're gonna have so many gorgeous color options to try! Emma's also released some new summery colors this month, pictured on the right are four solids we couldn't resist adding to our collection: Limoncello, Sea Me Now, Poppin', and Forget Me Not .
You love em'! We got em'! More Knitted Wit National Park colorways. This month come feast your eyes on Harriet Tubman, a skein of greens, yellows, gray blues, and browns that will leave you drooling for more! Or try the Aniakchak National Monument and Preserve with its summery cucumber cool greens and rust colors; its the perfect colorway to wear on a breezy summer night. Need more excitement?: Look no further than the Salt River Bay NHP & Ecological Preserve colorway with rich rust color and a striking variety of blues and blue greens that is both eye-catching and chic. And finally, because we just can't stop (won't stop!): Hovenweep National Monument is a mix of mossy greens, summer sky blues, and soft creams that will take you on a woodland adventure.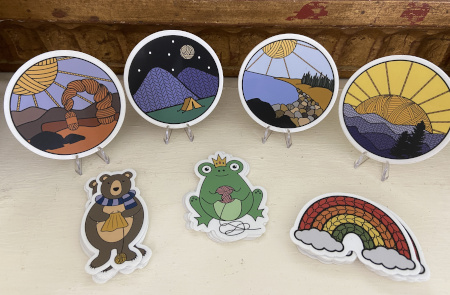 Ever wish you could knit a rainbow? Or crochet the sun? What about brioche knitting a mountain top?? Well, Adknits HAS and we've got a gorgeous selection of her stitch markers (think bees!!), gift tags that have fiber information and care instructions on the back (oh, yeah, you didn't know how much you NEED it but now YOU DO!!). And if that's not enough there are STICKERS: Knitted rainbows, arches, suns, mountains, oceans, and bears. You're gonna need them all. I've already picked out four must haves while writing this….hurry: I won't leave you anything!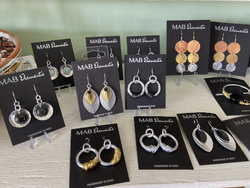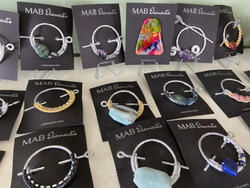 MAB Elements shawl pins and earrings are a favorite here at ReBelle and we just got a new shipment. Do you need to add a little bling to your wardrobe? Well, come check out these earrings. Every Knitting Goddess needs to show off her inner sparkle and these earrings will help you do just that!! And, looking for a shawl pin to set off that latest finished project?: we've got all sorts of colors to contrast with your knitted treasures! Yep! We're stylin' here at ReBelle!
This will be our sixth year participating in the I-75 Yarn Crawl and we couldn't be more excited!! For those of you who are new to the I-75 Yarn Crawl, it is an event that spans I-75 from Tennesse to Michigan and includes more than 30 yarn shops. This year the I-75 Yarn Crawl spans two weekends so you have extra time to explore shops near and far. This year the passport will be free to encourage you to get out there and support some small businesses that were hit hard by the pandemic. Your passport provides a directory of shops along I-75 as well as access to sales and specials going on at those shops. You can get a passport by registering
here
(scroll down to the bottom of the page to access the form.)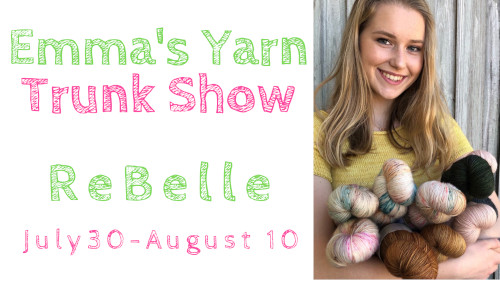 Speaking of the I-75 Yarn Crawl, during the crawl this year we will be featuring a trunk show by Emma's Yarns. Y'all know we are deeply in love with the color and base yarn combos from Emma's Yarns and judging by your responses to the Super Silky and Marvelous Mohair we carry in the shop, you are too! We are very excited to be hosting another two week trunk show featuring even more colors and bases of Emma's Yarns. Need inspiration? We will also be featuring some beautiful project samples to get those creative gears turning. Time to start planning those fall shawls and sweaters!!
In-person stitch-ins are back!! Starting in July we are bringing back the second Sunday Stitch-ins at ReBelle. From 1-4pm on the second Sunday of every month we will host an open stitch-in. Whether you knit, crochet, spin, or mostly get tangled up in yarn, all are welcome. As always, the ReBelle Second Sunday Stitch-Ins are free and open to the public. We hope to see you soon!!
Featured Upcoming Classes
 

Ready to knit your first sweater or found a great sweater pattern but feel a little unsure about going at it alone? Then this class is for you. This class will be a workshop -- you pick the pattern and yarn you want (with our help if you need it) and bring it to class.  While we knit, we'll learn from each other's patterns by discussing techniques found in your individual patterns.

 

Teacher:  Susan Winkler

5 classes, $60

Tuesdays, 

7/13, 7/27, 8/10, 8/24, 9/7. 6:30-8:30pm

 

 
 

Natural Dyeing with Indigo

 

The indigo plant has been used to create deep, beautiful blues for th

ousands of years. This will be a combination class and open dye workshop. For those who want to learn we will talk about the different methods of creating and maintaining an indigo vat and we will make the vats for the class to use. We will also talk about the history and chemistry of indigo dyeing. For those of you who just want to dye with indigo there will be vats made up for dyeing fiber as well as fabric and people to instruct you in the process.




Teacher: Robyn Wade

1 class, $35

Saturday, 7/17. 11am-2pm

 

 
Dorothy's Sweater Saturdays

 

Thinking of starting your newest sweater but feeling a little intimidated? Well, come join Dorothy on Saturday mornings starting in July for her Sweater Saturdays. In this class, Dorothy offers so much flexibility- you get to choose a sweater pattern by a notable designer, either Andrea Mowry or Joji Locatteli. Once you have your pattern, Dorothy will teach you tips and tricks about color, stitching, and whatever else you need to know to make your sweater a fun and successful project. Finally, come this fall, you'll be the sassiest looking knitter in town.

 

Teacher: Dorothy Apple

5 classes, $60

Saturdays, 7/24, 8/7, 8/21, 9/4, & 9/18. 10:30am-1pm

 
 

 

 

 

 

Beginning Socks

 

Do socks intimidate you? When you hear the phrase: "turn a heel" does your blood run cold? Well, Susan is here to take the scariness out of your first pair of socks. In this class, you will be using Rye, a Tin Can Knits beginning sock pattern (free on Ravelry), with worsted weight yarn that is knit at a tight gauge (22st/4 inches). OR, if you want to knit your socks on fingering weight yarn, Susan will help you knit Rye light. We love this pattern because it has great diagrams and tutorials that really help a first time sock knitter move from newby to expert in no time! With Susan's help, you're gonna have the snazziest looking feet in Lexington. Never fear socks again! 




Classes meet Wednesdays, 8/11, 8/18, & 8/25. 6:30-8:30pm