We hope you, your family, and your friends are safe and sound. We look forward to seeing you soon at the Library Minyan! Here is this week's Library Minyan Weekly Update for November 12, 2021.
If you have questions, suggestions, or want to include something in a future Weekly Update, please email me at
JKrautman@sbcglobal.net
or reply to this email. 
Shabbat Shalom,
Jerry Krautman
Rosh Minyan
---
Shabbat Services, Saturday, November 13th, 9:45 a.m.
Masks required for persons who are not vaccinated.
In the Haftarah Plethora for Parshat Va-Yetzei, the boys decide to chant the Sephardi version of the reading from Hosea which Rick gets off to a flying start. Rick gets a chance to roar while Larry takes pride in his powerful Hebrew name, all while bemoaning his favorite football felines. 
A Night of Talent
Joel Grossman will MC the event and the Klezmer band includes Henry Morgen and Diane Herman. Join us on Ziering Family Field for a very fun evening! Sign-up
here
, or pay at the door. For more information contact Dianne Shershow
dfshersh@aol.com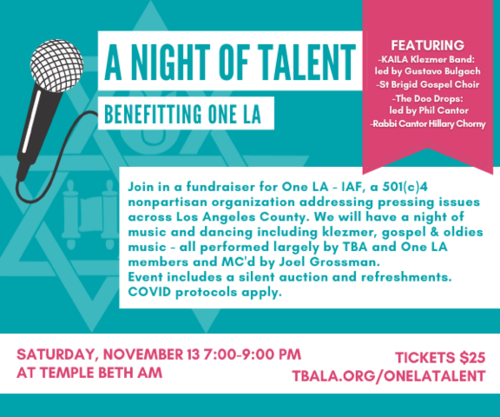 Hello lovely people,
Our fabulous 20s and 30s youngins will be meeting for the last night of Hannukah Sunday, December 5th!