Having trouble reading this newsletter? Visit https://ymlp.com/archive_gesgjgm.php
---
Medivac Public Meeting - Amended
Tuesday 3 May, 7:30pm at SI Fire Station
---
Gone Fishing Gallery Newsletter





GONE FISHING GALLERY TO HOST WORLD WETPLATE PHOTOGRAPHIC DAY, MAY lst



Take some time out on Sunday May lst to watch Pittwater photographer Chuck Bradley produce Black Glass Ambrotypes using his precious 1890 Lancaster & Sons wooden camera, complete with black cloth. The Wet Plate Collodion process was invented in 1851 by Englishman, Frederick Scott Archer. If you look at the photograph of 'Lauren' which accompanies this article, you will recognize the type of image the process generates. It's unlike any digital process you see today. The process is achieved by coating a piece of black glass with Collodion, then soaking the coated plate in a silver bath. Once sensitize the plate is inserted in plate holder then exposed then process.

You'll be able to watch Chuck as he goes through the whole process on the deck of the Gone Fishing Gallery, 1858 Pittwater Road, Church Point. He will be there all day, taking wet plate pictures of a few of the 'locals' and showing just how the process works. Don't miss it!

Have a cup of coffee at the Waterfront Café, and go and see the latest work in the Gallery.
Tracy Smith will be the feature artist with an entire wall devoted to her work. You will be able to talk with Tracy about how she works, and look at her recent work, beautiful sculptures and frescos, as well as her wonderful paintings. It'll be a great day in the Gone Fishing Gallery, so make a point of seeing it, Sunday May lst, at 1858 Pittwater Road, Church Point, right next to the Church Point Ferry terminal.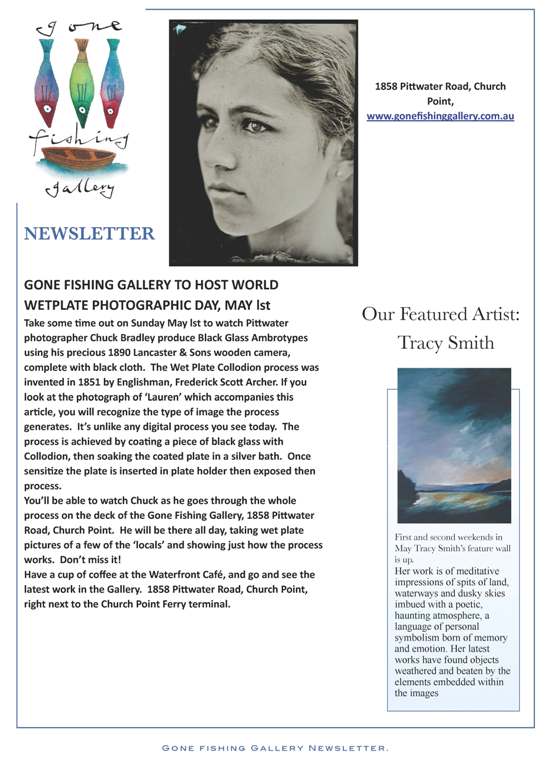 ---
Weekend Work - This Sunday




Island Property Clearing paid work for Island young people - 16 years plus.



All day Sunday 1 May 2011.

Ring Phil 419232152



---
The Online Local Contact Guide

Click HERE to load
The views expressed in this newsletter are not necessarily the views of the Scotland Island Residents Association (SIRA), or the Western Pittwater Community Association (WPCA)
---